Students' best works selected at 'Script of the Eternal Sky' exhibition
Society
Ulaanbaatar /MONTSAME/. For the occasion of the National Pride day, the students' calligraphy exhibition of the annual "Script of the Eternal Sky-2018" opened today at the Junior Center for Creative Arts.
A total of over 200 works were sent in by 48 students, which included 104 works by Mongolian students, 3 works by Kalmyk students and 16 works by Inner Mongolian students, were presented at the exhibition. The exhibition's aim is to promote the script to children and help them learn.
President of Mongolia Kh.Battulga attended the opening ceremony and presented the prize and certificates to the top 10.
The works by students were classified into two groups: middle and high school students.
In the high school students' group, 11th grade student of 5th secondary school M.Tsenguun got first place with her work, 'Paper Crane', while 12th grade student of 53rd secondary school S.Enkhmaa and 11th grade student of 50th secondary school B.Zesmaa got second and third place respectively.
In the middle school students' group, student at Youth Movement Centre of Shimbarga province at Hulunbuir city of Inner Mongolian Autonomous Region Sorgog got first place with his work "Chinggis' 12 donji-1", while 9th grade student of 65th secondary school J.Nomin-Erdene and 7th grade student from Kalmykia I.Maria got second and third place.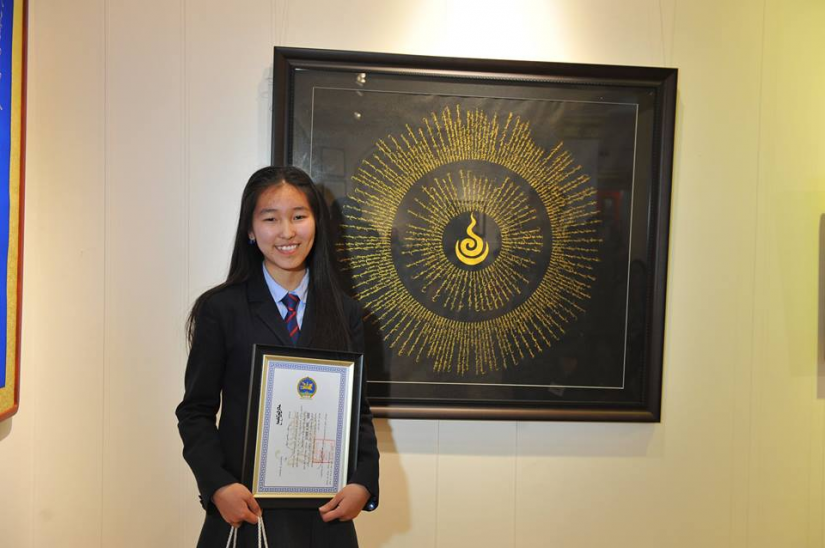 Co-organized by the President's Office, National Committee on Language Policy and the Junior Center for Creative Arts, the exhibition is open to public until November 10.