MP N.Oyundari receives TIKA Program Coordinator
Politics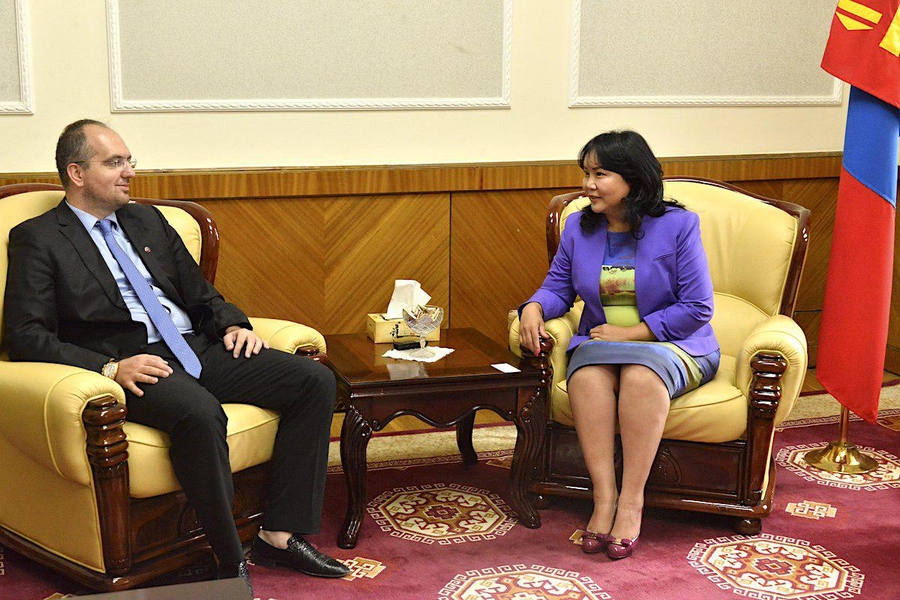 Ulaanbaatar /MONTSAME/ On July 25, Member of the Parliament N.Oyundari met with delegates led by Emrah Ustaomer, who is being appointed as the Turkish Cooperation and Coordination Agency (TIKA)'s Program Coordinator in Ulaanbaatar.

MP N.Oyundari congratulated Mr. Emrah Ustaomer on his appointment and expressed her gratitude for the expansion of bilateral cooperation over the last 20 years and TIKA's programs and projects in Mongolia since 1994 being designated for well-being of Mongolian people, bright future of the children and assistance to vulnerable people.

TIKA has successfully implemented several projects in the electoral constituency of MP N.Oyundari. In particular, it has successfully realized projects and programs for supporting bee farmers in Shaamar soum of Selenge aimag, making great contribution to the creation of national brand 'Shaamar Honey'.

The Program Coordinator thanked MP. N.Oyundari for welcoming him and expressed his appreciation for making his first official meeting in Mongolia with her.

Mr. Emrah Ustaomer conveyed pleasure that the agency has been implementing projects and programs in rural areas, improving the locals' livelihoods, and noted his intend to further implement programs and projects mostly targeted to creating added value, enhancing livelihoods of people, providing trainings and increasing income.

Ms. N.Oyundari agreed that supporting family businesses in animal husbandry and farming through TIKA programs and projects in rural areas is important and requested Turkish part to focus on sending instructors, developing SMEs and providing bee farmers with management advice and assistance on producing export products and supply their products to the market. She also underlined the importance of continuing renovation of hospitals in soums.

"We have planned to meet with corresponding officials of the parliament, government and local administration and exchange views on further cooperation. Your proposals are valuable to us. We will work to improve the projects and programs and expand the scope of our collaboration" added Mr. Emrah Ustaomer.

M.Anudari