Mongolia Attends ESCAP's 79th Session
Politics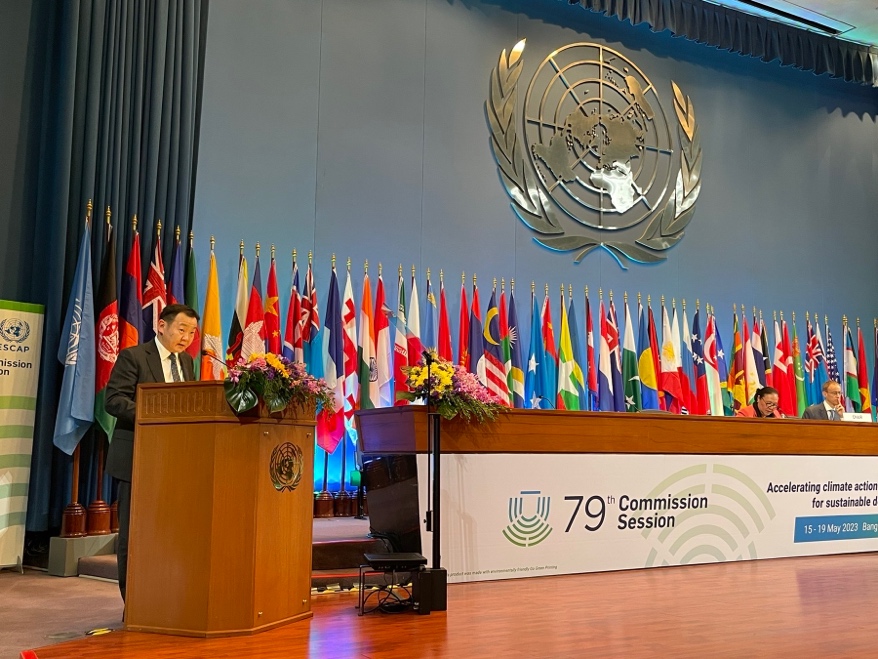 Ulaanbaatar, May 16, 2023 /MONTSAME/. Under the theme of "The Race to Net Zero: Accelerating Climate Action in Asia and the Pacific", the United Nations Economic and Social Commission for Asia and the Pacific (ESCAP) opened its 79th session in Bangkok on May 15, with global and regional leaders calling for urgent action to combat climate change and its dire impacts.
Mongolian delegation, led by State Secretary of the Ministry of Foreign Affairs N. Ankhbayar, are attending the Session, which will be held from May 15 to 19. Prime Minister of Mongolia L. Oyun-Erdene participated in the Opening Ceremony. "On behalf of the Government of Mongolia, I would like to express my sincere appreciation to the UN ESCAP for providing support to member countries in their journey to overcome challenges faced while striving for inclusive, resilient, and sustainable development in the region by generating action-oriented knowledge, and by providing technical assistance and capacity-building services," said the Prime Minister in his statement.
While acknowledging the UN ESCAP's activities and contributions to promoting transport development of landlocked developing countries in the region, the Prime Minister highlighted that the improved transport, energy, information, and communication technology networks would enable landlocked countries to increase their trade opportunities and access new markets, as well as open a new development gateway for those countries.
On the same day, State Secretary of the Ministry of Foreign Affairs N. Ankhbayar attended the General debate as a Vice Chair and presented on policies and measures taken by the Government of Mongolia in economic and social spheres.