Alliance for Financial Inclusion's Global Policy Forum 2022 launched
Economy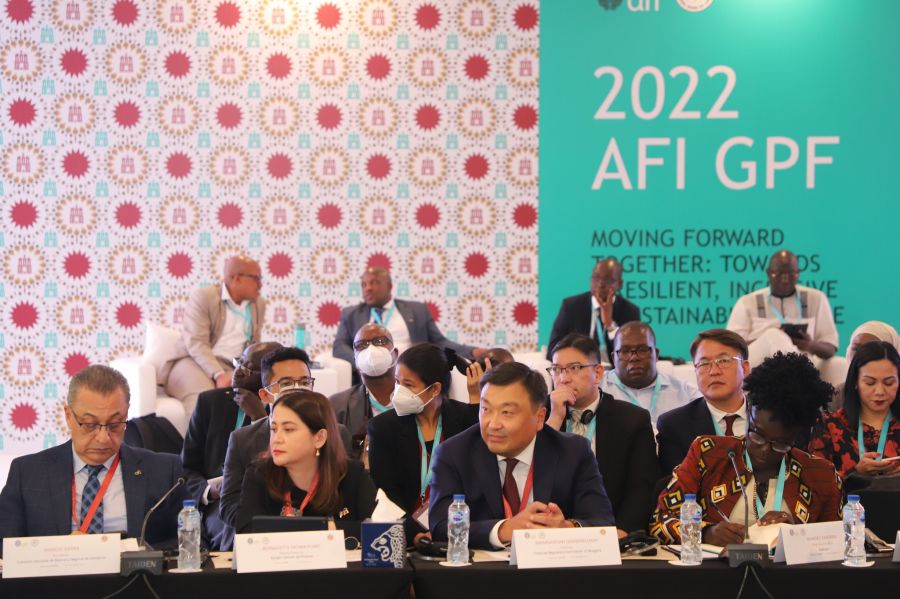 Ulaanbaatar/MONTSAME/. Mr. Bayarsaikhan Dembereldash, Chairman of the Financial Regulation Commission (FRC) of Mongolia, and Chair of the Eastern Europe & Central Asia Policy Initiative (ECAPI) within the Alliance for Financial Inclusion (AFI) - and other FRC officials, are now attending the Global Policy Forum (GPF) co-hosted by AFI and the Central Bank of Jordan.
During the GPF being held on September 5-8 in the Hashemite Kingdom of Jordan, more than 500 representatives of central banks, financial regulators, international standard-setting organizations, and development partners from 80 countries gathered under the theme of 'Moving forward together: Towards a resilient, inclusive, and sustainable future.' Financial policymakers will exchange views on financial inclusion in the post-pandemic world, and discuss policy solutions to make financial services more accessible and open.
The GPF started on September 5 with AFI's seven working groups' meetings including Consumer Empowerment and Market Conduct, Digital Financial Services, Financial Inclusion Data, Financial Inclusion Strategy Peer Learning Group, Global Standards Proportionality, Inclusive Green Finance, and SME Finance Working Group. Responsible FRC officials attended the above seven working group meetings, and exchanged views on the policy implementation, challenges, solutions, and good practices; required to address the challenges of financial exclusion and instability.

The 11th ECAPI meeting will be held in 2023 in Mongolia
On September 6, the 10th ECAPI Meeting was held, and Mr. Bayarsaikhan Dembereldash, (Chair, ECAPI) opened the proceedings.
In his opening remarks, he extended his unreserved gratitude to all ECAPI members, for their kind cooperation and ceaseless efforts to advance improve financial stability and strengthen financial literacy in the region of Eastern Europe and Central Asia, despite significant challenges; including the impacts of the COVID-19 pandemic.
He also mentioned that the FRC, as Chair of ECAPI, was dedicated to reinforcing previous accomplishments, and intensifying future activities.
In the meeting, member institutions exchanged their ideas on policy changes, and new initiatives directed to advance financial inclusion in the post-pandemic world. During the meeting, it was decided to conduct the 11th ECAPI meeting in 2023 in Ulaanbaatar.
The same day, AFI's Annual General Meeting was held. During the meeting, AFI's principal members discussed their performance, achievements and challenges of the previous year; along with priorities for upcoming years, and updates on AFI's Intergovernmental Organizations status.
Also, AFI Leader's Public–Private Dialogue (PPD) Roundtable - with the theme of 'Public-Private collaboration in the era of disruption: Deepening usage of financial services to further advance financial inclusion' was held. More than 50 leaders including leaders of AFI member institutions, and selected private sector partners participated in the meeting. The Opening Ceremony of the 2022 AFI Global Policy Forum is taking place on September 7, and AFI Global Awards will be on September 8 respectively. In addition, Dr Alfred Hannig, AFI Executive Director, will receive Mr Bayarsaikhan Dembereldash, and they will discuss further collaboration between the AFI and the FRC, along with policies and action plans for increasing financial inclusion.
AFI is an international standard-setting organization with the core objective of advancing financial inclusion. It is driven by its member institutions worldwide, in countries where a majority of the world's unbanked reside.
source: Financial Regulatory Committee of Mongolia