Agricultural Minister meets French delegates
Society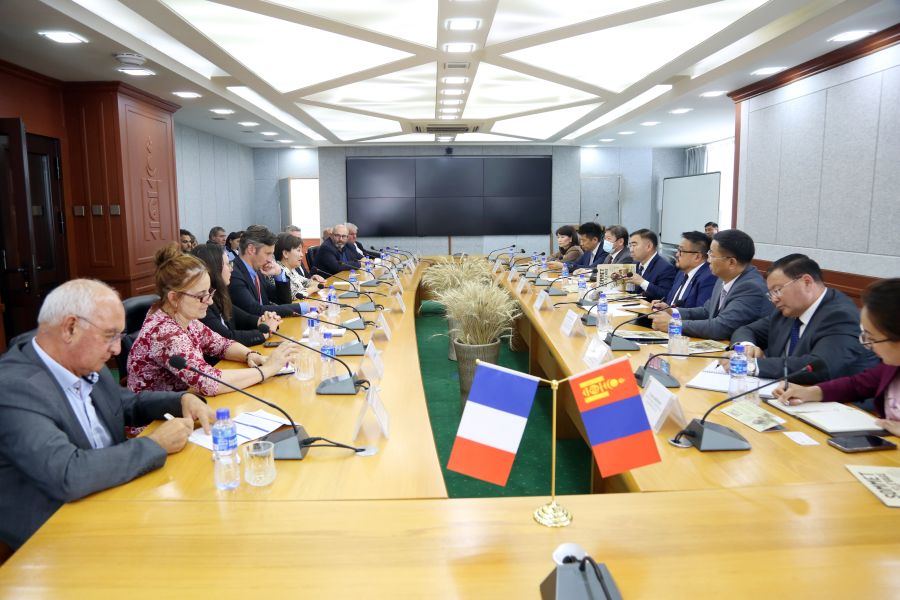 Ulaanbaatar /MONTSAME/. On June 22, Minister of Food, Agriculture and Light Industry Z.Mendsaikhan received Ambassador Extraordinary and Plenipotentiary of the French Republic to Mongolia Sebastian Surun, representatives of the French National Association of Cattle and Sheep Farmers, agricultural enterprises, investors and the media organization.

The sides exchanged views on cooperation in engaging animal husbandry, alongside studying the experience of French's intensive animal husbandry as the country is leading in the world with its food security and high-yield livestock. The French side also expressed interest in studying the experience of nomadic and pastoral animal husbandry, which has become a uniqueness of our country.
"This meeting is taking place on the same day when the program, which will be implemented within the framework of the 'Food Supply and Security' national movement initiated by the President of Mongolia, has been approved by the Parliament. In aims of fully meeting domestic demands for the 19 types of livestock and agricultural products and becoming an exporter country, a national movement on food supply and security has been launched. As part of the program, it is necessary to have 100 thousand head of dairy and beef cattle. We are ready to cooperate with the French side to develop intensive animal husbandry in the agricultural sector as a model. We are interested in introducing pasture-fed livestock-sourced meat products to the European market," said Minister Z.Mendsaikhan.
The largest international livestock exhibition in Europe will be held in France in October. Mongolia has been invited to participate in the exhibition. The sides agreed to renew the 'Memorandum of Understanding on cooperation between Mongolia and France in the Agricultural Sector' that was signed in 2013.