Poland proposes appointing honorary consul to Darkhan
Politics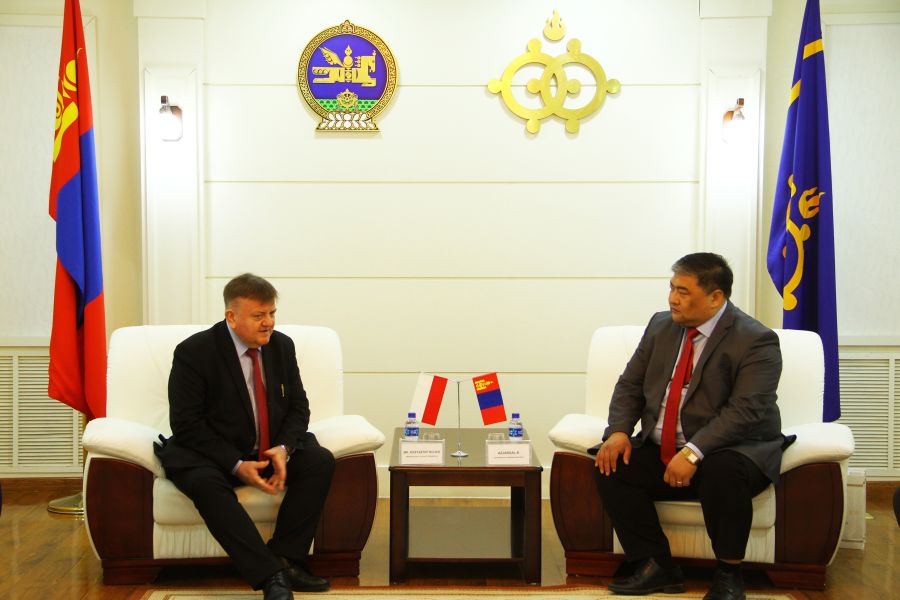 Darkhan-Uul /MONTSAME/ Ambassador of the Republic of Poland to Mongolia Krzysztof Bojko worked in Darkhan city on April 15.
The Ambassador held a meeting with Governor of Darkhan-Uul aimag B.Azjargal to discuss cooperation. At the beginning of the meeting, the Governor said Darkhan city was established with support from six countries, one of which was Poland, expressing gratitude to the people of Poland, which has long-standing friendly relations with Mongolia, on behalf of the resident of Darkhan city.
Opening Polish honorary consulate in Darkhan city was one of the main issues discussed at the meeting.
Ambassador Krzysztof Bojko underscored that Darkhan is one of the country's major cities, which freight from Poland and other European countries pass through, and that the Polish side is proposing the appointment of an honorary consul in the city where tourism can be developed
Aimag Governor B.Azjargal undertook to respond to the proposal after discussing it with the foreign ministry and other relevant authorities. Opening an honorary consulate in the aimag will enable the sides to expand cooperation, particularly in education.
The governor also asked the Ambassador to have Polish universities and colleges participate in a European college fair to be organized in Darkhan-Uul aimag in May.