'Magnificent Heritage - Mongolian Embroidery' exhibition runs
Art & Culture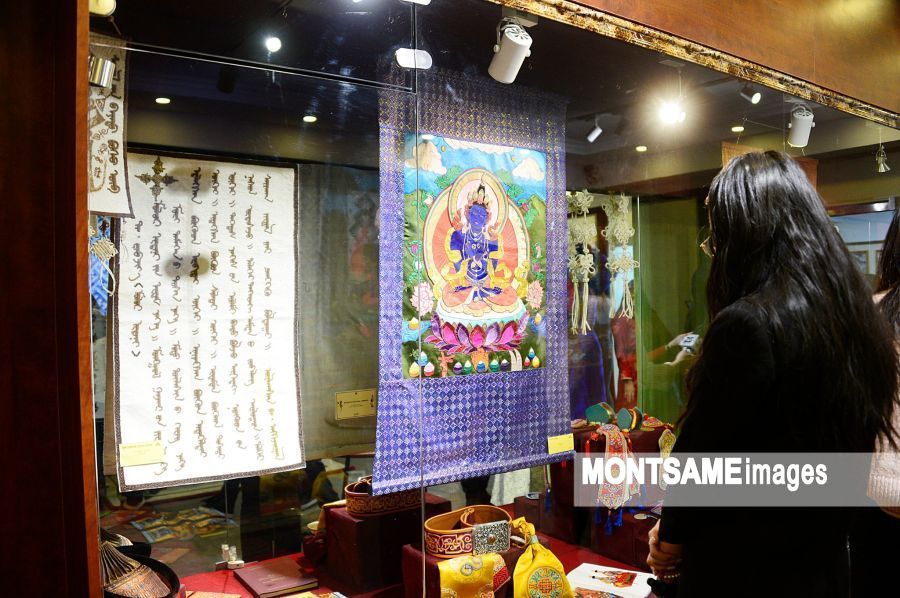 Ulaanbaatar /MONTSAME/. On January 19, the 'Magnificent Heritage - Mongolian Embroidery' exhibition was opened at the Bogd Khaan Palace Museum. The exhibition is being co-organized by 'Mandchiriin Naran' NGO and the Bogd Khaan Palace Museum for the 4th time.

In his opening remarks, Director of the Bogd Khaan Palace Museum Ts.Erdenebaatar said, "The reason for Mongolian embroidery to become developed to the point of being considered as an artwork is closely connected to the Bogd Khaan and the Queen Consort Dondogdulam. Historic sources tell about Queen Dondogdulam being presented with 100 lans and being put in charge of about 120 local artisans specialized in various fields such as embroidery, sculpture, jewelry, and shoemaking per the order of First Prime Minister T.Namnansuren in July 1913.
This exhibition gives an opportunity to the public to view the invaluable works made by artisans of the Khaan's Palace and those made by today's artisans side by side."
From silk applique to ornaments of a damar (a small double-headed drum in the shape of an hourglass), various intricately made pieces between the late 19th century and the early 20th century are presented at the exhibition.
One of the highlight works that have been presented at the exhibition is the silk applique works depicting Buddhist deities, which were designed by People's Artist Ya.Yadamsuren and appliqued by his wife Ya.Lyunya. Many more intricately-made works are also on display, such as the embroidery work 'Altan Soyombo' decorated with pure gold and coral, the work 'Khuurugnii Daalin' which won the silver medal from an online international festival organized in France in 2020, and the work 'Suljeesen Bichleg' for which a patent has been obtained by the artist.
The exhibition will run at the Bogd Khaan Palace Museum until January 28.