AmCham holds its annual general meeting
Society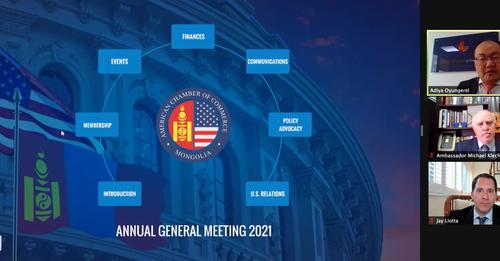 Ulaanbaatar/MONTSAME/. The American Chamber of Commerce in Mongolia (AmCham Mongolia) held its Annual General Meeting on November 19th, 2021. The virtual meeting was attended by 50 AmCham members, embassy representatives, foreign investors, and honorary guests. The meeting began by AmCham Mongolia's Chairman Jay Liotta's opening remarks, followed by remarks by the U.S. Ambassador to Mongolia Michael S. Klecheski and a presentation by AmCham Mongolia's Executive Director Adiya Oyungerel.

The newly appointed directors of the board are Gary Biondo, Chairman of the International School of Ulaanbaatar and Matthew Metz, VP Industrial of MSM Group. Congratulations to our new directors!
In his opening remarks, AmCham Mongolia's Chairman Jay Liotta stated, "This year continued to be a challenge. We saw soaring COVID cases in Mongolia (and globally), business is not back to normal, we face border issues, flight and travel restrictions, health and safety issues, inflation, and a struggling economy and business environment.
Yet, AmCham made unprecedented progress in 2021. Some of the greatest progress in our 10 year history. First, we have "Achieved Engagement". 2021 marks a record year for the government of Mongolia and other chambers contacting AmCham to ask for our leadership, guidance and participation. This unprecedented level of outreach from the government and others highlights the credibility of our members (you) and the organization.
We helped to get Mongolia and our members back to the table in Washington, D.C. and increased the profiles of our members and the organization.
This includes hosting the first ever virtual Doorknock with Washington, where a delegation of our members virtually met with representatives from the U.S. Chamber of Commerce, U.S. Department of Commerce, Department of State, USTR, Department of Treasury, National Security Council, and Members of Congress.
Expanded our advocacy through committees – which puts the spotlight on our members and allows for greater involvement and input from all of you.
Acted Responsibly by holding our 14 monthly meetings and webinars virtually, and by developing hybrid protocols for smaller committee meetings.
As we set course for next year, we will continue to serve you by increasing your profile and the profile of our organization, focusing our engagements and advocacy to become more effective, speaking loudly as a voice for a level playing field for businesses, and a private sector driven free market economy in Mongolia. And much more."
In his remarks, Ambassador Klecheski said, "The past two years did not halt our mutual efforts to deepen and broaden our relations with Mongolia and support commerce and trade between our two countries. The U.S.Deputy Secretary of State Wendy Sherman had a successful visit to Mongolia, President Khurelsukh and Speaker Zandashatar and other senior Mongolian officials visited the U.S. We've hosted and participated in numerous virtual events ranging from sessions on protecting medical supply chains, fake products and labor law. In December, we have a summit for democracy that President Biden puts an enormous amount of stake in and we look forward to a great participation by Mongolia. "
AmCham Mongolia's Executive Director Adiya Oyungerel presented the 2021 Annual Report and 2022 Work plan. He quoted, "This year marks the 10th Anniversary of AmCham, we congratulate and thank our Board members and member organizations for their leadership and support throughout the years! We will be co-organizing with the Parliament office and as a stakeholder the Investor Forum on the 29th of this month, bringing together investors and the legislative branch of the government to sit down and address the arising challenges. In 2022, we plan to work closely with regional AmChams and U.S. stakeholders."
About AmCham Mongolia
The American Chamber of Commerce (AmCham) in Mongolia is an independent membership-driven organization that seeks to build, strengthen, and protect business between the United States and Mongolia and to actively promote Mongolia as a destination for American investment. AmCham Mongolia is accredited by the U.S. Chamber of Commerce as its official affiliate in Mongolia. Based in Washington D.C., U.S. Chamber of Commerce is the largest federation in the world with over 3 million members.
Source: amcham.mn