'The Mongol Empire' digital hall opens at National Museum of Mongolia
Art & Culture
Ulaanbaatar /MONTSAME/. Today, on October 26, the opening ceremony took place for 'The Mongol Empire' digital hall at the National Museum of Mongolia.

In order to present the exhibits in a more interesting and easily comprehensible way for people of all ages, the National Museum of Mongolia partnered with ZEV Digital Museum for the exhibits of the digital's hall.

Head of the Department of Cultural Heritage at the Ministry of Culture B.Davaatseren said, "Throughout the years, the National Museum of Mongolia continuously improved their services based on studies and surveys. Furthermore, the bill on museums that was drafted by the Ministry of Culture was approved this year, enhancing the legal environment for museums. And this particular law reflects that museums have a significant role in the development of society as they serve as an environment for human development. An example of how museums in Mongolia have recently begun to work towards introducing many new services that meet global trends would be this event taking place at the National Museum of Mongolia today."
Based on the archeological artifacts found from XIII-XIV century settlements and tombs, the team behind Mifox Animation Studio used technologies such as 2D, 3D, VR (virtual reality), and AR (augmented reality) to present the digital exhibitions at the newly opened digital hall.
The digital exhibits also include a reconstruction of Kharakhorum - the ancient capital of the Mongol Empire in VR, based on the model of the city as well as remains discovered during archeological excavations.
Moreover, with the use of AR technology, it has now become possible for the museum's visitors to listen to a detailed explanation about gers in which Mongolians used to live in at the time, hunting tools and equipment, weapons, accessories, horse riding equipment, flags and coat of arms, ger with wagon, coins, and exhibits relating to building ornaments, and watch video content to learn more about the history of the Mongol Empire.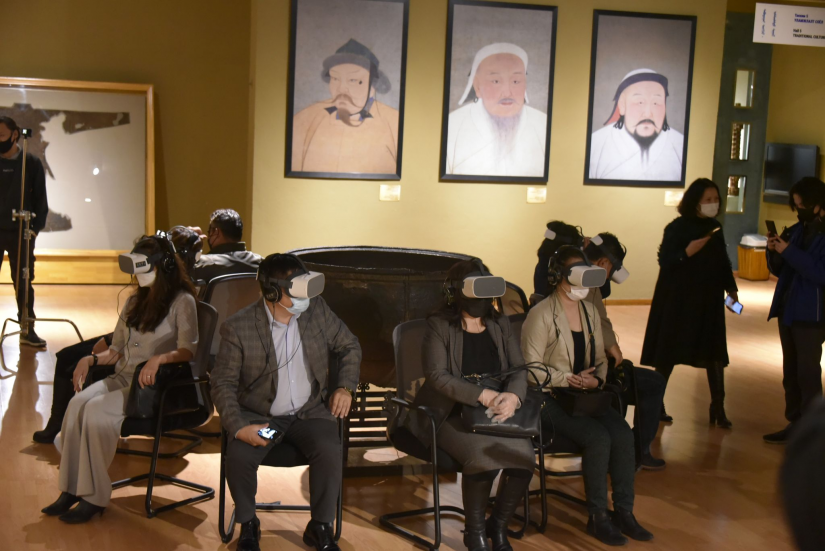 Visitors are able to view the digital hall exhibition with the use of their own devices such as smartphones and tablets.