Mongolia-China Joint Council on mineral resources, energy, and infrastructure cooperation convenes
Politics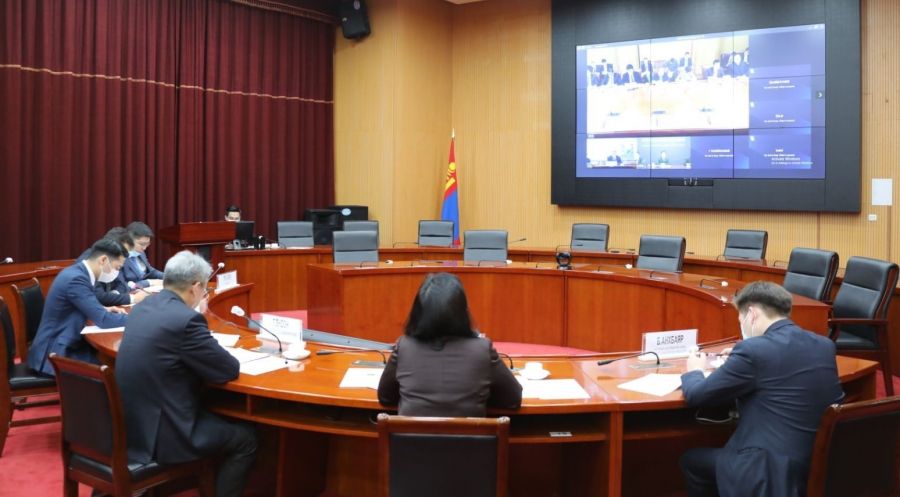 Ulaanbaatar /MONTSAME/. On October 15, the third meeting of the Mongolia-China joint council on mineral resources, energy, and infrastructure cooperation took place virtually.

The meeting was chaired by Minister of Mining and Heavy Industry G.Yondon from the side of Mongolia, and Vice Chairman of the National Development and Reform Commission Ning Jizhe from the side of the People's Republic of China.

The two sides introduced opportunities for joint projects in the sector of mineral resources, energy, and infrastructure during the meeting. They also discussed accelerating the works to be carried out for some large-scale projects that have been previously discussed. For instance, the Mongolian officials expressed interest in jointly implementing projects on constructing a complex to produce and export renewable energy based on solar and wind in the southern region of Mongolia, constructing a highway and light rail transit route in Ulaanbaatar city, and constructing transmission lines and a substation that are necessary to fully utilize the capacity of the Baganuur Thermal Power Plant.
The Mining Minister also noted how it is possible for Chinese entities to cooperate by participating in bids for tender that are openly announced for projects in the sector.
He then continued to express that the side of Mongolia is ready to provide support in establishing long-term commercial agreements for coal export, and put forth the suggestion to increase the container transportation of coal through the border checkpoints of Gashuunsukhait and Shiveekhuren, and accelerate corresponding works to connect the two countries' border checkpoints in four routes (through Gashuunsukhait, Bichigt, Khangi, and Shiveekhuren border checkpoints) by railroads.
In turn, the Chinese side expressed that special attention is being paid to increasing coal trade and quickly organizing its transport, and corresponding measures are being taken in the framework of the agreement made between the government heads of the two countries.
As the two countries' corresponding entities have agreed on the border point for the railroad at Gashuunsukhait-Gantsmod checkpoint, both sides also noted the importance of urgently having the agreement confirmed through the Foreign Ministries, and actively cooperating in the infrastructure construction.
Pledging that the matter regarding the acceleration of infrastructure projects reflected in the Mongolia-Russia-China economic corridor program will be focused, they came to the decision to develop a protocol on the meeting's results and organize biannual meetings to discuss its implementation.