EU-funded project hands over 132 pieces of medical equipment to the Ministry of Health
Society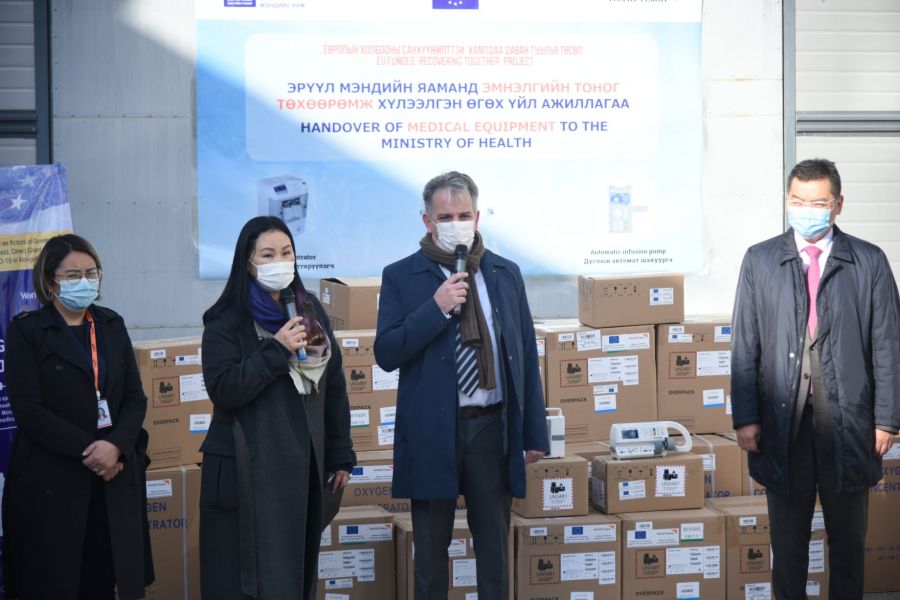 Ulaanbaatar/MONTSAME/. On October 13, in response to COVID-19, European Union funded project handed over 132 pieces of medical equipment, valued at USD72,000 to the Ministry of Health, Mongolia.

Under the European Union funded 'Recovering Together' project, implemented by World Vision, the Ministry of Health is provided by 132 pieces of medical equipment: Oxygen concentrator-72 pcs, Automatic infusion pump-30 pcs and Syringe driver-30 pcs in response to COVID-19 pandemic.
In the current COVID-19 context, the adequate health services are essential for the prevention and treatment, whereas the donation to Ministry of Health can help state hospitals to provide timely treatment to the infected patients.
During this critical time, State Secretary Mr Ts. Erdembileg said, "Ministry of Health has received 370 intensive care hospital beds, valued at 1 billion tugrugs through the Recovering Together Project, funded by the European Union. These 370 beds are provided to hospitals in all provinces. This time we are receiving 132 pieces of medical equipment, including oxygen concentrator, automatic drip pump and syringe pump. On behalf of all medical staffs in Mongolia, I present deep appreciation to European Union and international organizations for great contribution to cope with COVID-19 in Mongolia."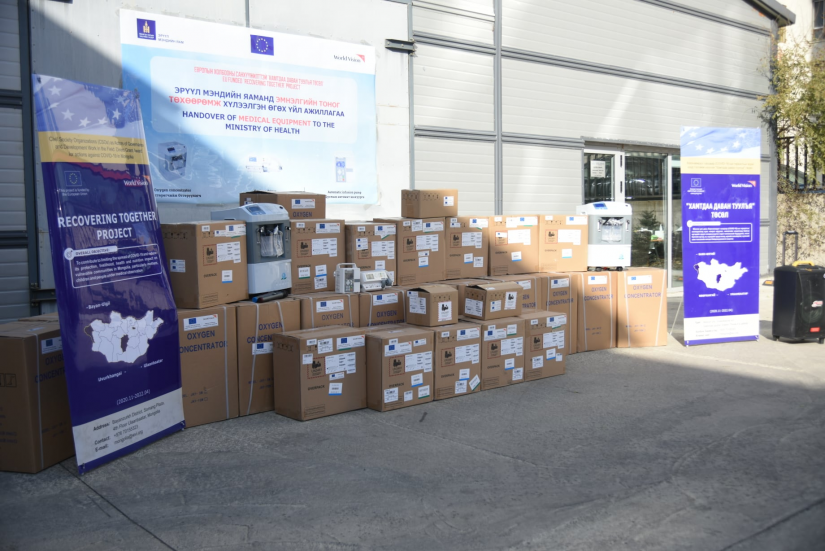 Expressing the European Union commitment to support Mongolia during the COVID-19 crisis response, Cooperation Team Leader, European Union Delegation in Mongolia, Mr. Pierre- Yves Lucas said, "EU is very much involved in fighting with COVID-19 all over the Planet through the in COVAX framework. Some of the vaccines received in Mongolia are financed by the European Union through COVAX framework. We can see that cooperation with the Ministry of Health is very fruitful as well. As part of COVID-19 response in Mongolia, we started to provide hospital beds as mentioned before. It was meant not only for hospitals in Ulaanbaatar but all over Mongolia. We have a program as well for the economic recovery that is supporting small and medium enterprises. Covid-19 response is also about saving jobs. All equipment that we have provided to the Ministry of Health is aiming at saving lives of people. European Union is a partner with Mongolia not only when things go well, but also when things go difficult and we are here to support you. Thank you very much".
On behalf of World Vision, as project implementer, Mrs G.Enkhzul presented her gratitude to European Union for its support to livelihood, health and nutrition impact on vulnerable communities in Mongolia, especially for vulnerable children. She expressed her thankfulness to the Ministry of Health for actions being taken to under prevention, protection and treatment of infected patients and slow the spread of COVID-19.
Project Background
The project 'Recovering Together' is fully funded by the European Union, and implemented by the World Vision, was launched in November 2020. The main objective of the project is to support vulnerable households, impacted by Covid-19 through livelihood recovery assistance and increase their access to nutrition, health and WASH services to meet basic urgent needs. Furthermore, the project will strengthen the healthcare system by ensuring health facilities are equipped with Covid-19 response and prevention equipment.
Source: worldvision.mn