Speaker meets delegation of Italian parliament
Politics
Ulaanbaatar /MONTSAME/. On October 13, Speaker of the State Great Khural G.Zandanshatar received a delegation led by Vice-President of the Italian Chamber of Deputies Ettore Rosato.

At the start of the meeting, Speaker G.Zandanshatar thanked the delegation of the Italian parliament led by Mr. Ettore Rosato for visiting Mongolia in aims of expanding the cooperation between the two countries despite the challenging circumstance of the global pandemic.
In turn, Mr. Ettore Rosato thanked Speaker G.Zandanshatar for making time to warmly receive the delegation, and passed on the greetings sent by President of the Chamber of Deputies of Italy Roberto Fico.
During the meeting, the sides exchanged views on expanding bilateral trade as well as economic, political, and cultural cooperation.
Speaker G.Zandanshatar said, "The close relations between the two countries' parliaments have an important role in strengthening cooperation between Mongolia and Italy. I am confident that your visit as members of the Italian Chamber of Deputies will serve as a significant boost in fortifying the cooperation between the two countries' legislative bodies." Furthermore, in aims of becoming one of the leading countries in Asia for its social development, economic growth, and quality of life, a long-term policy document, 'Vision-2050', has been approved and is currently being implemented. In its framework, the current session of the parliament has set an objective to attract foreign and domestic investment and create a favorable legal environment for investment, he highlighted.
He then continued on to say, "For Mongolia, Italy is an important partner for trade, and especially one of the main markets in Europe for combed cashmere. For instance, about 80 percent of combed cashmere that was exported in 2020 was supplied to Italy, making up 22 percent of the country's cashmere demand. Thus, I consider that it is possible to further expand cooperation in the sector through methods such as establishing a factory in Mongolia with Italian investment, and selling Mongolian wool and cashmere products. The Italian-Mongolian Textile Technology Center is jointly being established with support from the side of Italy. I am pleased to know that the opportunity for the production of value-added products is being created through the introduction of Italian high-tech solutions," he highlighted.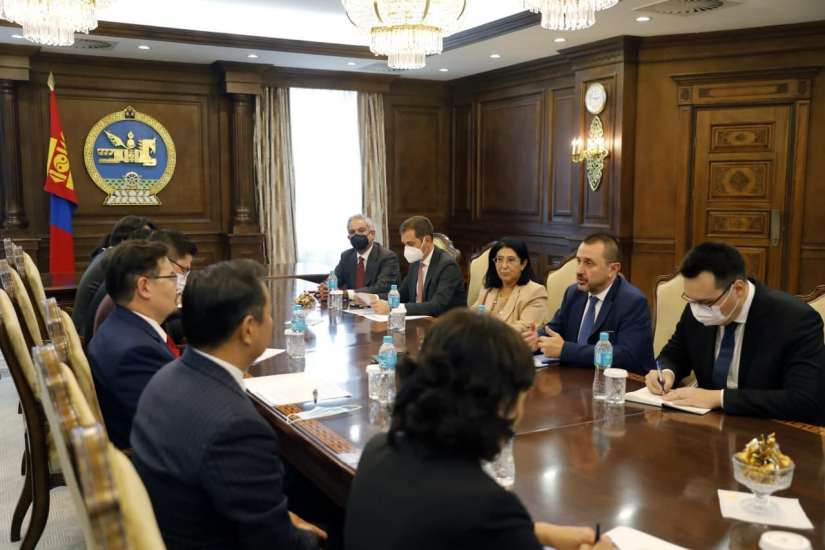 Vice-President of the Italian Chamber of Deputies Ettore Rosato said, "Both of our countries have a great history and a wide range of unique features ingrained in culture. And our cooperation is based on historical relations as well as the close friendship between the two countries' peoples. Thus, it is important that we further expand this cooperation in the sectors of politics, trade, and economy. In the framework of our visit in Mongolia, we held a meeting with the executives of the Mongolian National Chamber of Commerce and Industry today. Tomorrow, we plan to visit ministries and entities. I am confident that we will be able to hold discussions on a wide range of matters, and exchange views on new opportunities for cooperation, reaching a certain result."
He then stated that there is interest in expanding economic cooperation by partnering in the production of energy and processed mining products. "I am confident that a large-scale investment will soon be made from the side of Italy, launching operations in Mongolia. Furthermore, we express our readiness to cooperate if there is an initiative by the Government of Mongolia to involve the side of Italy in certain large-scale projects and programs."
The Speaker then expressed his belief that an opportunity will soon be created to supply products that meet the standards of Europe and Italy by introducing Italian high-tech solutions in processing wool, cashmere as well as hide and leather as Mongolia is currently aiming to become an exporting country by diversifying its economy.
During the meeting, he also expressed his wish to further develop the traditional cooperation in the sectors of culture and education, and have active cooperation in the field of classical arts by preparing specialists and inviting Italian specialists to work in Mongolia.
The sides mutually supported the matters that were discussed, and affirmed their intention to bring bilateral cooperation to a new level.
MP, Chair of the Mongolia-Italy parliamentary group B.Purevdorj, MP, parliamentary group member G.Ganbold, members of the Italian Chamber of Deputies Marco Di Maio and Nicola Carè, Ambassador of the Italian Republic to Mongolia Laura Botta, and other officials were present at the meeting.