Prime Minister L.Oyun-Erdene: The government will continue to keep its policy on health protection and economic recovery
Society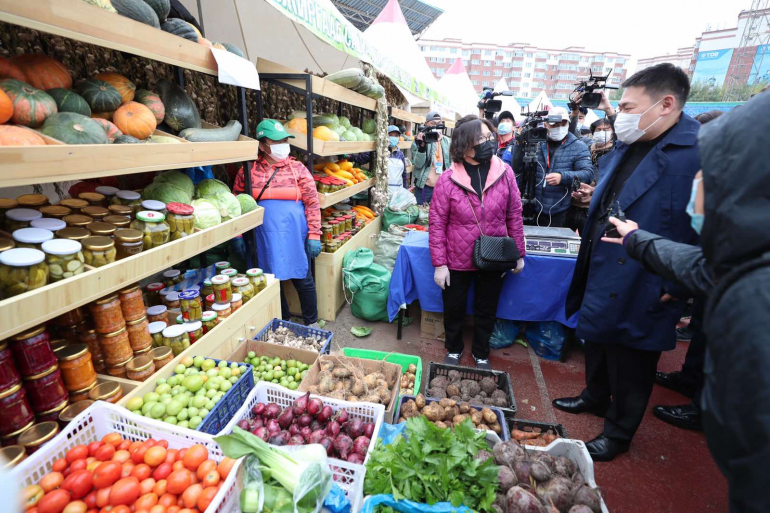 Ulaanbaatar /MONTSAME/. The 'Green Days of Autumn - Domestic Production 2021' fair is taking place at the Central Stadium from September 16 to 23.

Alongside food producers, small and medium enterprises, business owners in the light industry, and scholars and researchers that introduced new technology in production are participating in the fair this year.
On September 19, Prime Minister L.Oyun-Erdene visited the fair to meet with vegetable farmers and producers.
Noting that their sales have increased as the fair began to take place, they highlighted the issue of insufficient storage that meets the appropriate standard to store their harvests. In turn, the Prime Minister expressed that the government's current policy is to fully meet the demand for potatoes and vegetables with domestic supply.
He said, "Our country is expected to meet 100 percent of the domestic demand for wheat and potatoes, and 60 percent of the demand for vegetables. As our annual demand for wheat is about 310 thousand tons, we are expected to have around 200 thousand tons more of wheat this year. Thus, the government will keep a policy on supporting exports and pay attention to the construction of storages and winter greenhouses.
Alongside the sales of fresh harvest and top products as well as food production services, all kinds of information is being provided to support the sector's development. Furthermore, business negotiations and agreements are being made between entities and government organizations during the fair. Disinfection and sterilization is being carried out at the fair two times throughout the day.