Heads of Mongolia-China intergovernmental commission meet virtually
Politics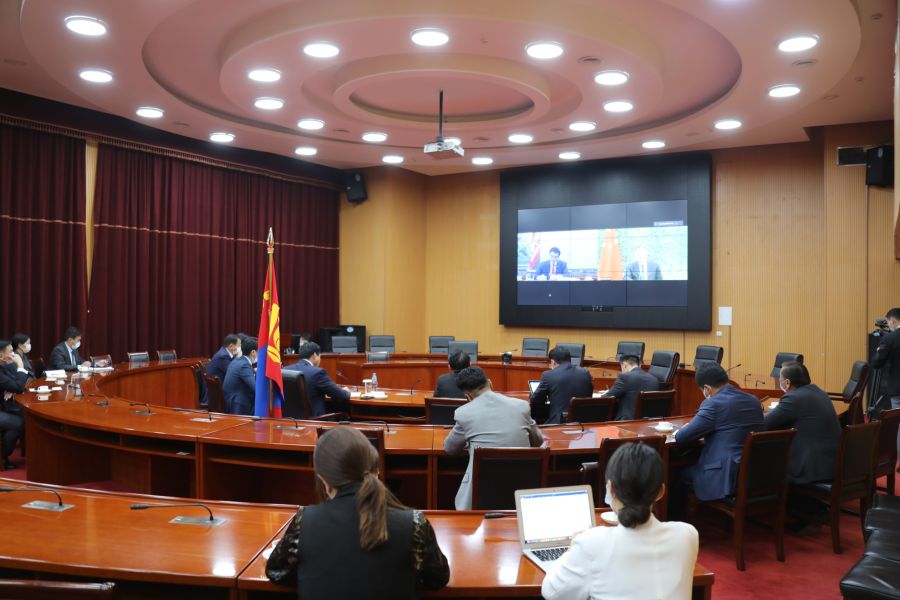 Ulaanbaatar /MONTSAME/. On September 7, the heads of the Mongolian and Chinese parts of the Intergovernmental Commission for Trade, Economic, Scientific and Technical Cooperation held a virtual meeting.

Deputy Prime Minister of Mongolia S.Amarsaikhan and Chinese Minister of Commerce Wang Wentao took part in the meeting, and exchanged views on the progress of the implementation of the Protocol for the 16th meeting of the intergovernmental commission as well as timely issues.
Noting that bilateral trade turnover has increased compared with the same period of the previous year as a result of the focus put on reducing the effects of the coronavirus infection, ensuring normal bilateral trade and economic cooperation, the ministers agreed to actively cooperate to increase trade turnover to USD 10 billion. In order to achieve this goal, the sides agreed to take preventive measures against the spread of COVID-19, and increasing the flow of goods crossing through the main border checkpoints.
After presenting the measures currently being taken to strengthen infection prevention, Deputy Prime Minister S.Amarsaikhan put forth the suggestion to significantly increase the number of coal trucks entering through the Gashuunsukhait-Gantsmod, Shiveekhuren-Sekhee border checkpoints, and to reach an agreement on the procedure of containerized transportation.
In turn, Chinese Minister of Commerce Wang Wentao expressed that he will pay attention to the suggestion put forth by the Mongolian Deputy Minister in order to resolve issues related to importing cargo that have accumulated at Tianjin Port, increase the number of trains going between Zamiin-Uud and Erlian stations, and restore the export of non-mining products crossing through the Zamiin-Uud border checkpoint, and that the corresponding organizations of China will be urgently informed about the matter.
Moreover, relevant organizations of the two countries agreed to actively cooperate to accelerate the implementation of projects financed with non-refundable aid and soft loans.