Cultural and creative industry complex center to be built
Art & Culture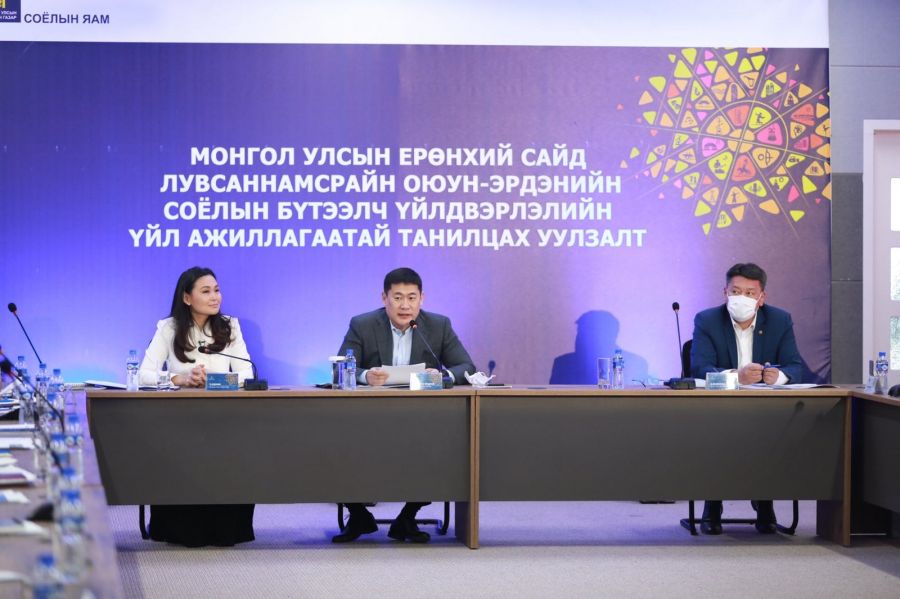 Ulaanbaatar /MONTSAME/. On May 18, Prime Minister L. Oyun-Erdene organized his regular morning meeting at the newly commissioned building of the National Cultural Heritage Center in Ulaanbaatar and held a discussion with the representatives from the creative and cultural industry.

Highlighting that the cultural and arts industry with its inexhaustible resources and wealth-making possibilities plays significant role in the society, the Prime Minister noted that developing countries in the world are seeking ways to overcome various challenges encountered amid the increasing competitiveness and lack of natural resources. "For Mongolia, in similar fashion, commercializing our cultural heritage, promoting cultural products and services-oriented sector and developing competitive, creative and intellectual workforce are gateway to the development", says the PM.
At the meeting, Minister of Culture Ch. Nomin delivered a presentation 'Mongolian Culture, Mongolian Wealth' program aimed at developing creative and cultural industry. Some of the measures and projects planned within the framework of the 'Mongolian culture, Mongolian wealth' include:
- To create favorable regulatory framework to ensure development of cultural creative industry,
- To build a Complex Center for Cultural and Creative Industry comprising of logistics network uniting more than 3,400 organizations and individuals engaged in cultural and creative production activities. With the help of the complex center and the logistics network, related production cost to be decreased, resulting in the growth of economic benefits and quality and speed of creative and arts output as well as enabling the industry's stakeholders to share experiences with each other and providing them with more opportunities to grow further. Culture Minister Nomin introduced that the complex center will allow promotion of startup businesses and innovation system and create some 1,000 stable jobs.
As more than half of cultural and arts industry employees do not own homes, 'Mongolian culture, Mongolian wealth' program is working towards improving social protection of its employees and cultural creators,
Policy support will be provided to companies working in the cultural and creative industry. Investment Fund is to be established with a view to promote the industry and creative economy. This step is expected to allow investment funding for small and medium sized enterprises and help them enter the market.
Line of credit is to be opened to help arts and cultural sector businesses with the 3-percent subsidized loans for employment support under the government's MNT 10 trillion comprehensive plan for health protection and economic recovery. Furthermore, investment and financial funding sources will be enhanced for businesses engaged in the cultural sector.
Increased attention will be given to cultural and creative approach and education – human resources development. The national curriculum reform reflecting the cultural and creative approach will be made in cooperation with the government Ministry of Education and Science.
Cultural creative production academy designed for training specialists in cultural designing and other areas of the cultural and arts industry will also be established.
After the presentation, PM Oyun-Erdene pledged that the government will make every effort to implement the proposed comprehensive measures of 'Mongolian Culture, Mongolian Wealth'. He said that necessary funding will be earmarked for the state budget, and corresponding government ministries and private sector will have to start working from now for Mongolia to become a filming location of one Hollywood movie before 2024.

Moreover, the Prime Minister introduced goals to make at minimum five contents for Netflix and a comprehensive creative work under the theme 'Naadam' for Mongolia's promotion abroad. He vowed that the government will provide support to improve legal framework and standards and other necessary assistance in this regard.