Journey to the Lake in the North
The Mongol Messenger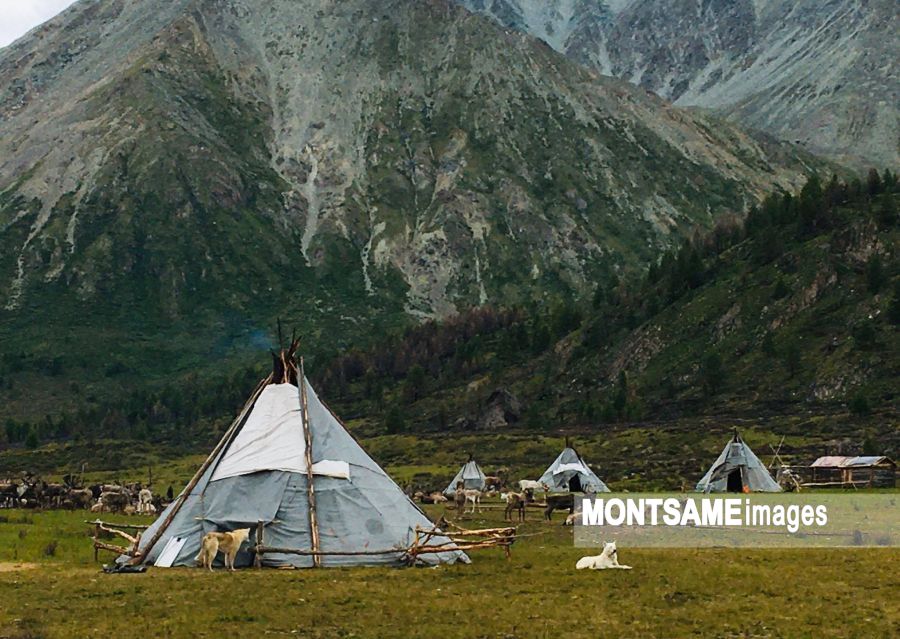 Ulaanbaatar /MONTSAME/ We present you a travel note written by MONTSAME news agency journalist B.Altankhuyag, who visited Tsaatan or reindeer herder community in Khuvsgul aimag this summer.
July 11. It could be hard for one to find transport from Murun city, capital of Khuvsgul aimag, to the aimag's Tsagaannuur soum on the morning of the National Naadam Festival, just as the locals of Khuvsgul celebrate the festival. That is also why at first we could not get a ride to Tsagaannuur soum that takes a whole day on rough terrains to reach.
Tsagaan Lake, Khuvsgul aimag
We bumped into my acquaintance from back in Irkutsk who was about to go to Tsagaannuur soum as well. His name is S.Biligsaikhan. He is quite older than me. "Oh, I heard there was someone who was going there. They are leaving this afternoon" he said, and then found out the phone number of the driver going to Tsagaannuur soum after making some calls. Greetings were exchanged on the phone with the driver and everything was settled with the words "We would like to make a reservation for two people" following an inquiry about when the car is hitting the road.
The distance between Murun city and Tsagaannuur soum is 279 km. However, we could not reach our destination within a few hours like we did on the paved road connecting Ulaanbaatar and the aimag's capital. We seated ourselves comfortably in the back of a white van. In the van with us were the locals of Tsagaannuur soum. Most of them were Darkhan people and they were conversing in Darkhad dialect. They were not bothered in the slightest to answer whatever we asked, but they themselves did not really ask anything or talk much with each other.
Beltes River
We went through Arbulag soum of Khuvsgul aimag and arrived at the Beltes River Bridge in Bayanzurkh soum. The point is midway between Murun city and Tsagaannuur soum. Drivers and travelers make a rest stop here. We can know from this that we are halfway there. From here, we go up the highest mountain pass on our way, Toomyn Davaa. During both my inbound and outbound rides, I many times heard drivers saying "It would be great if we could reach the top of Toomyn Davaa early, when the sun is still up". The high pass terrains get rougher with rivers and rocks as we go up to the top.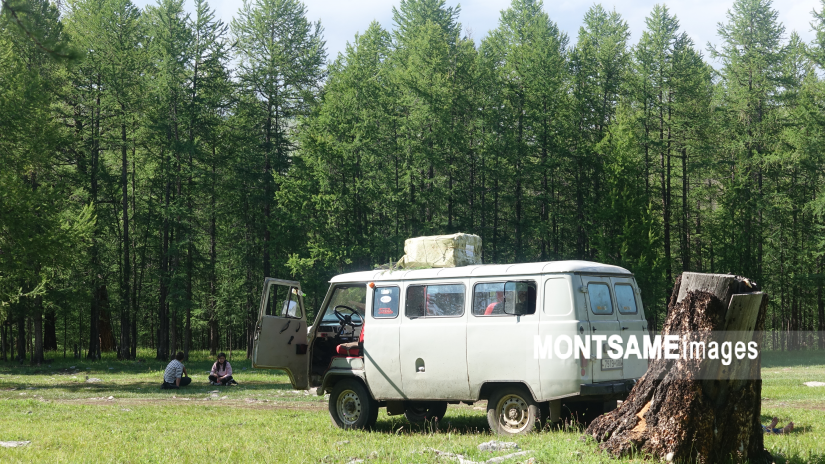 We have reached the southern part of Khoridol Saridag Mountains, Uliin Khalzan Davaa, at the entrance to Ulaan-Uul soum after passing Toomyn Davaa. This is why people say, "There lay passes beyond passes". On the top of the pass are 13 ovoos (sacred stone heaps) revered by Darkhad people. Darkhads have been making offerings and praying to 10 directions plus 3 dimensions since long ago. That is why they have been revering the number 13 that represents those and built the ovoos, said our driver B.Gerelt-Od, adding that there are numerous monuments representing the culture of Darkhad, Tumen, and Tsaatan (reindeer herder) people in Ulaan-Uul soum, Khoridol Saridag, and Renchinlkhumbe soum and that the 13 ovoos are part of them.
The locals call our driver Gek. There are very few who would not know him by the nickname in Murun city, let alone Tsagaannuur soum. Gek usually takes tourists to places, follows travel itineraries, or welcomes those coming to visit the Taiga and arranges for their accommodation. That is why he knows about the history and every corner of his land more than anyone.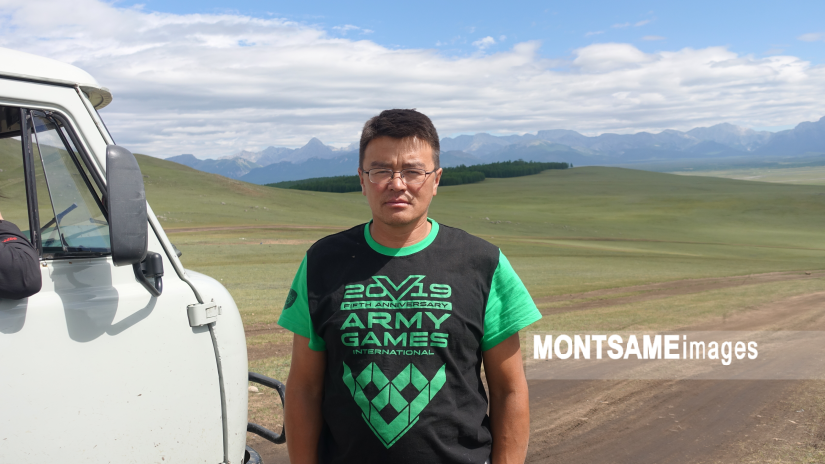 B.Gerelt-Od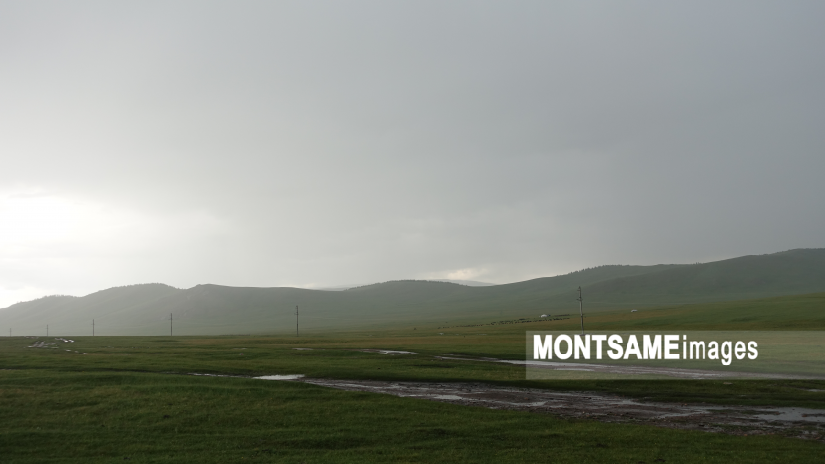 The terrains got rougher and rougher the closer we were to our destination. There were light rainfalls and occasional strong winds throughout the journey, not to mention driving through muds that could trap the car while crossing many small streams along the way. Our surroundings seemed to have become brighter with the sun presumably on its way to setting, when there was nothing but heavy grey clouds like the ocean waves up above us.
Just like this, we passed through Ulaan-Uul soum over midnight and arrived in Tsagaannuur soum at dawn after going through a forest full of rocks and trees along Upper Tsagaan Lake all night. My phone says it is 4:37 AM. I do not remember exactly when we left Murun city, but when I last read through my note, I saw I had written "We have arrived in Murun soum after 13 hours of driving". This is how we set foot in the farthest northwestern soum of Mongolia at dawn. The track to the 'Lake in the north' that is full of obstacles could be a tough drive unless you go with an experienced and skilled driver. After dropping off the other passengers, Gek brought us to his home, a two-story log house on the right side of a large yard. There was a Mongolian ger (traditional dwelling) in the middle of the yard. The sunshade put out right in front of the ger must be for resting outside.
Gek's house
The ger we slept in



While unloading our luggage, Gek said, "Okay then, we have pitched one ger this year. You can go in there and take a good rest. You guys would not be able to find a guide or horse to go to the Taiga with today being the second day of Naadam. I will talk to some people for you around noon. I hope you guys can leave tomorrow." When I asked, "You put up only one ger this year when you had said you receive a lot of tourists?", the answer was "This year, we did not receive any foreign tourists due to COVID-19. Even domestic tourists have not showed up until recently. That is why we did not prepare that many gers this year. It is not only gers. Our yard used to be packed with lots of tents as well."
Two portable travel beds were set up and made in the right corner of the ger and a wooden bed was placed in the upper left corner. Gek's wife got the ger warmed up in an instant by quickly starting a fire in the stove. We lounged near the stove, since it was cold at dawn, hearing dry firewood make crackling sounds and the cold wind blow outside.
1,048 KILOMETERS AWAY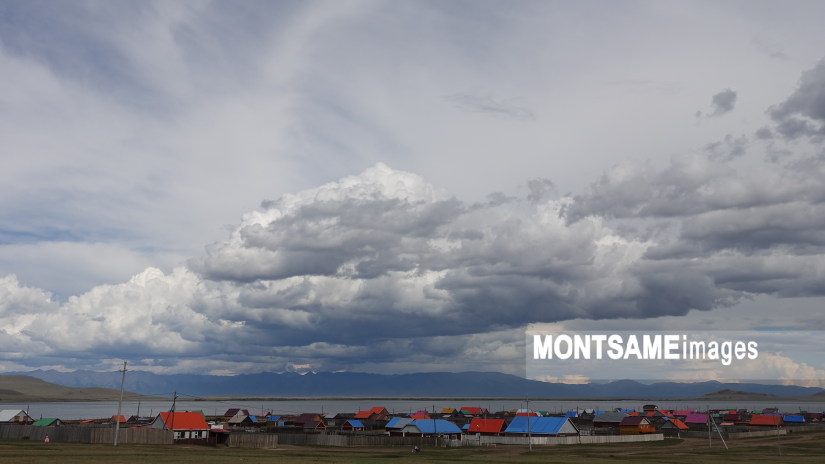 Tsagaannuur soum
Khuvsgul aimag has TsagaanUul and Tsagaan-Uur soums. The capital of Tsagaannuur is located 1,048 kilometers from Ulaanbaatar.
It was only when I arrived there that I realized why the name Gurvansaikhan appeared when I looked up our destination on Google Maps. In the past, Tsagaannuur soum was part of Renchinlkhumbe soum of Khuvsgul aimag until the People's Great Khural made its resolution No. 245 on November 27, 1985, to create Tsagaannuur soum with an economy based on reindeer farming and hunting. The name of the capital of the soum, Gurvansaikhan, was left unchanged.
As a steppe boy visiting the towering mountains in the north, I would sometimes lose my sense of direction and get confused. But the door of ger which always traditionally faces south, made it easier for me to find my way. The only thing is that there were very few ger dwellings and most of the locals lived in log houses. Also, the large number of households with livestock pens meant there are a lot of people in the soum who are engaged in sedentary livestock farming. The length of Tsagaan Lake bordering the soum's southeast end is about 20 kilometers. Gurvansaikhan is located on the north side of Tsagaan Lake and Renchinlkhumbe Mountain at the northwest side of the lake. The highest mountain of the soum is 3,065-meter-high North Agar Peak. 40 percent of the soum population is Tsaatan (Dukha) people, while 80-90 percent of the soum's territory is part of the Taiga. Gek was proud to say that the soum leads the aimag with its forest reserve.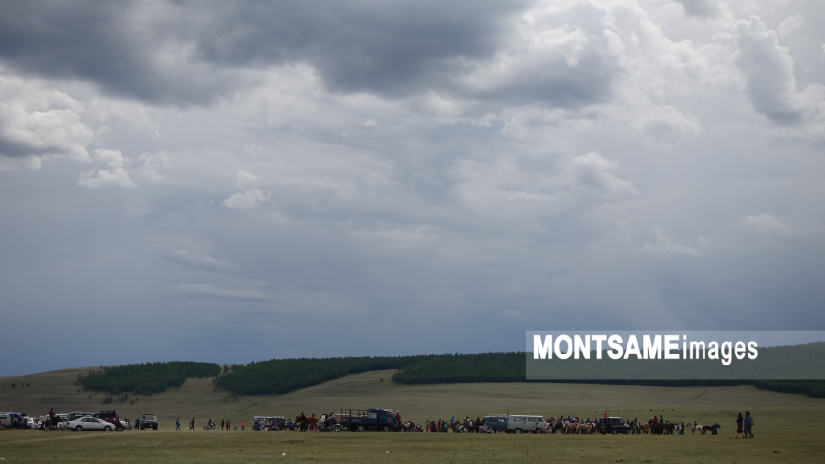 Darkhad people celebrating Naadam
We walked from the east end of Tsagaannuur soum located 1,048 kilometers from the country's capital toward the hilltop in the northwest part of the soum where Naadam was celebrated. Log houses with red ocher fences along the way reminded me of my childhood 20 years ago, including Batnorov soum. Now, that hometown of mine is going under major development, though some of the buildings still appear as if from socialist times, with their walls remaining chalk white. But here, it seems as if the log houses and stone pens were created naturally with the water and land resources of the region. It was not easy to count how many rows of alleys we passed.
AT THE STARTING POINT OF OUR DESTINATION
Around noon, we reached east bank of Khotgor River located 30 kilometers from Tsagaannuur soum. I heard people usually start their journey to the East Taiga from the doorstep of the household we stayed at. We need to ride horse throughout the journey, as cars cannot go further from here in summer.
I have gained many friends during my journey thus far. We, as a group of ten, are about to head to the East Taiga. Since everyone besides me, Jadambaa, and Davaa was about to ride horse for the first time, some got quite nervous just before mounting their horse. But they soon got used to their horse as they went up a swampy hill. I was given a little arrogant gaited cream horse. Our guide Enkhee warned me to be careful with it, as it tends to jolt or bolt without warning, saying, "It is only because you said you had ridden horse before that I chose it for you." It really was an arrogant one. It would try to jolt forward or sideways whenever another horseman got ahead of us.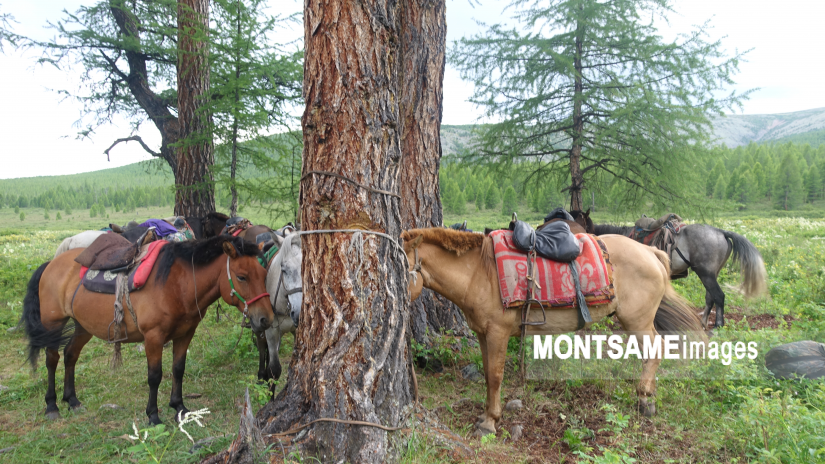 Our horses taking a rest



We then made our way up the top of Jugnegiin Davaa through a muddy and swampy terrain. There was a faded out metal sign on which the words 'Jugnegiin Davaa, Taiga Nature Reserve' were written in blue. When not paying attention, I would face obstacles with twigs whipping my face or getting tangled in my backpack, and my horse getting its knee deep in mud or stumbling over pieces of rock. Luckily, there was nothing much to worry about knowing that our horses all were used to traveling across the Taiga.
Since our journey started pretty late, having passed Jugnegiin Davaa, we traveled 30 kilometers up the Taiga valley to the 'Tribe camp'. We pitched camp for the night there and decided to continue our journey the following day as the sun was about to set in about an hour. Our guides Enkhee and Bayaraa tied some of the horses together and left the rest unhobbled.
There was a yurt formed with a frame of poles, where we camped at and it seemed to have been built long ago. I knew we would be sleeping with the sound of mountain streams flowing around us throughout the night. I also heard our horses grazing and birds cawing out of sight from nearby trees. I took a number of photos while scooping water from the river and after dinner, we all laid down to rest.
EAST TAIGA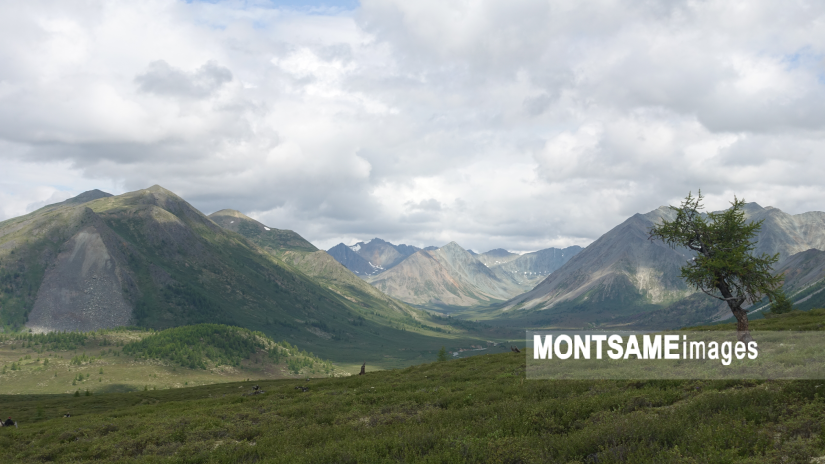 Urtun Khyarkh Mountains



I have no idea how many rivers, hills, and ridges we passed. After traveling down Pushdugiin Davaa into the depths of Khunkher Taiga and going about 20 kilometers through more obstacles including swamps along rivers and dozens of small rivers and streams, we saw the sky-high Urtun Khyarkh Mountains in distance from the top of a hill with huge white rock. This is part of northern nomads' land situated at the farthest northwest point of Mongolia. This is how we at last saw the East Taiga around noon following our journey on horseback. White dogs are seen running outside yurts far away, while reindeers lay around their tethering post. The closer we got to the yurts, the more baby reindeers were seen running around us. Snowcapped Nogoon Nuur Mountain, Urtun Khyarkh Mountain Range, and mountains situated in front of the border with Tuva were far away.
Tsaatan households
Only here is the wilderness uninhabited by that many humans and their livestock. Nariin River runs around Nogoon Nuur Mountain and flows into Urtun Khyarkh River together with Ekh River streaming down the northwest side of the mountain. To the south of the confluence of the rivers, in the depths of East Taiga, are 23 Tsaatan households. They are situated in the north part of a valley stretching from north to south. When you step out of the yurt, you will see the vast valley surrounded by mountains covered in green in the south. The Tsaatan people have come to their old settlement in the middle of Urtun Khyarkh Mountains to summer after 20 years.
G.Dalaibayar, East Taiga Tsaatan



G.Dalaibayar, the lady we met on our way out of Tsagaannuur soum, welcomed us. Of the 23 yurts, her home was the farthest southeastern one near a spring running down the mountain. Serving us some thick reindeer milk tea, byaslag (traditional cheese), aaruul (dried curds), and urum (clotted cream), she said "You guys must be tired, let me make you some soup". It was clear that Tsaatan people are not uncivilized like the civilized urban people 2,000 kilometers away. The natives of every land wish to preserve their longestablished culture and customs. But at the same time, no one would want to get left behind civilization. It is obvious that the era of civilization holds nothing that can be compared to the tranquility of nomadic life. But G.Dalaibayar always has smile on her face. The joy on her face proves she loves the life and nature she saw growing up and her nomadic Tsaatan life that is humble in a way, but is always faced with harsh climate.
The light rain that started falling as soon as we arrived at the doorstep of G.Dalaibayar stopped after lunch and the sun came out. I chatted with G.Dalaibayar for quite some time while axing firewood for her. She has four daughters, M.Khongorzul, M.Enkhzul, M.Enkhjin, and M.Anujin. Her husband of many years, Mungunshagai, passed away unable to get emergency assistance for a sudden stroke two years ago. This is the biggest problem Tsaatan people face. Hundreds of kilometers of rough terrains block their access to medical assistance. That is why, it would be a big help for these people if you bring antihypertensive drugs and injections with you on your trip to enjoy the beauty of the nature, get to know Tsaatan life and culture, and get memorable photos.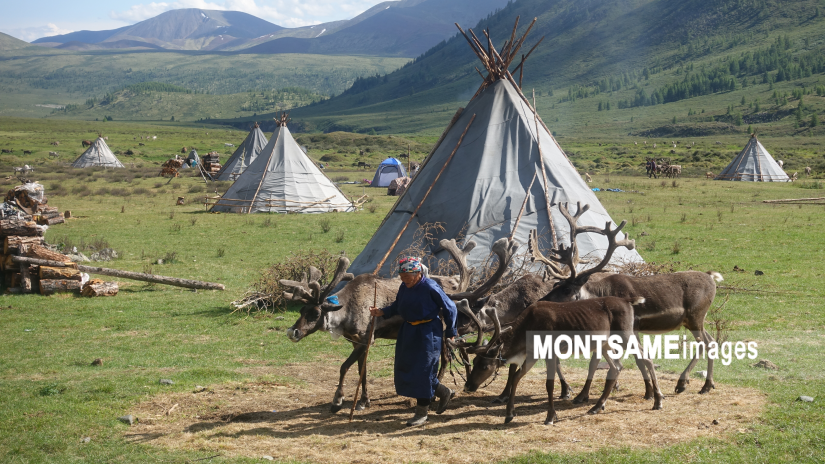 An elderly woman walking towards the reindeer tethering post



People here are Turkic people from far Tagna Uriankhai. They exchange greetings in Tuvan dialect, and converse with each other in their mother tongue. In 1958, a commission comprising of leaders of key ministries under the leadership of a member of the Political Bureau of the Central Committee of the Mongolian People's Revolutionary Party was established for a Soviet-Mongolian border agreement. The border talks continued for around 20 years. Around that time, G.Dalaibayar's parents, unable to return after crossing Mongolia's border, stayed in East Taiga. There are many tragic stories about some of them spending years apart from their children on the other side of the border or passing away after spending their whole life unable to see their children. They are Dukha people who had been called Tagna Uriankhais until the beginning of 20th century and the term Tsaatan was first used on Unen newspaper from the socialist period. When G.Dalaibayar said "I miss my family from time to time. There must even be many of my relations I only heard about. I feel a little sad for my father and big sisters.
But I believe everything will be okay as long as we have our reindeers and they have theirs as well," the words seemed to be those that would come out from no one, but a Taiga woman tougher than anyone else. The rain came back not long after. In reply to my asking if the Taiga sees a day without rain, G.Dalaibayar said with a grin, "Of course, there is such a day. But the rain has been light lately. It is better for us when the rain falls lightly and occasionally. Reindeers prefer cool weather. They get enough fat and do way better in cool places with abundant water, saltlick, and grass and avoid hot places when migrating. At that moment, I felt sorrow for the reindeers I saw on my way to Khatgal village last year. They were used as live exhibits for tourists to take photos.
STILL AFFECTED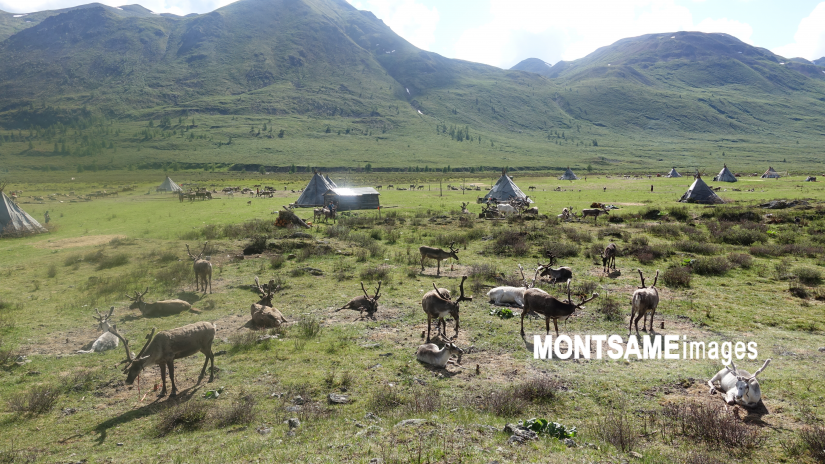 Reindeer tethering post
Tsaatan people here put on Russian-made green raincoats in the rain and wear Mongolian deel and modern clothes as well. It is also rare to see someone wearing fur or sheepskin coat even in the winter. There was a volleyball court set up in the middle of the 23 households and the Taiga children probably play on it every day as they seemed to have the potential to become fairly good players. Also, since G.Dalaibayar's children started attending school and kindergarten in Tsagaannuur soum, the family have been wintering in the soum and returning to the Taiga to summer. All this shows that civilization did affect the northern nomads. No one would want to miss the train to civilization. So it is obvious that they as well face the economic issues everyone goes through. Their main livelihood is reindeer farming. But during our stay there, every household was making their meals with mutton. G.Dailaibayar said the Tsaatan people try to increase their reindeer herds, rather than using them for food. Since stopping the harvest of velvet antlers, they have been making handicrafts that are sold to tourists visiting the Taiga. This is their main source of income. They also sell part of the skin on the reindeer's leg for MNT 50-60 thousand and build yurts for tourists for around MNT 5-10 thousand. They said they did not set up any yurt this year since there has not been any tourists. These make almost all of their income sources. They use reindeer milk for household consumption rather than the production of dairy products for sale, as the milk yield is very low. During his visit to the Tsaatan households 7 years ago, in 2013, former President of Mongolia Ts.Elbegdorj launched an initiative to monthly give MNT 100 thousand benefit to the adults of reindeer herding households and MNT 50 thousand to the children. There are times where Tsaatan people who have nothing but their reindeers would leave the Taiga for the town as they face serious economic problems and there is nothing to blame them for.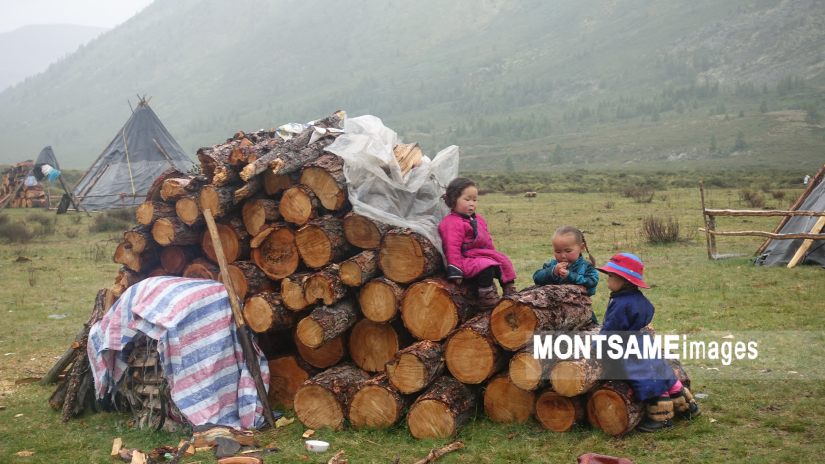 Children playing outside with no care to the light rain



Also, the law on hunting passed in 1995 has restricted the Tsaatan people's right to hunt. It was however unavoidable with the Taiga taken under special protection. They also seemed to be displeased that even their migration from place to place is getting restricted. As the oldest dweller of the East Taiga D.Gombo said "Those people have to understand that we do not kill endangered species and that we have never even once accidentally started a fire in the Taiga valley with grass as high as stirrups or the dense Taiga forests," I honestly felt like a boy being scolded by his father.
Last year, when the reindeer population reached 2,000, a festival of 2,000 reindeers took place under the auspices of the President of Mongolia. It is written in many places that a total of 85 households and 2,396 reindeers were counted in both West and East Taiga. But I recall G.Dalaibayar saying, "The 23 households summering in East Taiga have around 400-500 reindeers in total". She herself has over 20 reindeers. So, first things first, the number of reindeers has to be found. The celebration can take place any time after. We should not put aside the issue faced by one of our ethnic minorities by thinking that the Tsaatan people who already have thousands of reindeers are tranquilly living in the Taiga. Now, only more than 40 households of over 300 members are dwelling on the two sides of Shishged river that joins Yenisey River. If the remaining young people leave their home to settle in the town with their children, the ones left will be some old people only.
Tsaatan people are the northern nomads in the far west Mongolia. They live over 2,000 kilometers away from the civilized capital of the country. Even so, some issues common in civilized society have always affected them.
TALK INSIDE THE YURT
D.Gombo, leader of the Tsaatan tribe in East taiga



The oldest dweller of East Taiga, D.Gombo is 75 years old this year. The elder who has been the tribe leader for many years has participated in the World Reindeer Herders' Congress over the recent years, sharing his views and experience. He recently went to a spa that takes three days on horseback to reach with other elders of his tribe. He is the father of the one who welcomed me, Dalaibayar.
The thing D.Gombo is most concerned about is language and culture issues. "Of course, our youth are free to pursue their education in town. But they should not forget their Tuvan language. Now, children rarely speak Tuvan and tend to lose the language. This is what I am most concerned about. We need a Tuvan language teacher here". He also always tells the younger generation, "You should not lose your native language and culture. It is our responsibility to preserve our language and culture even though now everyone is going to towns. Without language there exists no nationality. The culture and language of Tsaatan people should not die with us."
In truth, those below 40 years old here can no longer speak their native language. Even though Tuvan language was added to the curriculum of Tsagaannuur soum's school, it was not taught more than two years. The best thing to do would be to add Tuvan language course to the soum's secondary education program. Language and culture are greatly crucial to the existence of a nation. If the language dies, there will no longer exist Tuvan Tsaatan people, which would mean the end for an important part of Mongolian nation.
Tethered

doe



I got an answer I never expected to my question, "Do reindeers produce twin offspring?". D.Gombo said he has never seen reindeer giving birth to twins other than only hearing that it does. The birth of twin fawns is also regarded as a bad omen and one of the fawns is sent down the river. But, he has never seen people doing it other than hearing about it from local elders at a young age.
Baby reindeers



When they said they regard reindeer as a celestial creature, a thought flashed into my mind that "No wonder. In the fairy tale, Santa Claus, riding his reindeers in the sky, delivers present to children all over the world on New Year's Eve". This is why reindeers are made sacred by a ribbon or khadag (ceremonial silk scarf) passed through the ear or tied on the mane. Consecrated reindeer is kept with its herd and never used for transportation. They are however killed during mountain worship ceremonies that usually take place in fall or winter and all of their meat is offered in a yurt. Most of such reindeers are white.
Tsaatan boy leading a doe



D.Gombo said he once saw more than 600 wild reindeers. They were coming down like a mountain waterfall with groundshaking-loud noise. Luckily, he was not crushed in the stampede, as the reindeers were pretty far away. That is why the elder is certain that there are still wild reindeers on the ridges of the great Tuvan ranges and the Urtun Khyarkh Mountains.
The Taiga has long days. The nightglow is still there around 10 PM. After my visit to Gombo's, I walked to a nearby spring. The unsettling yet enjoyable feeling I got when I started my journey came back to me. The hillsides are covered in mud and rocks washed down from the peak by flood. I also saw baby reindeers playing around a few trees lining up on bumpy hills in front of those hillsides. I just loved the Tsaatan people who stayed behind without leaving their high-altitude Taiga for sedentary life in town to preserve their language and culture even with the stones and rocks rolling down the mountains.
I would be pleased to meet and have a warm conversation with any of these few people left in their already small minority. This is where my misconception about them being hot-headed, complicated people in fur wraps who live in yurts made from reindeer skin was cleared. With their warmth soothing even the cold air of the mountains, the northern nomads do not lose their strength in the harsh climate of the Taiga.
MORNING ROUTINE
G.Dalaibayar gets up at 5:30 AM. After lighting a fire and making breakfast, she got out to milk the doe. The light rain that started at dawn was still there as she milked the doe. It looked like the rain would continue throughout the day. But such light rain can never stop Taiga dwellers from doing their thing. They would nonchalantly prepare their firewood and milk the does. The reindeers are milked 4-5 times a day.
One doe on average gives 300 grams of milk at most. On average, the milk yield is 120-200 grams. But since reindeer milk has high fat content, 5 liters of water would require only 200 grams of milk for making tea. So they make aaruul (dried curds), byaslag (traditional cheese), and other dairy products as much as they need using reindeer milk. Aaruul and khuruud (hard, round aaruul) are like candies to rural children. They sometimes even eat food using the aaruul in their hand, instead of a spoon. Children are running around the reindeer tethering post without minding the rain. They hug and pet some of the fawns and untether them to let them meet their mothers.
G.Dalaibayar hobbling the doe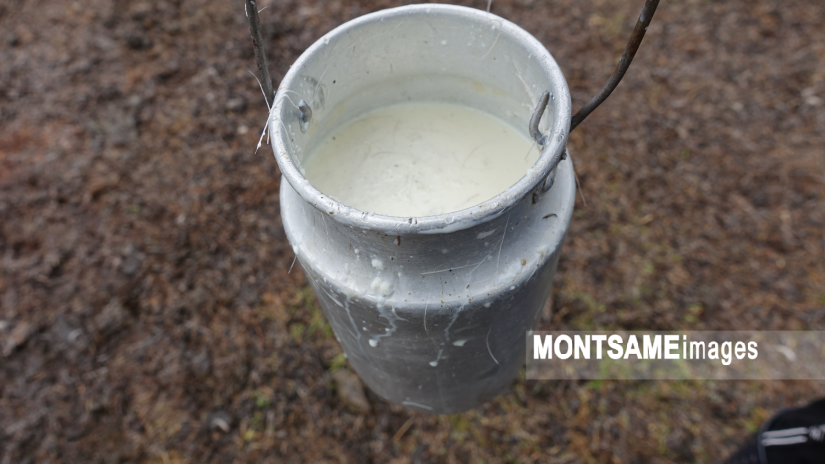 Having finished milking the doe, G.Dalaibayar started axing firewood. I thought what a tourist would think about as soon as they see G.Dalaibayar axing firewood. They would be surprised a little at first, maybe take a photo of her, and then ask questions opposing what we all think of as normal. In the Taiga, firewood preparation is the most important. No one knows how many logs are cut with that steel axe held in both hands. This simple disregarded task is the most important thing in the life of Tsaatan people. They use fire to not only heat their yurt in rainy or chilly weather, but also make food. Also, most of the cold winter is spent near the warm stove. I heard that in winter, the stove heats only a small area around it, while the lower part of the yurt stays cold throughout the day. This is how people here spend the long winter months in a yurt warm in one corner and cold in the other. But no one in the Taiga including G.Dalaibayar used the words 'cold' and 'chilly' in their answers to my questions about winter in the Taiga. They do not get chills in the harsh winter or get bothered by heat in the hot summer. It is not as if they dwell in the Taiga because others cannot. They live there because they have learned to be tougher than others.
HIKE WITH MARGAD
Even after the rain stopped, dense grey clouds were billowing like a giant foamy thing in perpetual motion in space. Also, the first thing that will surround you while on a breezy morning stroll in the Taiga is fog. But the fog covering the valley instantly disappears once the wind blows a little. The mist on hilltops however takes longer to go away. I felt like I was in a fairy tale as I observed the fog rising from below. It was as if the fog slowly moved and had to tear itself apart to rise because the trees were clinging to it. Someone in a fairy tale would of course get such a feeling.
I decided to take reindeer photos and stroll through mountains and tribe areas with L.Margad-Erdene, who I befriended on my trip from Tsagaannuur soum. My new acquaintance is 13 years old and is turning 14 soon. She has great curiosity and takes photos and loves gifting to people the handicrafts she made using various candy wrappers and other items thrown away by people.
We walked towards the Nariin River waterfall, the biggest and only one waterfall in the Taiga, on the front hillside of Nogoon Nuur Mountain. On top of being as beautiful as those of Ulaan Tsutgalan and Arsai waterfalls, the surrounding area of that waterfall is a true wilderness. The waterfall thunders as it falls down a high mountain. People walk up along Urtun Khyarkh River to reach the bottom of the waterfall. There is also a trail made down the bottom of the waterfall, but it could be dangerous for children to use. Springs and rivers in Taiga never move in a slow current. Even though I like the stillness of lakes and ponds, gentle flows of rivers give some kind of a deathly feeling. But the Nariin River sounds as if telling a story of thousands of years with rumbles.
"What a large waterfall. Amazing" Margad said. When I asked what about it was amazing, she explained, "The nature, mountains, and rivers of the Taiga are all amazing. But the most amazing of it all is that I am right here looking at them". Yes, we sure saw the power of the wild nature and reindeer antlers protruding from the fog. We saw Taiga rain, a little girl riding and tethering the reindeer, a white dog in front of the yurt keeping an ear out for any sound from afar, a reindeer fawn drinking water from a gravel bed river, and a foggy night of high mountains with their peaks reaching deep into the sky. We saw the warmth and tranquil life of Tsaatan people I had always been curious about and this is the most amazing of all.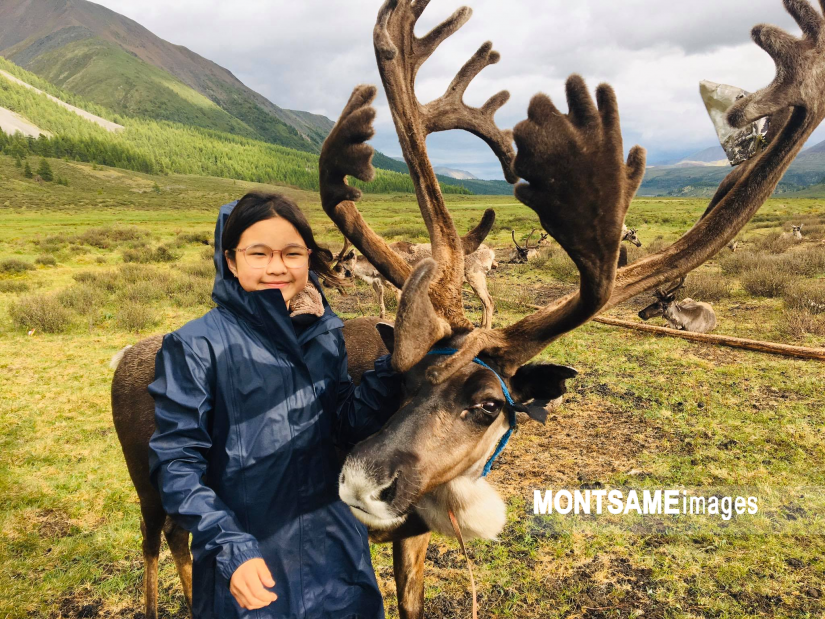 Margad-Erdene with the biggest racked buck of East Taiga



Having returned from our tour to the waterfall, Margad and I fed reindeers. Given their love for salt, reindeers come running for salt as soon as they hear a plastic rustling sound. Natural salt licks are widely distributed across steppes, but not the Taiga, in other words, it is commonly found in the southern part of the country, not the north. Margad fed the tethered reindeers from a small cup, adding little salt at a time. "I want to give salt to all of them," she said. When I said "There are almost 200 reindeers here," her reply was "I do not mind. If there is enough salt, I would bring it to all of them even if it took me the whole day". She spotted the buck with the biggest rack in the tribe camp. When we went and checked it out, there was a khadag tied on its mane. We assumed it to be a consecrated reindeer.
EVERYTHING BRINGS OUT SADNESS
G.Dalaibayar started chopping meat on a wooden cutting board, saying "I am going to make you a delicious Tsuivan (traditional noodle dish)" The rain is coming down again outside. The yurt door is open. The rain- drops seem as if they are hitting the ground with all the sadness they absorbed from the air. But the sadness is truly 'pure'. Because this is the last day I will spend in the Taiga. Just like people say "If only I had a horse and the time", my desire to spend a couple more days in the Taiga grows stronger and stronger the closer I get to the sunrise of the day I leave.
Quite some years have passed since G.Dalaibayar started spending the winter months in Tsagaannuur soum, meaning she stays in the soum most of the year and returns to the Taiga in the summer. When her children started going to school and kindergarten to receive education, she had no choice but to move closer to civilization. I felt great sadness as I thought there might be times where she is reminded of her late husband of many years every time she returns in the first month of summer even though it is the place she grew up in. She most likely would not talk about it if not asked.
No one knows which one of the wounds inside her preoccupies her right now. It could be that she gets away from her painful memories while making her children's meals and helping them with their studies in the soum. Or, perhaps, the lady who grew up in a peaceful Taiga household does not even get time to brood.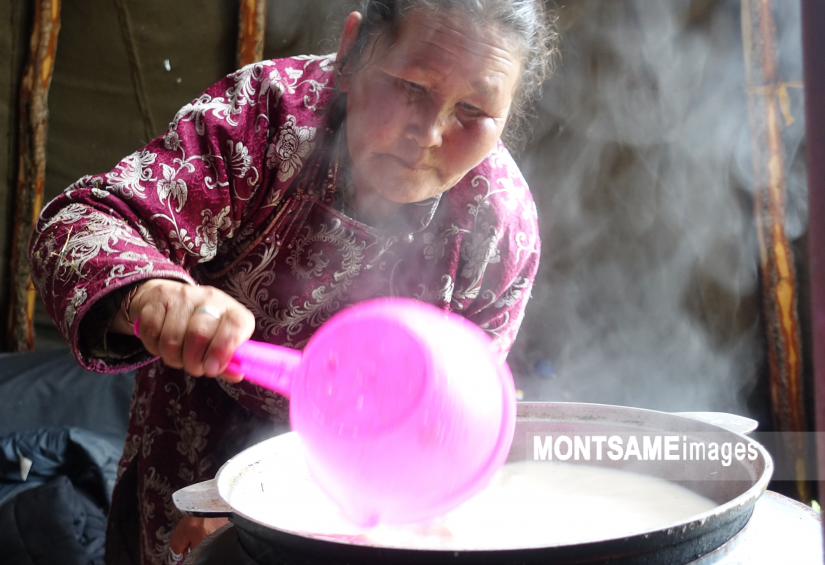 Shaman J.Saintsetseg of East Taiga putting milk tea into a teapot
As my food was being prepared, I visited East Taiga shaman J.Saintsetseg. Her home is situated on a hill far across from the tribe leader's yurt. Pieces of cotton in various colors are tied to a pole in the back of the yurt and most of them are white. When I arrived, J.Saintsetseg was putting milk tea she made into a teapot. After telling me to take a seat in the back, she served me with a cup of tea, placing urum (clotted cream), aaruul, and bread in front of me.
J.Saintsetseg became a shaman as she was suffering a prolonged disease. After her recovery, she learned shamanic practices for healing others and soothing the mother nature. I really could not ask that many questions because I find shamans daunting. But she said she has never put a spell on somebody to make them stay in her land and that Taiga people do not do something like that. Having helped her bring in firewood and axed some for her to use later, I put it neatly on the front left side of her yurt. It was raining outside at that time and reindeer fawns were playing in the middle of a grey field. J.Saintsetseg rewarded me with some khuruud, saying, "Thank you for preparing my firewood and your gracious visit to our Taiga". After stepping out of the shaman's home, I walked towards my tent. On my way, G.Dalaibayar called me to come eat. It was clear that she was worried that I might have gone to a river and that my meal might cool off.
It could have been because of the rain, but I kept feeling extremely sad. I wanted to spend another day there without hitting the road when the morning comes. Leaving the place with the words, "Goodbye until my next visit" felt like a very difficult thing to do. It is especially heartbreaking to get away from the warmth of people who you crossed paths with by chance during one of many special occasions life has to offer.
EVERY ENCOUNTER IS BLISSFUL
There are a number of routes to East Taiga. Whichever one you pick, you will travel on same muddy and rocky trails and your destination will be only East Taiga. You also will not lose your way if it is not pitch dark, as the tracks branching from Jugnegiin Davaa all lead to East Taiga. All of the tracks end in East Taiga. Right now, I am about to return using one of those routes. A track that ends in the Taiga now will be the starting point of my travel back home. Ulaanbaatar I left for the northern nomads is 2,000 kilometers away from here.
This was my first visit to Tsaatan people. I sipped hot tea made from reindeer milk, chewed reindeer-milk aaruul, and sat staring at the peaks of faraway mountains. The outer appearance of yurts always reminded me of ancient nomads. It could be because G.Dalabayar's children are all girls that her home was spotless. They fold their blankets neatly and do everything by themselves other than getting advice from their mother about serious matters. They have a lot of daily tasks including household chores, but I saw none of the family members slacking off.
Inside the yurt of G.Dalaibayar



The rain stopped and the sun came out on the morning of the day I left. Having saddled the horses, our guides Enkhee and Bayaraa stood ready to leave. We, as well, were packing up our tents. D.Gombo was out on the hill in the back, keeping his eyes on the ground in search of something. My father used to walk quietly outside our home as if he was searching for something everytime I was about to leave for school in fall. Then he would go away on his horse after giving me a peck.
It was because he could not bear to see me go far away from home. As I had this thought, I went to D.Gombo, informing him of my leave and gifting my poetry book. He graciously received it, saying, "I as well am writing a work about our Tuvan Tsaatan people and their history and culture. I will later get in touch with you," and had me write down my phone number. Then he said, "Okay then, have a safe trip. I will still be here if you come back. Many people come here, but I will not have trouble recognizing if it is you". These words clearly showed the wisdom and serenity of the elderly in his 70s. D.Gombo walked towards the yurt after asking if we had our breakfast.
My travel companions were taking photos with G.Dalaibayar in front of her yurt. I got my picture taken as well. Having buried such a warm feeling in the Taiga deep down my heart, I mounted my horse to go back. Each one of us are creating our existence. Later, we will be left with nothing but memories as warm as tears, as we experience many farewells in our lives. Tsaatans are people who are separated from their relations for life. Still, they do not complain about life or get dispirited because they know life holds more encounters than partings. This is what I thought on my way back home.
Maybe I went to the Taiga in search for something distinct from the customs and culture of Tsaatan people. It could have been someone who would have created an unforgettable memory of my youth during my stay there. Maybe that is why I walked up the Taiga river with Margad, why I conversed with D.Gombo for hours, and why I listened to G.Dalaibayar talk softly from the bottom of her heart. I feel as if I am leaving someone with their painful memories as I go away from the Taiga. Even though leave-taking is always saddening, every encounter feels blissful when remembered later.
ONE THING TO SAY LASTLY

I traveled 5,000 kilometers in total throughout my journey through mountains and rivers. I am thankful to the ones who were with me in half of the long journey, S.Biligsaikhan, Ch.Lkhamdalai and his family, and the people who kindly welcomed me to their land, poet P.Mainbayar, O.Elbegtugs, Ts.Gonchig and Tsaatan of Khuvsgul's East Taiga G.Dalaibayar. I am sure that a bright future awaits the Tsaatan people in every corner of the Taiga they migrate to.
B.Altankhuyag