Mongolian doctoral students and researchers in Japan convene virtually
Society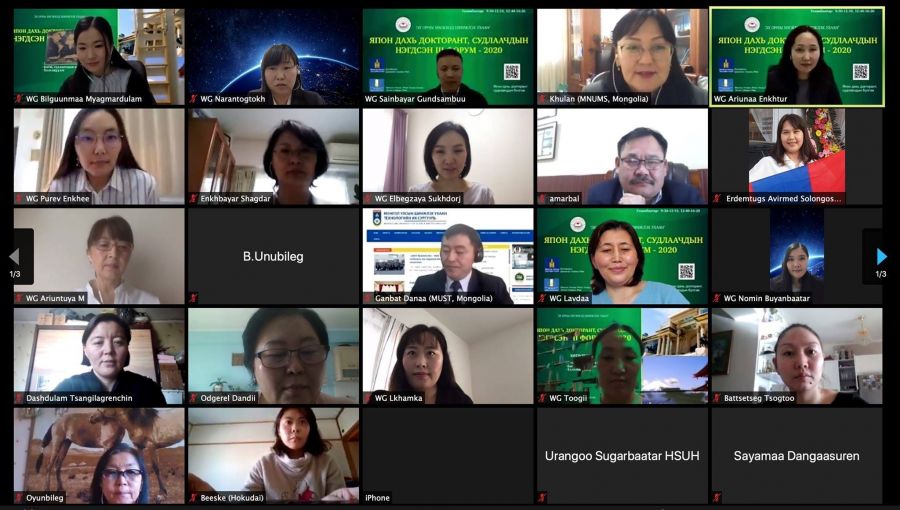 Ulaanbaatar /MONTSAME/ The Third Academic Forum of Mongolian Doctoral Students and Researchers in Japan 'Science for the Country's Development' was organized virtually on November 23.
Mongolian Doctoral Students' and Researchers' Group in Japan, an unofficial union of 241 Mongolian doctors, doctoral students and researchers studying and working in Japan, annually organizes the forum. 239 scholars took part in the third forum that was held virtually due to the COVID-19 pandemic.
Doctors and doctoral students presented their research works, had discussions, and shared experience with one another during the forum that allows the researchers to network, come up with research projects, and seek collaboration.
Moreover, guest speaker, soil scientist, Professor of University of Tsukuba Tamura Kenji who conducted studies in Mongolia for many years, gave a presentation on 'Coronavirus and school life in Japan' and Professor of Mongolian University of Science and Technology (MUST), Director of MUST Open Education Center D.Ganbat on 'Educational changes and impact of open education'.
This year, scholars in different fields gave presentations in 'plenary' and 'special' sessions and researchers and scientists in education, nursing, and social sciences from Mongolia, Japan, US, and South Korea discussed issues surrounding COVID-19 while sharing their research and practical experience.
The Ministry of Foreign Affairs of Mongolia, Embassy of Mongolia in Japan, Japanese higher education institutions, and Mongolian associations in Japan supports the annual forum and this year, Mongolian Ministry of Education and Science promoted the event to the public.