Ambassador to Japan works in Aomori Prefecture
Society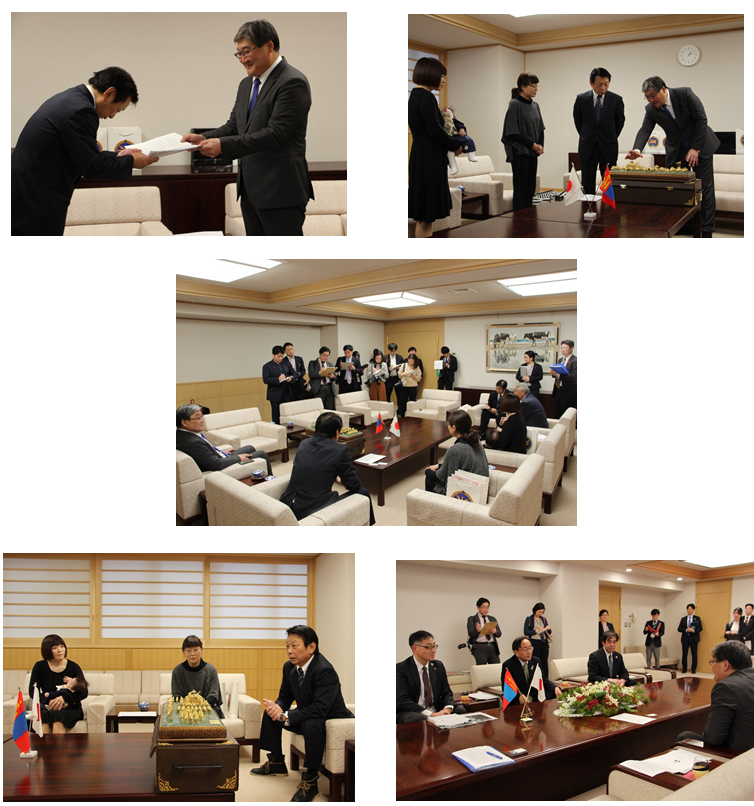 Ulaanbaatar /MONTSAME/ On January 10, Ambassador Extraordinary and Plenipotentiary of Mongolia to Japan D.Batjargal worked in Aomori Prefecture of Japan to present the prefecture's resident Mitoshi Takamura and his family with a letter and souvenir sent from Prime Minister of Mongolia U.Khurelsukh.
Mr. Mitoshi Takamura, his spouse Yumiko Takamura and daughter Tomomi Yanagizawa and her 6-month-old, members of the family the Mongolian Prime Minister stayed with 26 years ago, guested on the presentation ceremony held at the Aomori administrative office.
At the beginning of the meeting, Ambassador D.Batjargal thanked Mr. Mitoshi Takamura saying, "During his visit to Japan in December, 2018, Prime Minister U.Khurelsukh reminisced about his trip to Japan 26 years ago and expressed his wish to get in touch with the host family he stayed with. He repeated his wish once again during his attendance at the enthronement ceremony of the Japanese Emperor and spoke of inviting your family to Mongolia. We are happy to have you here with the help of the Japanese Foreign Ministry," and handed the letter after reading it out.
Voicing his appreciation and pleasure, Mr. Mitoshi Takamura noted that the Prime Minister's homestay 26 years ago left a lasting impression. "I was delighted to hear of his appointment as the Prime minister of Mongolia. It is my pleasure to receive his warm letter today from you, Mr. Ambassador," he said.
The Ambassador then handed a souvenir named 'Great Migration' to Mr. Mitoshi Takamura and gifts from the Prime Minister to the other family members. He then conveyed the Prime Minister's invitation to the family to visit Mongolia in July, 2020, during the Naadam Festival and informed that the Mongolian Embassy in Japan will fully support it. "I believe the relationship between Mongolia and Japan is based on the understanding between their peoples. It brings me pleasure to be part of an event that clearly demonstrates the friendly cooperation of the two countries," he added.
After the ceremony, Ambassador D.Batjargal met with Governor of Aomori Prefecture Shingo Mimura to discuss matters concerning bilateral cooperation.