Documents on cooperation between Mongolia and Russia signed
Politics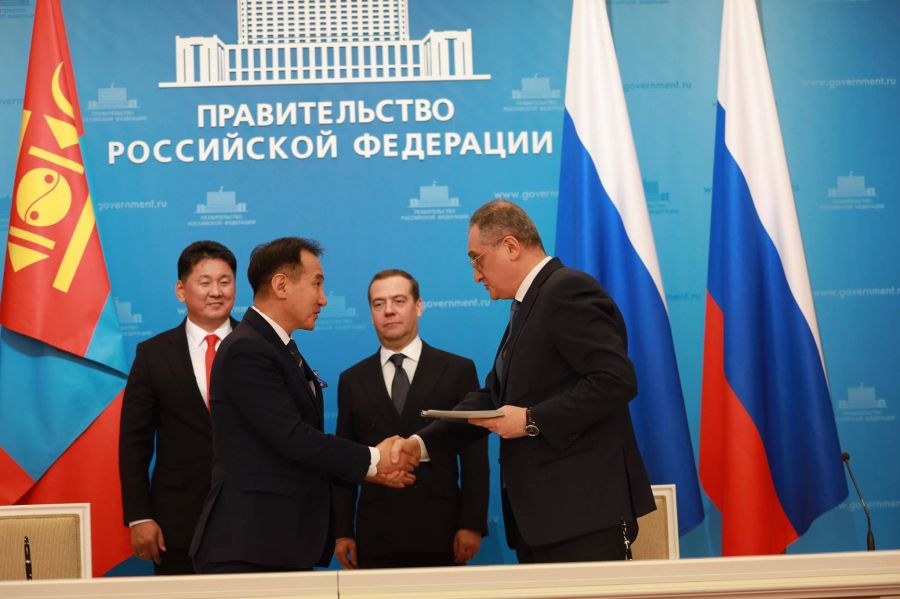 Moscow /MONTSAME/ During his official visit to Russia, Mongolian Prime Minster U.Khurelsukh held official talks with Prime Minister of the Russian Federation D.A. Medvedev on December 3.

Following the talks, a signing ceremony of 12 agreements on bilateral cooperation between Mongolia and Russia took place, with following documents signed:
1. Intergovernmental agreement on electrical energy cooperation,
2. Plan of cooperation between the Ministries of Foreign Affairs of Mongolia and Russia for 2020–2022,
3. Agreement between Ministry of Road and Transport Development of Mongolia and Ministry of Transport of Russia on training Mongolian citizens in railway specialties,
4. Memorandum of cooperation in the social and labor sphere between Ministry of Labor and Social Protection of Mongolia and Ministry of Labor and Social Affairs of Russia,
5. Program on cooperation between Ministry of Justice and Internal Affairs of Mongolia and Ministry of Justice of Russia for 2020–2021,
6. Memorandum of Cooperation between Ministry of Food, Agriculture and Light Industry and Ministry of Industry and Trade of Russia,
7. Agreement on cooperation between Mongolia's Erdenet Mining Corporation and Russia's Zarubezhgeologiya JSC in the field of geology-geophysical and engineering-geological research areas,
8. Agreement between Ulaanbaatar Railways joint venture and Russian RZD International LLC on the provision of technical consulting services for the implementation of the contract on the construction of the Tavan-Tolgoi-Zuunbayan railway,
9. Memorandum on strategic partnership between Mongolia's Erdenes Mongol LLC and Russia's UZTM – KARTEX LLC,
10. Memorandum on cooperation in supply and sales of leather and hides between Agricultural Exchange of Mongolia state owned company and Russkaya Koja, union of tanneries of Russia,
11. Memorandum of Understanding on realization of cooperation between Trade and Development Bank of Mongolia and Russian Export Center,
12. Memorandum of Understanding between Ochir Gegeen Sunder Company of Mongolia and the JSC "Development Fund of the Far East and Baikal region of Russia.
Yu.Delgermaa