Speaker receives UN Resident Coordinator Beate Trankmann
Politics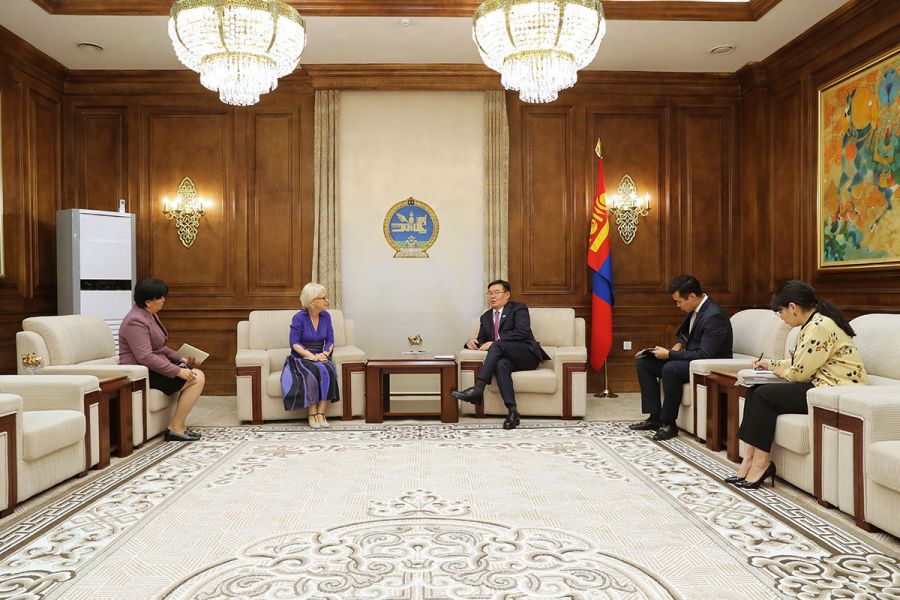 Ulaanbaatar /MONTSAME/. Speaker of the Mongolian Parliament G.Zandanshatar received UN Resident Coordinator and UNDP Resident Representative in Mongolia Beate Trankmann on September 12.

Ms. Biate Trankmann completes her mission in Mongolia as the UNDP Resident Representative since September 2015 and has been appointed as the UN Resident Coordinator for China.
At the start of the meeting, Speaker G.Zandanshatar thanked the UN Resident Coordinator for consistently supporting the socioeconomic development of Mongolia, and expressed confidence in continuing to discuss and partner in projects and programmes to be implemented in Mongolia.
UN Resident Coordinator and UNDP Resident Representative Ms. Biate Trankmann said, "During the past four years I have worked in Mongolia, the main focus was to implement Sustainable Development Goals, such as strengthening good governance, reducing poverty, supporting environmental sustainability and livelihood of citizens in rural settlements. It is my pleasure to inform that Mongolia is successfully implementing the Sustainable Development Goals-2030 programme. I am confident that the active partnership will continue with the newly appointed UN Resident Coordinator," and informed the Speaker about some of the projects and programmes currently being implemented by the UNDP.
In response, Speaker G.Zandanshatar said, "An important time has come for the citizens to decide whether or not to make amendments to the Constitution. The very first referendum for Mongolians was done on October 20, 1945 for the independence of our country. With this referendum, the citizens of Mongolia will be approving the Constitution for the second time," and briefly informed about the main changes that have been included in the Constitutional Amendment Bill.
Noting Ms. Beate Trankmann's effort in improving the level of partnership between international organizations and the Mongolian Parliament in the past years, he wished success in her future endeavors.