A.Gansukh: From the very beginning I have told the President "Not to go for the bargain if a horse-trade will be proposed for the case that I am being investigated by the IAAC and the Prosecutors"
The Mongol Messenger
A.Gansukh: From the very beginning I have told the President "Not to go for the bargain if a horse-trade will be proposed for the case that I am being investigated by the IAAC and the Prosecutors"
I had an interview with the former Minister of Roads and Transport A. Gansukh. I had this interview on the preconditions that we would not talk about politics and also I would not ask questions related to the present job he is doing.
-How are you, getting a confir­ mation for an interview with you tough.
-I am now a special civil servant. Under the law, I have suspended my party membership, I am not involved in any political activity. Therefore, I will not express my viewpoint on political matters. I am aloof also from the media given the nature of my current job.
-I want to ask many questions from you. As we have agreed that we will not talk about politics and also I will not ask anything about your current job, then shall be start with the same old railway?
-I have been talking about the railway since 2009. All this while I have been trying to describe a true realistic picture of the things to the public.
-The 280 million US dollar case has been closed with a 40 million tugrig fine. 'No Kidding'–is on everyone's lips?
-As the court has given its final judgment on the matter, I think I can talk about it now. I have waited patiently during this period when the so-called railway case was being investigated. I have already given heads up to the General Prosecutor M. Enkh-Amgalan that I would be reverting to the public regarding this matter and I have his authority. This matter will be divided into two parts. First, is the case related to a South Korean Company Samsung C & T and the director of its sister company called SCTICM, a certain South Korean citizen Lee Jong Yol, who were working on the new railway project. Second, about the investigation of the Minister of Roads and Transport of that time, that is myself.
-Aren't these two one and the same case?
-Let me explain it to you now. Looking at social media, disinformation, defamation, and outright fabrications are being churned out obviously to mislead and misinform the public. This is not surprising as it is an organized, targeted action of a concrete grouping. I am stating this with full responsibility. When I was in office, the Government had spent only around 190 million US dollars on the embankment of the railway line from Ukhaa Khudag to Gashuun Sukhait. The actual amount paid should be less than the amount stated.
As far as I know, there is still an outstanding payment to the MTZ joint stock company (MTZ-Mongolian Railway). As I handed over my ministerial portfolio in December 2014, I am now not in a position to give you the exact figure of amount. As far as I remember, at that time, the outstanding amount due was somewhere around 40 million US dollars. Also a total of some 20 million US dollars were spent on the blueprint of the railway line. And so add and see the total amount. A total of 210 million US dollars were spent on the new railway line between 2012 and 2014. And if we add the 60 million US dollars for the work accomplished earlier by the 'Energy Resource' Company of MCS, the total amounts to 270 million US dollars. As a matter of fact, I understand that the 60 million US dollar worth of work done by the 'Energy Resource' Company has not yet been handed over to the State.
-Are you saying this amount of money was spent on the construction of the embankments?
-That's correct. If the outstanding balance of 40 million US dollars had been made then the cost of the embankment work would amount to a total of 190 million US dollars. No one has misappropriated this money. Having said that, the IAAC and the police spent three years together carried out investigation to determine if this amount of money has been embezzled or not. A joint IAAC-police working group started investigating me in connection with the new railway project from the 25th of December 2015. It would be exactly three years on this 25 December.
-That's a long investigation?
-Then I was saying that time will bring to light what's true and what's not. Three years of joint investigation by the IAAC and the police of an individual who had served as a Minister for two years is quite a sufficiently long span of time. The truth is being established with every passing day. Frankly speaking, I said to myself 'What a good thing' when the investigation was begun.
-Are you trying to say you were happy with the investigation?
-To tell you the truth, I was happy. I wanted the law enforcing agencies to investigate to ascertain the truth. Otherwise, it is not easy to stand up to such a politically-motivated, organized calumny. It's far better to be undergo investigation rather than being a target of mudslinging.
-Were you so confident in yourself?
-Yes. I knew I had not committed any criminal offence. You tend to forget that you are talking to a person who is a lawyer, an advocate by profession. I began by career as a legal expert in 1997 at the State Property Committee and I have been in the civil service since on a strictly merit basis. And when I was on break not working for the government, I used to work as a defence lawyer and as a legal consultant, and I have experienced enough to distinguish what's a crime and what's not a crime.
-Were these three years tough for you?
-It was not pleasant being a target of calumny.
-President Kh. Battulga, while taking part in a TV interview prog­ ramme, had stated that A. Gansukh knows about the new railway issue and that he trusts you too...?
-I have said this many times before also. The new railway project has nothing to do with this man called Kh. Battulga. When this project was being launched, Kh. Battulga was serving as the Minister of Agriculture and Heavy Industry. The construction work of the new railway project began when I was serving as a Minister in 2012-2014. The fact that people who are linking Kh. Battulga with the railway is yet another evidence that this is nothing other than an organized campaign of calumny although these people know very well who was the minister then overseeing this project.
-So the incumbent President Kh. Battulga was not investigated in connection with the new railway project case?
-No. Kh. Battulga was questioned for matters related to the years 2008-2012 when he was serving as the Minister of Roads, Transport and Urban Development. As far as the time factor is concerned, it's different.
-But why was President Kh. Battulga investigated and for exactly what matter, and why did Ch. Ganbat abscond, and there was another person, who was he?
-As he was a minister when the MTZ company was in the process of selecting a consulting company for the railway project and so he is being investigated if there any breach of law related to this process. As regards Ch. Ganbat, he is a highly educated young man who graduated from the Columbia
University in the United States and was working in the investment department of the American Commerce Bank. He had set up a consulting company together with a couple of his friends who were educated overseas. His company was in contract with the American company McKenzie that was serving as a consultant company with the railway project. When Ch. Ganbat was on a business trip to Shanghai, the police broke into his office. Ch. Ganbat became nervous and he did not come to Mongolia. This is what happened. His open letter where he stated that he would return to Mongolia when the time comes was published in the press. I am sure you have seen that letter. And another young man P. Bat-Erdene was the former director of the MTZ joint stock company. P. Bat-Erdene had left for Australia to pursue further studies in 2014 before the investigation into the case was begun.
-So 280 million US dollars were not misappropriated? What exact amount of money was settled in the court. What was the crime committed by the Korean director of Samsung, how are you related to him?
-Their case has been finally ended and so I guess I can talk about it now. I have gone through the verdicts of the court of first instance and the appellate court that had considered this case. As the court proceedings were open to public, try to read them by accessing the court's website. A director of the Samsung C & T company Lee Jong Yol was investigated because a number of his actions were considered as being criminal in nature.
This incldues, first, a damage amounting to 9.8 billion tugrig for under-estimating the value of the work carried out by 11 Mongolian sub-contractor companies that carried out the earth-removing and grading work related to the embankment; second, misappropriation of 1.9 billion tugrig for the development of a blue-print by a Korean invested company Soyong Engineering and its application without permission from the professional authorities; third, under the pretext of making a payment of 700 million tugrig for the commonly distributed minerals, he had transferred 691 million tugrig from his own company to another company and had taken that money; fourth, a contract had been concluded with a concrete individual for submission of press reviews in English and every month 10 million tugrigs were paid to this individual from the company and from this amount he would take back 6 million tugrig for himself. In this manner, he had misappropriated 72 million tugrig from the Samsung C&T company that he was managing. Now add and see how much is the total of this so-called monetary damage? How much does it come to?
-The sum of all the total amounts to 12 billion 463 million tugrig?
-This is what the joint IAAC and police working group determined after three years of investigation into this case concluding that acts relating to such amount of money could have criminal nature. What 280 million US dollars? This is the actual figure of the damage that had been determined in the course of the investigation into the case of the new railway line.
-12 billion tugrig is also not a small amount, right? Is this the amount that he had misappropriated for himself?
-Initially suspicion fell on him that he could have embezzled money and an investigation was launched. Following the investigation the investigators concluded that Lee Jong Yol, director of Samsung C&T company could have misappropriated 12 billion tugrig and his case was turned over to the court for final judgment. Mongolia is a democratic country. According to the Constitution, it's only the court that can decide if someone is guilty of a crime or not. Am I correct?
-I agree. The court has resolved the 12 billion tugrig case. But people are incensed that the court imposed a fine of 40 million tugrig. How would you comment?
-There is no point interpreting in one's own way the verdict of the court. Let's have a look at the decisions of the court of three instances. Well, this is related to the case number one, the court resolved that the 9.8 billion tugrig damage to 11 companies is not a criminal offence, deciding that it is a business dispute of civilian nature. In other words, it is not a case of swindling, or defraud. Because every time when there was transaction-related dispute between Samsung C&T company and the sub-contractor companies, the parties would reach an understanding and acts were signed and the payments had been received and so the court maintained that there are no grounds to believe that there has been a case of defraud. Now the second issue, the court decided that Gu Dong Heung, the director of the Soyon Engineering company, which made the project blue print, has not taken any action of criminal nature and his case was dismissed. The court resolved that Samsung C&T company has made the payment in return for the accomplished work assignment, and has not resorted to any kind of criminal offence of embezzling government money. The court had been already notified that the payment related to the third and fourth issues would not be claimed from Lee Jong Yol of Samsung C&T. Let's say the Korean company has either shielded or took pity on its own citizen and company director. This is what transpired and the case has been resolved and closed at courts of all levels. The decisions of the court are accessible on the website, which is open and accessible to everyone interested.
-So as you have said the case has nothing to do with President Kh. Battulga. So where are you in this situation? In what way are these people related to you?
-I have nothing to do with these people. The IAAC and the police in their joint investigation determined that I don't have any, whatsoever, relationship with these Koreans and had not committed crime in connivance with them. This is why their case was investigated separately and which was transferred to the court. As a matter of fact, in the beginning I was suspected of having some kind of dealing, conspiracy with the Koreans. I had never ever met with the Korean and even had not exchanged a word with him. When the matter surfaced later I came to learn his name from the media. Attempts were also made to link the incumbent President Kh. Battulga. I was accused of "hatching a plot with the State Great Khural member Kh. Battulga." When I asked "how did I conspire," the investigator could only say "But you are both from the Mongolian Democratic Union faction, and doesn't that mean that you have both teamed up."
And I was being investigated in a manner when I said "The MDU has members in each and every soum in Mongolia, and so would they also be implicated in the case?" When this case was first sent to the court on 12 May 2017 the judge had handed down a judgment implicating that I had conspired with Kh. Battulga. Just look at the time and date, this happened long before Kh. Battulga became the country's President. I think I need to take a quote from the judge's adjudication. "...But no investigation has been ever conducted to determine how and in what manner A. Gansukh hatched a plot with Kh. Battulga and it is appropriate to note that the dossier does not have any evidence to prove that there had been any kind of conspiracy and involvement in any criminal act." When President Kh.Battulga was the Minister of Roads, Transport, Construction and Urban Development, he had submitted for approval to the State Great Khural a policy document on Mongolia's railway and this is how his name is being implicated in the railway case. This is how Kh. Battulga's name is associated with the word railway.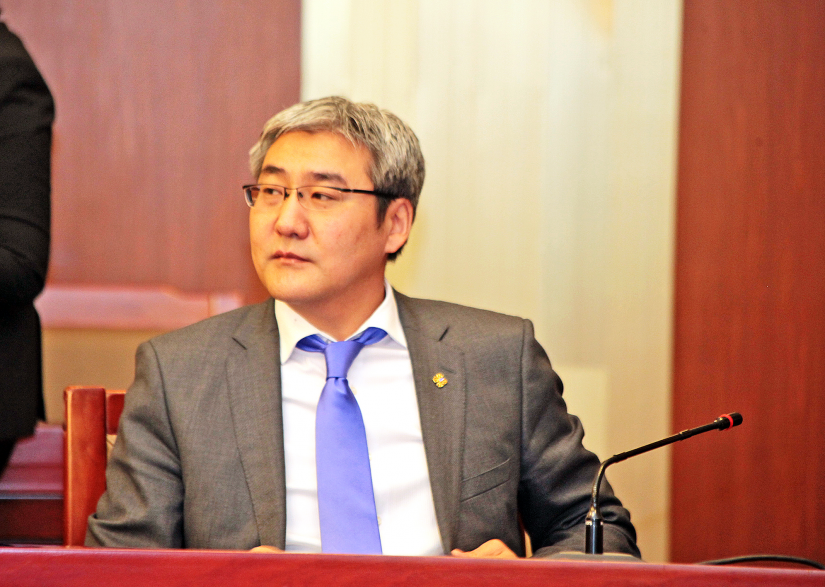 -Does this mean that the IAAC neither conducted any investigation nor did it have any documentary evidence?
-That's right. This was nothing other than a slanderous PR to tarnish the image of this person called Kh. Battulga. The raid on the Bayangol Hotel by the special forces was nothing but a show case. That was a technology used to impress on social psychology. Inevitably, with the passage of time truth will prevail. Let's now look at the part related to my case. I was questioned on suspicion that I could have allegedly misappropriated money in collaboration with this Korean guy. Leave alone misappropriation, the IAAC and the police joint investigation team established that I did not have any kind of relationship with this Korean, whose case was transferred separately to the court.
-To be honest, I still have doubts.
-I am sure many people were also doubting. For three years I gave my entire self for investigation to the joint IAAC-police team to establish that I am neither guilty of money-laundering, nor have I misappropriated any money. When officials of law enforcing agencies repeatedly use the social media to harp on the message that there has been money laundering and embezzlement, people start doubting. At that time I was serving as legal advisor to the Chairman of the State Great Khural (SGKh). I am sure you remember that Z. Enkhbold was the Chairman of the SGKh. Chairman Z. Enkhbold said to me "go for the investigation." At that time the incumbent President Kh. Battulga also asked me "I hope you haven't done something wrong?"
-And what did you say?
-I said I'll go for the investigation.
-Now what do they say?
-In the beginning they were also doubting but that does not mean they did not trust me.
-What are other people saying?
-Let me first give you an explanation because people have been listening to rumours. Or else you may get a wrong impression. I was investigated starting from 25 December 2015. At that time I was the legal advisor to the SGKh Chairman. I went for the investigation up until the time I served on this post until July 2016. In 2016 the Democratic Party (DP) lost the SGKh elections and when SGKh Chairman Z. Enkhbold stepped down I was simultaneously relieved of my duties. And thus from July 2016 to November 2017 an ordinary citizen A. Gansukh was subject to investigation. To emphasize, I was not any government official, but an ordinary citizen. But in November 2017 I was appointed the Secretary of the National Security Council. And I am being questioned even now. People may think because I am a government official I am trying to shield myself. So you see when I did not have any official post I was investigated the longest. What's more, the post I was in and the official position that I am in now are both posts that are immune from persecution but do no impede the course of investigation.
-You have undergone investi­ gation for three years. Would it be possible to share how you feel now. I recall that a document with your signature and that of Kh. Battulga pronouncing you two as suspects had been circulating in the social media.
-That is a document that says that we are suspects and so are under investigation. That is a document executed as per legal requirement according to which everyone who is a suspect and is being investigated for a certain case must sign the document after reviewing it in person. However, according to the criminal procedure law, documents in the file cannot be made public. I personally suspect that the investigators on purpose disseminated the document in order to tarnish our image as if we are guilty of the crime. If I were to lodge a complaint then I am sure a case would be raised as per the law.
-But you did not lodge any complaint, did you?
-It was pointless even to lodge a complaint as the time was different then and such. It was obvious that I would be helpless against the system that had been set up using all the mechanisms of the law-enforcing agencies and which was being managed and run by higher-up state authorities. In the beginning when investigation began I was accused of money-laundering, misappropriation and abuse of power. During this period, I was interrogated three times only. For each allegation there were 109 dossiers each with 250 pages of documents. In the course of the investigation, alleged cases of money-laundering and embezzlement were dropped. And the investigation continued on allegations of abuse of power.
-So does this mean that you are not guilty of neither money laundering nor misappropriation?
-Of course. The investigators, in the course of their investigation, themselves determined that I had neither laundered money nor engaged in embezzlement. As a matter of fact, a cabinet minister does not have any authority over funds. The money does not pass through the Ministry of Roads and Transport. It is transferred from the bank to the MTZ joint stock company and from there it undergoes another transaction. Even now all ministries and ministers have similar authority in terms of cash and funds.
-So these many years of investigation has yielded result. But what are they investigating now?
-Now I am being questioned whether I had resorted to any kind of illegal act using by power as a minister. They are spending three years to investigate the work that I had done for two years. I assume they have come to a blind alley. In the course of the investigation, case qualification has been changed several times. They alleged that I abused power, then they accused me that I have overstepped my official power, and later on they alleged I have been negligent to my official duties. I rejected all the charges, because I did not commit any criminal offence. Finally, they even accused me for being negligent to the fact that I did not know that the Samsung director was misappropriating funds. There is no law which says that I must keep constant eye on a director of a private company. That's not all, many strange things have happened.
-Can you elaborate?
-A police detective, who is a member of the investigation working team, summoned me to his office and when I was going through the files, an IAAC investigator entered the room from outside. When he looked at the files on the table, he turned to the police detective and asked "Why is my name on these files?" I also noticed that his name was on the file which read 'name of the investigator investigating the case'. The police detective was lost and he was unable to utter a word. The IAAC investigator then said "I will not sign a file of a case in which I was not involved in investigation," and walked out of the room. My defence lawyer was also with me then. Later I asked the IAAC investigator "What's all this happening." The investigator replied saying "A couple of police detectives were sitting in this room doing something I don't know what, my name is on the list of the working team but I have not conducted any investigation."
-What are you saying, how can there ever be such a thing?
-According to law a case related to a government official must be investigated by the IAAC. Under the name of the joint working team, the police detectives, using the IAAC's name, have resorted to such an action. The police was interested in investigating the case as they have been instructed to do so. A police officer has been appointed, on purpose, as the head of an investigation department of the IAAC. As a matter of fact, when the case was being investigated, investigators from IAAC were not involved and I now understand that one of their names has been forged. This is because right from the beginning the investigators of IAAC have maintained that this is not a criminal case. Investigators of IAAC are far better experienced when it comes to investigating cases concerning government officials.
-So what do you mean? Are you saying that there is a conflict of interest with the police?
-That's the case. This means that the police has been used for political purposes. I asked the police detectives "You have been claiming and writing that we are guilty of money laundering and embezzlement in huge amounts, but where is all that money?" The same police detective replied saying "Indeed my brother, we are unable to trace that amount of money." And I said to him "Can you level such charges where there are no documentary evidences, I never stole any money and after all kinds of investigation you have come to realize that there is neither money laundering nor misappropriation of funds." The police detective "Say these words in the court, you'd be anyway acquitted." Then I said to him "Are you trying to brush aside responsibility from yourselves although you know why?" The police investigator pointed his finger upward without uttering a single word. I think I will not share what the police and the prosecutors later conveyed to me through someone else. I'll leave it here because you have neither seen it nor heard about this personally.
-Did you file any complaint elucidating on this matter?
-I have lodged many complaints at all levels of the IAAC and the prosecutor's office, but they do not care. Although I gave all the explanations and documentary evidence in writing, they simply turned blind eyes to them. But all those documents are in the files and I am hopeful that when the time comes they will be treated in a fair manner and these documents' worth will become evident.
-You claim you built the embankments. Are you sure they are there?
-You can go see and check for yourself. When N. Altankhuyag was the Prime Minister and when M. Zorigt was the Minister of Roads and Transport, they visited the site and they had shared on the social media what they saw for themselves, and this information is still on the social media. In September 2016 Samsung C&T company and the MTZ joint stock company cross-checked and settled accounts, an act was signed and the assigned job was considered accomplished and transferred.
-Does it mean that the MTZ joint stock company does not have any complaint?
-No damage was inflicted to MTZ company. And since they have no damage means they have no complaint either. Do you remember who was the head of the government and from which party in September 2016? The Finance Minister and the Roads and Transport Minister of this government issued a joint direction and accordingly a working group was set up which settled all the accounts and the MTZ company had agreed that it had no complaint. In other words, MTZ company had received the completion of the embankment for the payment made. And so why would it have any complaint. The head and members of that working group had all given witness testimony to the IAAC. Those testimonies are all in the files.
-Does this mean an end to the issue?
-Actually that's the case. I think that the objective of the people who are organizing and restarting the process has changed. I consider it a trick to take the President hostage by carrying out investigation against me. In other words, they have changed their objective for the purpose of striking a deal saying "Your Gansukh is being investigated, what do you think about it" and what I suspect is that they want to negotiate their own appointment and posts. That is why from the very beginning I have been telling the President "Not to go for the bargain if a horse-trade will be proposed for the case that I am being investigated by the IAAC and the Prosecutors."
-So what's your next plan?
-I shall bide my time Actually I am thinking of writing to the National Human Rights Commission and the International Human Rights Organization seeking the vindication of my reputation. I shall also approach the Petition Standing Committee of the SGKh requesting an open hearing. I shall attempt to give the public an understanding of how the law enforcing agencies are using this case as a pawn for political gains. Then the people will know which government official has been violating the law and in what manner. I have made a photocopy of all the documents that were collected in the course of the investigation. Actually, I plan to make it into a book.
-And what is your end objective after all?
-A major political and economic grouping nicknamed MANAN (mist– the first three letters denote the MPP and the last two DP in Mongolian, which combined becomes MANAN) of the Democratic Party and the Mongolian People's Party (MPP) is trying to establish its control and reign over the country. They have not given up on their objective... As a matter of fact, all the development policies, which were adopted by the SGKh after 2010, have been abandoned by leveling criminal charges with the aide of law enforcing agencies. A working group led by S. Byambatsogt, a member of the SGKh, had obtained the approval by the SGKh of a policy called "New Development." It never materialized. Criminal charges were leveled against all young people who were working on the Sainshand industrial park and the project on domestic production of vegetables and they were arrested. Attempts were made to establish their economic control in the country by taking over coal and copper concentrate, which account for 50 percent of the total exports, and they sought to establish narrow grouping political control over the country under the pretext of neutrality and thus isolating the country from the outside world.
That is why the so-called MANAN grouping are holding grudge against those who they consider as an impediment to their intentions to take control over such strategically important state properties as the Tavan Tolgoi coal deposit, and the new Railway project, and are organizing all kinds of tricks to get rid of us by leveling false criminal charges against us.
-You have been very open and frank. Aren't you wary that you'll be attacked?
-I am sure they are already meeting to discuss their plan saying "This chap has given such an interview, now what shall we do next?" It's obvious they will not let it just pass. They'll resort to their old tricks of leveling calumny, insults and making us weak and blunt. But I shall make it a point to upload in the social media in a systematic manner documentary evidences related to the case.
-What did you accomplish that you are proud of when you were a Minister?
-I don't go around trumpeting all that I have done because I believe I have done what I was supposed to do. Roads and transport are major development sectors. I have gone along the principles that instead of dealing in rhetoric, better to show by doing. In the two years from 2012 to 2014, when I was serving as the Roads and Transport Minister, I was able to complete the construction of 2,500 kilometers of surfaced road linking the administrative centers of six aimags and the Zamyn Uud border port with Ulaanbaatar. I guess I can say I am proud of this accomplishment.
-Allow me to ask one more thing. At the conference of the MPP an MP L. Oyun-Erdene referring to SGKh Chairman M. Enkhbold said that he had struck a deal in Singapore with President Kh. Battulga, according to which he would be acquitted but would concede defeat in the elections. Is this true?
-MP Oyun-Erdene has the wrong information. At that time Kh. Battulga was an ordinary citizen as he had not yet become the President. He was banned from crossing the border and traveling outside of the country. I was with him at that particular time. Why do you think I don't know, when he went for the Rio Olympics, he had to get a permission from the prosecutor's office. And indeed, Kh. Battulga won the right to run for the Presidential election after winning in the preliminaries organized by the DP. M. Enkhbold cannot possibly have an impact on the preliminaries among the DP members, as they were held across the country.
This interview with was taken on 21 December, 2018
D. Mungundalai