Minister B.Batzorig meets FAO delegation
Politics
Ulaanbaatar /MONTSAME/ Minister of Food, Agriculture and Light Industry B.Batzorig received a delegation headed by UN Food and Agriculture Organization (FAO) Assistant Director-General and Regional Representative for Asia and the Pacific Kundhavi Kadiresan on July 5.
At the start of the meeting, Minister B.Batzorig expressed gratitude to Ms Kundhavi Kadiresan for making valuable contribution to the development of Mongolia's food and agriculture sector, and briefed her on current condition, policy and objectives of the sector. He emphasized that in December 2017, Parliament approved the laws on livestock health and Genetic resources and General Office for Veterinary Service was established, having chief vets in accordance with the FAO's recommendations.
The Minister also underlined that the Ministry targets prevention of livestock disease epidemics rather than post-action and requested further cooperation in implementation of the two laws while expressing appreciation with the equipment assistance worth USD 300 thousand for livestock disease treatment. In addition, he said the Ministry is strongly requesting the Parliament to approve a law on pasture land and Mongolia shall have livestock tax.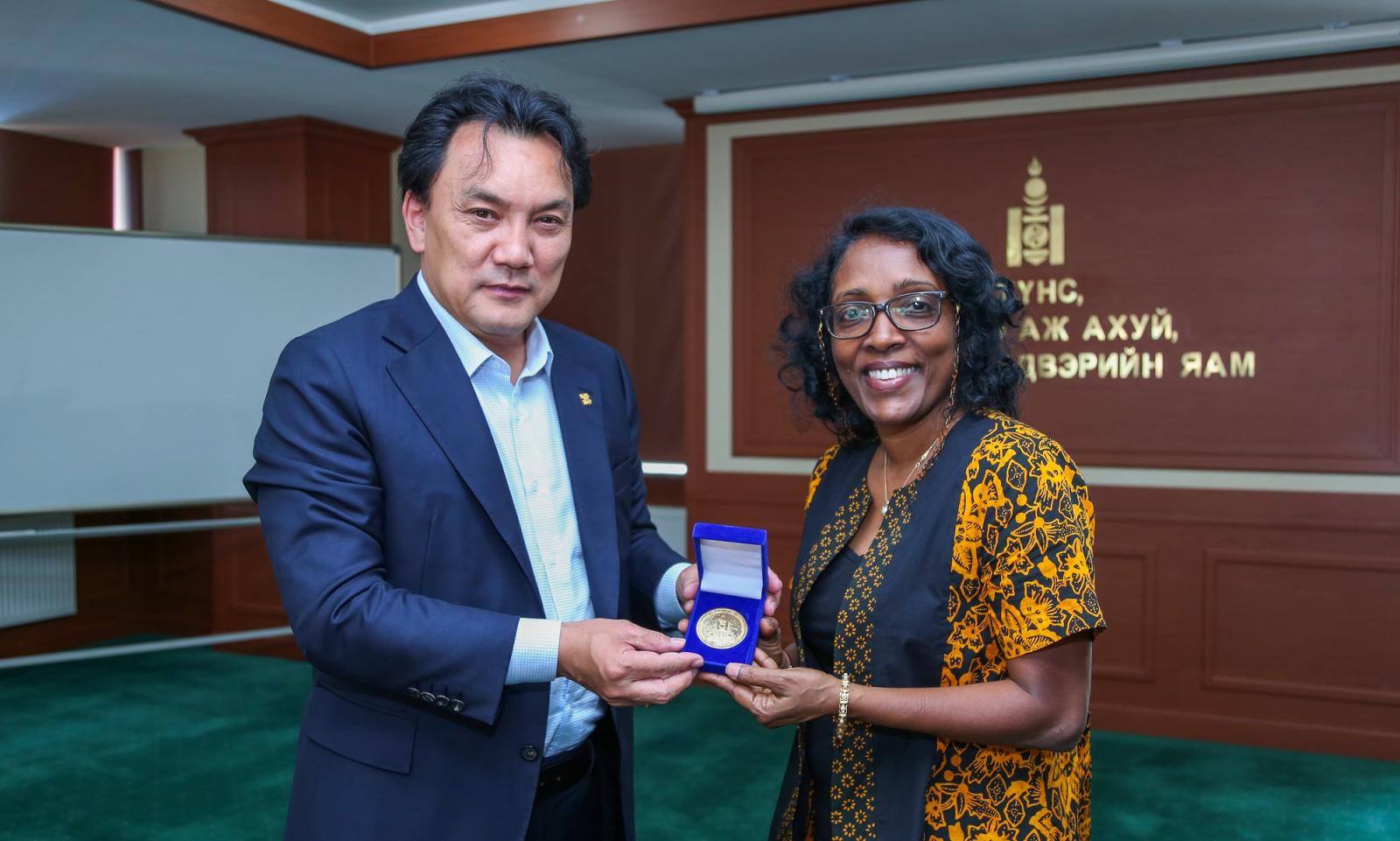 In turn, Ms Kundhavi Kadiresan said she wanted to get acquainted with the Ministry's policy and activities while attending the AMCDRR. She conveyed gratitude for having successfully hosted the 8th Global Agenda for Sustainable Livestock (GASL) meeting together with FAO in June and noted Mongolia shall cooperate with the FAO in every possible ways as the organization runs a wide range of activities.
The Assistant Director-General also expressed the organization's readiness to provide advice on the draft law on pasture land, reminding the importance of explaining the advantages and significance of livestock tax to the public and herders.

After exchanging views on Mongolia's agriculture sector development, legal environment reform and solution to the pressing issues of pasture land, the sides agreed on the importance of developing joint strategy plan.

M.Anudari