Continuity of foreign policy is of great value to Mongolia Minister of Foreign Affairs
The Mongol Messenger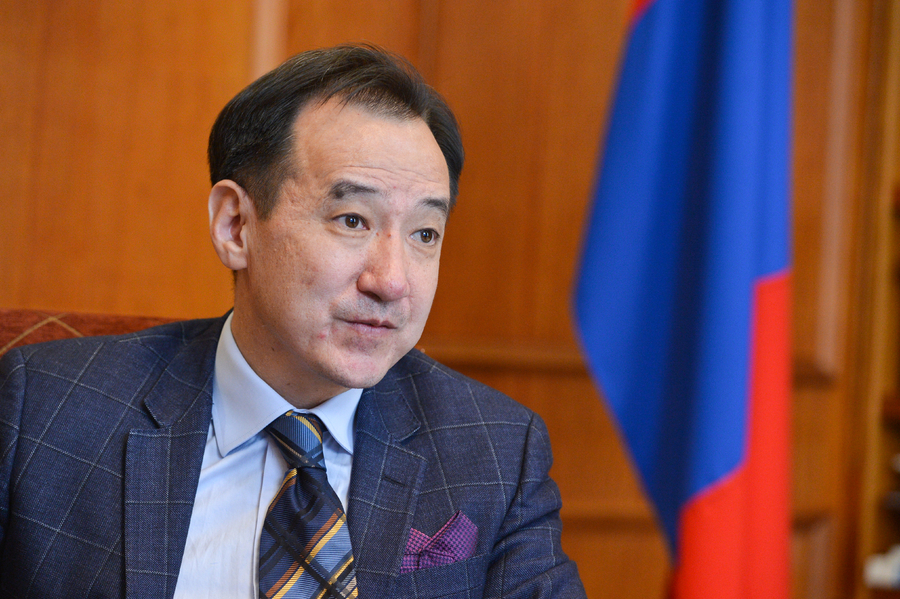 Ulaanbaatar /MONTSAME/ Our reporter interviewed Tsogtbaatar Damdin, Minister of Foreign Affairs of Mongolia on Mongolian foreign policy, its objectives and directions.

-Foreign affairs issues have a direct effect on a citizen's life. It has been seven months since the new Government of Mongolia took office. During this period, certain actions have been taken toward expanding Mongolian foreign relations and raising the reputation of the country such as pulling Mongolia out of the EU blacklist of 17 tax havens and increasing Mongolia's credit rating. Let's start our interview about directions and objectives of the Government's foreign policy.

-The continuity of foreign policy is a great value of Mongolia. Therefore, the Government of Mongolia is ensuring it while expanding the foreign policy with more effective approach. In last few years, Mongolia could not strictly adhere to its principles of foreign policy. Moreover, the country failed to maintain the balance in foreign policy and Mongolia's reputation was undermined due to unforeseen actions of some officials. Nevertheless, foreigners still have kept their confidence in Mongolia. On the basis of this good foundation of confidence, the Mongolian Government needs to expand its relations with partner countries and open opportunities to friendly cooperation with other countries. If Mongolia is not approachable to foreign countries, big countries will not try to approach Mongolia. What if they will not try to approach Mongolia Previously, Mongolia was the number one exporter of mining materials to China, but we fell to fifth place. We need to take the lesson from it and focus foreign policy on continuing cooperation with creative approach. The Government of Mongolia is following the same direction. One of the tangible outcomes of this was pulling Mongolia out of the EU blacklist of countries in a tax haven.

-Mongolia and China reached many agreements during the visits of the Prime Minister and Minister of Foreign Affairs of Mongolia to China. As a result, positive changes have been occuring. Can we say some barriers in the bilateral relations completely removed and opportunities for cooperation between Mongolia and China fully opened?

-There was a time when Mongolia China relations faced some challenges and needed more mutual understanding between the two countries. As a result of the visits to China, the challenges were addressed and measures were taken. Results of the measures are obvious. As you know, a 120 km long queue of trucks was at the Gashuunsukhait border check point where drivers lived in their trucks for one to two months. Thus, thanks to joint actions and efforts, the queue of trucks has decreased and the number of trucks passing the border was increased up to 1000 per day which was 400-500 before. With the increasing export, the country is seeing changes in macro-economy and foreign exchange reserves have augmented as well. A few years ago, tugrik rate plummeted by MNT 1000 or twice. It showed a negative impact on people's lives. Now, people are witnessing the stabilization of exchange rate and how the economic crisis halted. It is the example of how macroeconomic changes exert an impact on people's lives. Positive changes in foreign trade and investment spheres can be a leverage to develop small-size businesses, which, in turn, create more job places and lead to stabilizing the macro-economicc situation. As such, foreign relations have a direct effect on people's lives. So, it is crucial to build a healthy economy in order to create favorable conditions for living home without going abroad. In other words, foreign visits are of importance for ensuring economic growth in Mongolia.

-You highlighted that the PM's visit to the People's Republic of China was a historical. During the visit, financial and investment agreements were signed totaling USD 5 billion. Can we see this as a proof of revival of the Mongolian business environment?

-When we checked the archival materials, there were no visits which were resulted in signing agreements of such amount. During the visit, an issue regarding soft-loan and aid worth over USD 400 million in monetary value were discussed and resolved at the Government level between the two countries, which includes historical agreements such as ger district infrastructure and modernization of Wastewater Treatment Plant of Ulaanbaatar city. Ulaanbaatar city is a home to a half of the Mongolian total population. Infrastructural issues of Ulaanbaatar city have waited for their solution for a long time. The Government of Mongolia has been fighting against air pollution even in summertime, in smog free season without waiting for the next winter. Instead of criticizing the situation, it is important to raise funds required for construction works. Therefore, housing and ger district re- planning issues are addressed in parallel with financial resources. By modernizing the Wastewater Treatment Plant of Ulaanbaatar, the soil and environmental pollutions are expected to decrease. Business agreements and deals worth USD 4.6 billion were signed at the Mongolia-China Business Forum, organized on the sidelines of the PM's visit to the People's Republic of China. People said that some of them are just memorandums. Businessmen reach an agreement on the amount of investments after long-lasting negotiations to verify it with a memorandum. It is such a vital thing. Because the sum provided for on the memorandum is not a subject to change. The contracts and deals signed entails expectations and draws attention of other businesspeople and manufacturers. Subsequently, demands rise and that is true of people's income. During the visits, we aimed to present a policy on developing businesses that create job places in non-mining sectors to investors to make the latter's awareness. It is a positive sign given to the investors.

-Relations with third neighbor countries play a major role in Mongolia's foreign policy. High-level visits to the Republic of Korea and Japan were organized and the Indian Foreign Minister paid a visit to Mongolia. How would you assess the results of the visits?

-The countries trust Mongolia that is manifested in agreements reached on receiving soft loans USD 500 million from the Republic of Korea and USD 850 million from Japan. During the visit of the Indian Foreign Minister, we reached an agreement on accelerating oil refinery construction project to be funded of USD 1 billion by India and on cooperation in information technology, education, and culture and health sectors. Additionally, the sides agreed to organize a joint meeting themed 'Cyber-Asia'. In the frames of the Second Compact Agreement between the Government of Mongolia and the US-based Millennium Challenge Corporation (MCC), non-refundable aid worth USD 350 million will be provided to Mongolia. Although the US is cooperating with many countries, such amount aid proves that the US trusts Mongolia. The non-refundable aid will be significant for Mongolia to overcome its economic difficulties.

The full interview was published on the 21st issue of the Mongol Messenger on May 25.