Restaged family melodrama debuts today
Art & Culture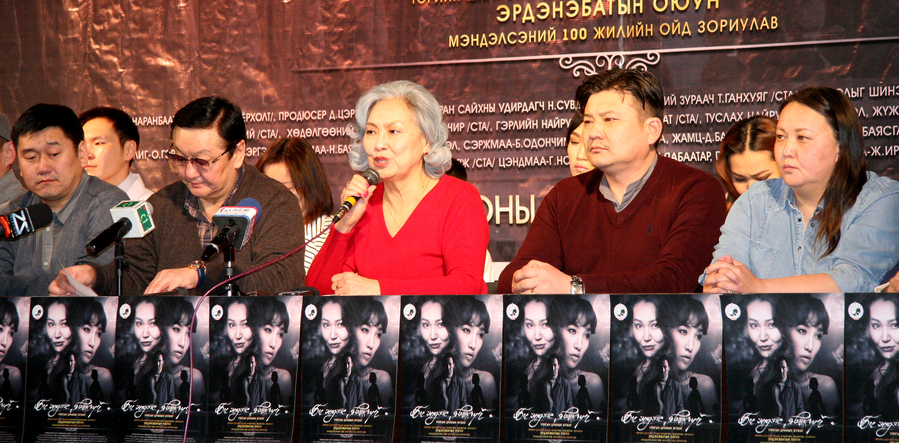 Ulaanbaatar /MONTSAME/ Mongolian melodrama 'I am not leaving here', rewritten on the occasion of the 100th anniversary of the writer, debuts on February 27 at the State Academic Drama Theater.

2018 marks the 100th birthday of famous theater figure, writer, director and translator E.Oyun, State Prize Laureate and People's Artist.

General director of the State Academic Drama Theater N.Naranbaatar, State Prize Laureate, production designer T.Gankhuyag and literary editor D.Mendsaikhan worked on the new version of the melodrama. Actors O.Gerelsukh, B.Bayarmaa, B.Odonchimeg, Ts.Azzaya, D.Battumur, Ts.Bayasgalan and G.Amgalanbaatar are portraying the main roles.

State Foremost Artist O.Gerelsukh, who is portraying the role of Dorlig, a central character in the melodrama, has not worked on a play since he played Romeo in Shakespeare's Romeo and Juliet in 1998. "I am delighted to return to the stage after 20 years," said the actor on February 26 at a press conference held by the artists.

People's Artist E.Oyun wrote the melodrama in 1956 in collaboration with S.Ninjbadgar. The melodrama was adapted to the stage in 1959 by People's Artist B.Loovoi. The melodrama focuses on social issues such as family values, romance, friendship, trust, betrayal and ethics.

The ticket price ranges from MNT 10-25 thousand. The melodrama will be performed until March 10.
Kh.Aminaa