NURA AI Health Screening Center Opens in Mongolia
Society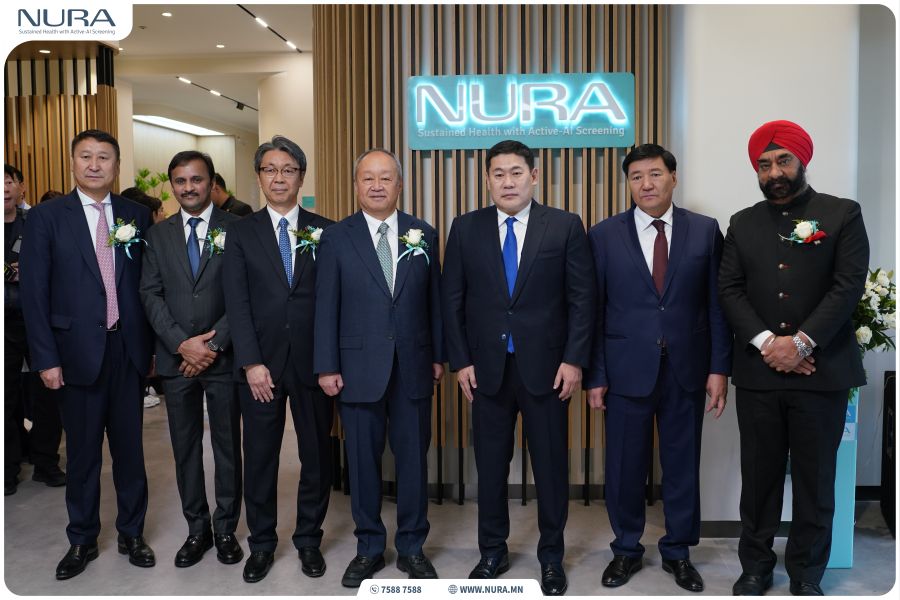 Ulaanbaatar, September 18, 2023 /MONTSAME/. Yesterday, Tavan Bogd Group opened the Fujifilm's NURA AI health screening center in Mongolia. The Nura Mongolia can serve up to 30,000 people per year using the AI-powered technologies of FUJIFILM Corporation, the world leader in medical devices.
The Nura Center utilizes Fujifilm's medical devices, including a CT scan and mammography system, as well as a medical IT system based on AI technology designed to support doctors in carrying out screening and tests for cancer and lifestyle diseases.
In just 120 minutes, using artificial intelligence, the medical devices diagnose the ten most common types of cancer and lifestyle diseases with 99.6% accuracy, taking 32 tests for early detection and diagnosis. It can also identify symptoms of diseases that doctors may miss and display the doctor's opinion and advice on the screen in a way that is easy to understand.
"I would like to express my profound gratitude to the President of Tavan Bogd Group Ts. Baatarsaikhan for his humane endeavor to the welfare of the Mongolian people. The Fujifilm's AI health screening devices, which he and his colleagues are introducing to Mongolia, is a significant step forward in the fight against cancer and lifestyle diseases. After the COVID-19 pandemic, the Government of Mongolia faced a challenge in implementing the National Campaign for preventive checkups and early detection. The Government efforts to implement early detection through Family Health Care Centers have been hampered by technological issues. Even as Mongolia is improving its medical technologies, it requires a lot of effort from the public and private sectors to compete with hospitals in the countries, such as South Korea and Japan. In this regard, opening the NURA center in Mongolia is particularly commendable. The NURA center uses state-of-the-art technology of Fujifilm Corporation to provide early detection and diagnosis of cancer and lifestyle diseases. It is a valuable service that will help to improve the health and well-being of Mongolians. I am grateful for his social responsibility and commitment to making Mongolia a healthier nation," said Oyun-Erdene Luvsannamsrai Prime Minister of Mongolia.
In his opening remarks, President of the Tavan Bogd Group Ts. Baatarsaikhan emphasized the importance of early detection of lifestyle diseases using Nura Center's state-of-the-art medical equipment for timely medical advice and treatment, reducing disease complications and mortality rates and increasing the average life expectancy of Mongolians.
Executive Director of NURA - Ai Health Screening Center in India Dr. Mohamed Kasim highlighted, "AI-powered technology is not replacing doctors; it is supporting them. Technology cannot replace people, but it can help doctors to be more accurate. For example, in an emergency department with ten cases, AI technology can rate the priority of each case so that doctors can focus on the most critical cases first. In this way, AI technology supports doctors but does not replace them, as humans are human."
At the Opening Ceremony of the Nura Mongolia, MONTSAME Mongolian National News Agency spoke with Teiichi Goto, President, Representative Director, and Chief Executive Officer of the Fujifilm Corporation.
-Fujifilm is well-known to Mongolians for its photography services. However, Fujifilm is also a global leader in medical devices with 90 years of experience. What are some of Fujifilm's state-of-the-art medical technologies, and what are the company's plans for future development in this area?
-On January 20, 2024, Fujifilm will celebrate its 90th founding anniversary. Fujifilm was founded in 1934, and in 1936, we produced our first X-ray film, marking our entry into the healthcare sector. In 1983, we became the first company in the world to purchase digital medical devices, starting with digital radiographs. Today, Fujifilm offers various technology-based examinations, including ultrasound, CT, MRI, and general blood tests. Healthcare is one of Fujifilm's most important sectors, standing for 30% of our sales and 40% of our profits.
-Why did Fujifilm start the NURA project? What is the purpose of it?
-When I was in Singapore, I observed the healthcare sector in neighboring countries such as Pakistan, Bangladesh, Sri Lanka, Nepal, and Myanmar, and noticed that it was relatively underdeveloped. It inspired me to find a way to improve the situation. I had the idea to work in the healthcare sector and to start a service that would make diagnostic medical imaging equipment more accessible and affordable. I began this service in India. There are now three NURA centers in India, and the fourth one is opening in Mongolia.
-Japan has the longest life expectancy in the world. Is the culture of comprehensive medical examination or early detection diagnosis in Japan has a positive impact on life expectancy?
-Of course, it is. Japan has the highest life expectancy in the world, and one of the reasons for this is our focus on early diagnosis, early detection, and early treatment of diseases. Our company's employee health screening center in Yokohama performs the same tests as NURA, in addition to an endoscopic ultrasound test. It allows people to detect diseases at an early stage. As a result, none of our employees have died of stomach or colon cancer. We aim to help Mongolians in achieving the same level of life expectancy. That is why we have opened the NURA Mongolia health screening center. We hope that by providing early detection and diagnosis of cancer and lifestyle diseases, we can help Mongolians live longer, healthier lives.
-Why is Fujifilm opening its NURA Center in Mongolia, and what hopes are you expecting for the NURA Center in Mongolia?
-I have heard that cancer and lifestyle diseases are the most common causes of death in Mongolia. I have come to Mongolia with the aim of expanding the activities of the NURA Center, contributing to the health of Mongolians, and improving the quality of life. The opening of a branch in Mongolia after India is definitely related to President of the Tavan Bogd Group Baatarsaikhan. His speed, decisiveness, and business acumen were exceptional, so we are opening NURA's branch in Mongolia after India.
Participating in screening and early detection is one of the best things you can do for yourself, your loved ones, and society. It is a simple way to improve your health and well-being.
If you want to have a screening and early detection of the NURA Mongolia center, you can visit the website www.nura.mn.