Khovd Aimag to Host National Chess Championship - 2023
Society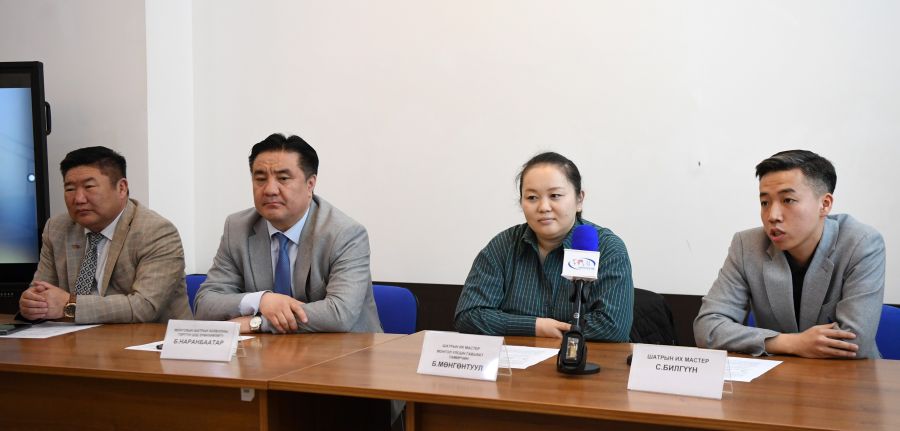 Ulaanbaatar, May 2, 2023 /MONTSAME/. Officials of the Mongolian Chess Federation on May 1 announced that Khovd Aimag was selected to host the prestigious National Chess Championship - 2023.
"This Championship to be hosted in Local Area - Khovd aimag, is sure to ignite a passion for chess, an extraordinary display of intellectual prowess, and elevate it to new heights of popularity across the entire country. Not only that, but it will also serve as a platform for chess players of all levels to develop and showcase their skills and compete for national and international titles," said B. Naranbaatar, the Executive Director of the Mongolian Chess Federation and B. Baldorj, the President of the Chess Federation of Khovd aimag during a press conference.

Khovd aimag, a cradle of heterogeneity and an essential contributor to the growth of the Western region of Mongolia, has thrown its hat into the ring to host the National Chess Championship since 2016. This time, the Aimag has been selected, competing with five aimags.
Top Mongolian Chess players will engage in a battle of wits in the National Chess Championship – 2023 to be held between May 19 and May 31 in Khovd city of Khovd aimag with the support of the Governer's Office and Citizens' Representative Meeting.
The prize pool is over MNT 20 million, and the first five places will be awarded in the men's and women's categories. Specifically, the first place will receive MNT 5 million, followed by MNT 3 million for second place, MNT 1 million for third place, MNT 800 thousand for fourth place, and MNT 500 thousand for fifth place.
There are 16 chess masters in Khovd aimag, of which Grand Master S. Bilguun born in Zereg soum and Grand Master and State Honored Athlete of Mongolia B. Munguntuul in Bulgan soum were present at the press conference.