"Erdenet" Forest Genetic Resources Center
Environment
Ulaanbaatar, March 22, 2023 /MONTSAME/. Within the framework of the "One Billion Trees" national campaign, initiated by President of Mongolia Ukhnaagiin Khurelsukh, the "Erdenet Mining Corporation" SOE established the "Erdenet" Forest Genetic Resources Center (FGRC) in 2022. On the occasion of International Forests Day, we have covered the activities of this center.
The main activities of the Erdenet FGRC, which has a warehouse with a capacity of 1000t seeds, include creating a seed bank of rare and useful trees and woody plants, preserving and protecting genetic resources of forests, conducting research, and commercializing cultivated trees.
The Erdenet FGRC consists of seed, biotechnology, and quarantine laboratories, a warehouse to preserve seedlings, samplings, and branches, a reservation section, a deep freezing section, and training rooms. Currently, 15 professionals are working in this center. It is open to the public and organizes a series of training on planting trees and woody plants.
Another two centers are planned under this Erdenet FGRC project, one is a soil biotechnological center with an annual capacity to produce 500m3 fertile soil with beneficial bacteria, and the other is an arboriculture complex, which is equipped with cutting-edge technologies and an annual capacity of growing 10 million seedlings.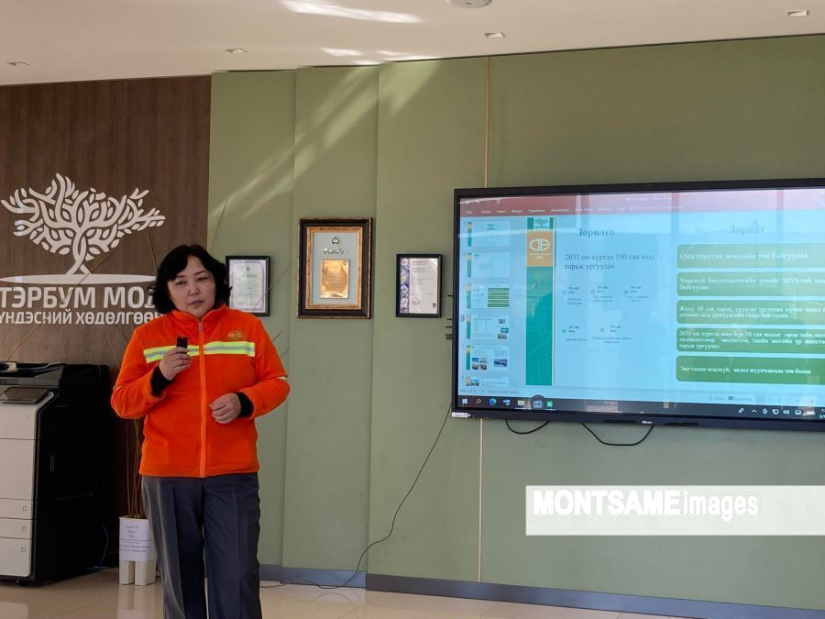 According to Ya. Ariunzul, the Head of the "Green Development" unit of Erdenet Mining Cooperation SOE, having this forest genetic resources center, we can save the costs of planting trees. In other words, we are able to plant trees with fresh and tested seeds, ensuring the survival rate of seedlings.
D. Munkhbat, the Chair of the Orkhon aimag's Citizens' Representative Khural, said "Under the "One Billion Tree" national campaign, Orkhon aimag will plant 20 million trees in the six-thousand-hectare area up to 2030. Last year, we planted 1.2 million trees in 12 locations. It accounts for 6.2% of our target. For this year, we are planning to plant 4.8 million trees, of which one million will be planted in six locations during the spring sowing."
The Erdenet Mining Corporation SOE has planted 2.1 million trees in 34.6 ha so far.