"Ring the Bell for Gender Equality" Ceremony Organized at the MSE
Economy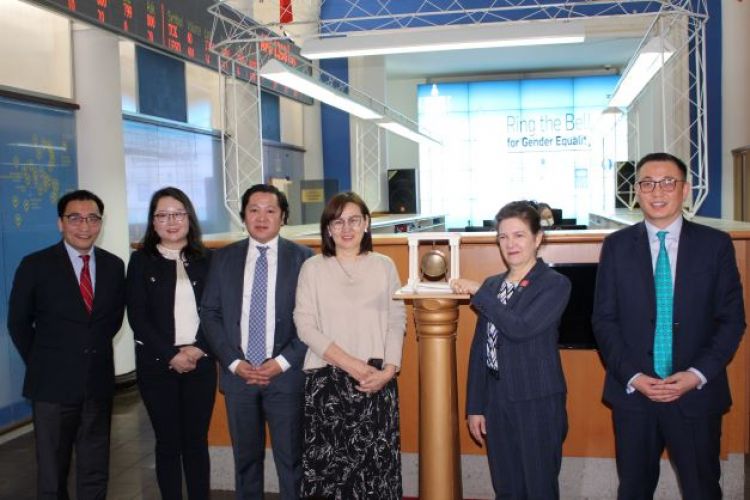 Ulaanbaatar, March 9, 2023 /MONTSAME/. The Mongolian Stock Exchange (MSE) organized the "Ring the Bell for Gender Equality" ceremony for the seventh year on March 7. The ceremony is organized globally by the stock exchanges to raise awareness of the importance of gender equality in businesses and sustainable development on the occasion of International Women's Day.
Ms. Elaine M. Conkievich, Resident Representative of UNDP Mongolia, and Ms. Baigalmaa, EBRD Principal Manager, SME Finance and Development in Mongolia, participated and rang the bell for gender equality to open the 6918th trading day of MSE.
The CEO of the Mongolian Stock Exchange Mr. Altai opened the ceremony and stated:
"The ceremony is being organized globally by 118 stock exchanges this year to raise awareness on the importance of gender equality in businesses and sustainable development. MSE has been hosting this event for the seventh year. MSE implemented policy incentives for issuances aligned with sustainable development goals and introduced the ESG reporting standards to the market last year. Further, MSE will aim to promote gender equality in the capital markets by integrating the principle of using a gender lens to the market practices and continue to promote investments towards sustainable development by introducing gender responsive issuances such as gender bonds."
It has been proved by international research and practices that gender equality ensures not only human rights and freedom but also enables businesses and organizations to reach their full potential and maximize their performances. Therefore, MSE invites and encourages all securities market participants, listed companies, and member firms to collaborate in advancing gender equality.
Source: MSE