Hakuho Praised under the Eternal Blue Sky and the Rising Sun
Sports
Ulaanbaatar, February 9, 2023 /MONTSAME/. One of the all-time yokozuna greats, and 45-time grand sumo tournament winner, Yokozuna Hakuho M. Davaajargal had his retirement ceremony on January 28 and became a Magaki Oyakata.

Rolling back the wheel of history, M. Davaajargal tried to start his sumo wrestling path in 2000. But he was turned away by the most stables, known as heya because weighed in at a paltry 62 kg. No one wanted someone "as pale and skinny as me," he recalled in his autobiography. Then M. Davaajargal despaired. On the verge of returning to Mongolia, fortunately, Hakuho met with Makoto Tazaki, who fought under the ring name Chikubayama, had been in control of Miyagino stable for most of the past 30 years, with the help of Kyokushuzan Noboru D. Batbayar, the pioneer of Mongolian sumo wrestlers. Famously, Tazaki was the only stablemaster in the sport willing to give then-15-year-old Hakuho a shot at joining professional sumo. In 2007, Hakuho became just the 69th man in the history of Japan's ancient sport — and only the fourth foreigner — to earn the rank of yokozuna. As of today, Yokozuna has already set an unbreakable record in the history of sumo with his total of 1187 victories in 20 years of fighting and became the unbeatable yokozuna in the sumo world.
In other words, Hakuho M. Davaajargal, son of the J. Munkhbat (Mongolian professional wrestler), went on to win 45 top division championships before announcing his retirement in 2021 and held other stunning records, including most wins in a calendar year, most undefeated tournament championships, most wins in the top division, most career wins as well as the longest serving yokozuna of all time. His father, J. Munkhbat, became the silver medalist of the Summer Olympics in the men's Freestyle Middleweight category in 1968 whereas Hakuho started his professional sumo career in 2001.
Sports enthusiasts still proudly talk about the moment when the Hakuho, sumo's G.O.A.T (Great of All Time), defeated fellow Mongolian Ozeki Terunofuji G. Gan-Erdene and lifted the trophy for the 45th time. This victory marked a stunning return from injury for Hakuho, who missed all parts of the past six tournaments due to Covid-19 and a knee injury.
"I feel really great. My right knee was not acting as I wanted, but I just wanted to focus on this one bout. Before the tournament, I never expected to win the championship with a record of no defeats at this age. I'm just relieved. Also, I dedicated my 45th trophy to my father in heaven," Hakuho, 36, said in an interview after he was handed the Emperor's Cup.
It would not be an exaggeration to say that Mongolian wrestlers added a unique color to the sumo, an ancient form of wrestling that has been the national sport of the Land of the Rising Sun for several thousand years, making it competitive and magnetizing audiences. Isn't it amazing? If we are not proud of how Mongolian wrestlers have been leading sumo wrestling, which is distinguished by its tradition and style, then who else will be proud of it? Yokozuna Hakuho was definitely at the forefront of all of them.
It is said that the Hakuho held high respect for Grand Champion Taiho Koki. Just before the grand champion Taiho passed away, Hakuho met him for the last time, and Taiho, the owner of the historical record, told M. Davaajargal only two things.
Firstly, he said, "Always push yourself and move forward." In a sense, he encouraged the boy of Vast-Land Mongolia to break his long-standing record. No matter what we think, since Hakuho Davaajargal had already stepped on the path to succeed in the sumo world, the fact that he would break the historical record set by Taiho, was definite.
Secondly, Grand Champion Taiho told him "Lead my stable." These three words from the heart of the grand champion were like a will instructing him with bated breath to become a citizen of Japan. The last meeting of these two grand champions demonstrated the virtue and wisdom that wrestlers must revere regardless of their nationalities. It happened nine years ago, but now the situation has completely changed. Hakuho not only changed his nationality but also got a right to lead the stable and claimed the all-time championship record with his 33rd career Emperor's Cup in 2015, breaking the previous mark set by Taiho. To that extent, he became the living legend of sumo wrestling. The Japanese media groups are writing that no one in this century will ever break Hakuho's record. Indeed, it is impossible to predict when and who will break such a winning record. That's the reason why Mongolians are so proud of Hakuho.
The retirement ceremony of the Grand Champion of Japanese professional sumo took place in Ryōoku Kokugikan hall in Tokyo. Hakuho held his last bouts with three succeeding generations of sumo, including Demidjamts, son of Grand Champion Usukhbayar, the nephew of former Mongolian-born Yokozuna Asashoryu, then finally Hakuho's son Mahato. After fighting with his son for the last time, Hakuho left him in a ring. It was not just a performance; it is a narrative that represents a continuity of descendants' succession in three centuries.
Hakuho explained that he wanted to say to his son, "Keep this memory in your heart forever, take care of your family, work hard, and keep moving forward with an aim."
At times he shed tears when nearly 300 people, including former Yokozuna Kisenosato, former Yokozuna Harumafuji, and his mother, who turned 75 years old on that day, began cutting his topknot with scissors. His stablemaster Magaki (former makuuchi wrestler Chikubayama) made the final cut of the "oicho" (ginkgo leaf style topknot), bringing an end to his 20-year career. Miyagino said, "I feel refreshed, and I also feel that I have lost my vital part of my body somewhere."
"I will start fighting in another ring, and I will repay loyal fans by developing wrestlers from my stable with the skills necessary to be promoted to ozeki and yokozuna under Miyagino's name," said Hakuho, while he was rubbing his head against the dohyo surface after the ceremony.
He also said, "I am happy for my parents. I believe my father is watching over me from heaven and proud of me. The ceremony was magnificent. So, now I am a Miyagino oyakata."
At the retirement ceremony of legendary grand champion Hakuho, his youngest daughter said, "Father, thank you for your hard work in your active life. I clearly remember my father's last sumo match. At that time, my father was cooler and shiner than anyone else. The father standing in front of me now looks little strange because you have no topknot, but you look kinder than before. Before, I couldn't touch your head because of the topknot, but now that you no longer have it, I will pat your head as much as you pat mine. Please be the coolest and kindest father in the world. Your beloved daughter, Mayuha."
The retirement ceremony was held gloriously under the Eternal Blue Sky and the Rising Sun. The VIP ticket was expensive, which cost JPY 5 million whereas the regular ticket was about JPY 60 thousand. The arena with a capacity of eight thousand seats was full of audience, demonstrating the prestige of the ceremony. According to a reliable source, the number of foreign and domestic audiences who came to Hakuho's retirement ceremony reached over nine thousand.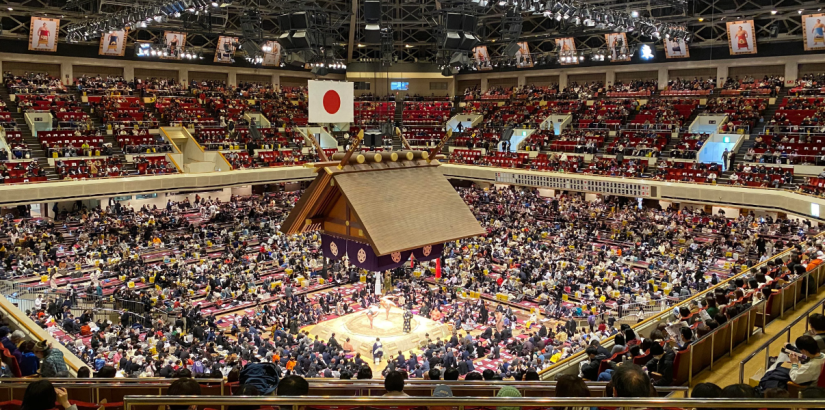 The 37-year-old has been ranked as yokozuna for 84 tournaments, or about 14 years. His 45 titles in the top makuuchi division are more than anyone else in history. It is hard to believe and impossible to break the long-standing records of Japanese sumo wrestling, which has an extensive history of 1700 years.
On 4 December 2021, Hakuho was recognized by Guinness World Records for the following records: Most top division championships: 45 times, most career wins: 1187 times, most top division wins: 1093 times, most undefeated championships: 16 times, most tournaments ranked as yokozuna: 84 times.
Hakuho also holds a number of other records, such as most wins as yokozuna (899), most consecutive wins in the six tournaments per year era (63, the absolute record is 69), most wins in a calendar year (86, achieved twice) and lifted the Emperor's Cup seven times in a row. In 2022, he also set the Guinness World Record for creating 104 tegata hand prints in one minute. Therefore, these records are not just numbers, these are proof of his unrepeatable success once in a blue moon.
Outside of Japan (or the echo chamber of sumo purism), it is easy to recognize Hakuho as not just the greatest rikishi ever, but as also one of the best athletes ever. His combination of power, dexterity, and guile made his bouts must-see. Hakuho is a holder of elder stock, meaning he is permitted to train other rikishi and own a stable. He has already been instrumental in nurturing talent at his current stable, which includes the wildly popular Enho and the teenage phenom Ochiai.
Despite his not appearing in the ring himself anymore, the name Hakuho will undoubtedly be remembered by many future generations of sumo.