President of Mongolia Receives Speaker of Japanese House of Representatives
Politics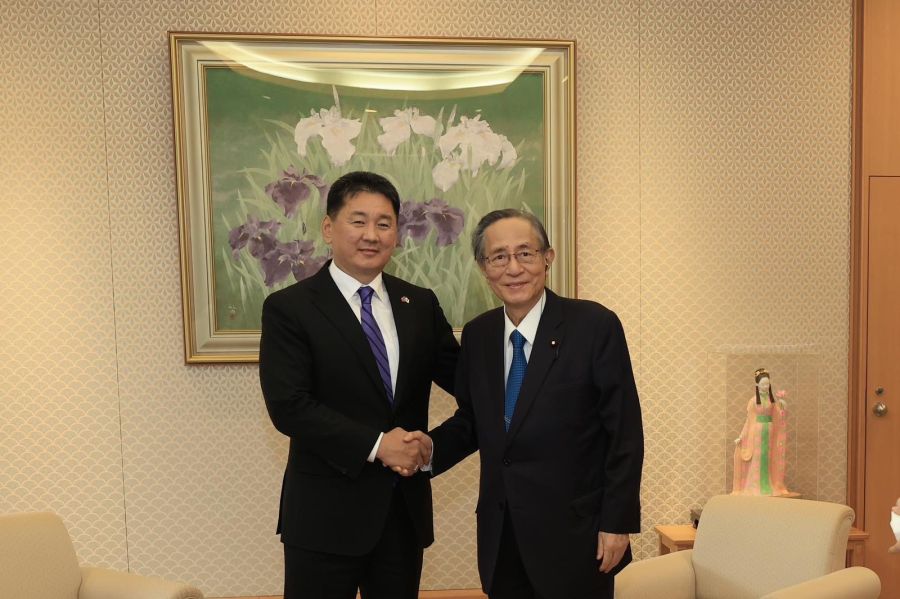 Tokyo /MONTSAME/. President of Mongolia Ukhnaagiin Khurelsukh today received Speaker of the House of Representatives of Japan Hiroyuki Hosoda and Chairman of the Mongolia-Japan Friendship Group in the House of Representatives of Japan Moto Hayashi, exchanging views on the issues of bilateral relations and interparliamentary cooperation.
While noting that the House of Representatives of Japan and the friendship group have played a crucial role in expanding and strengthening the friendly relations between Mongolia and Japan, President Ukhnaagiin Khurelsukh expressed satisfaction that the two sides have agreed to further consolidate "Strategic Partnership" at the level of "Special Strategic Partnership for Peace and Prosperity".
President Ukhnaagiin Khurelsukh voiced gratitude for Japan's consistent support for Mongolia's democracy, reforms, and sustainable development and reaffirmed his commitment to strengthening the relations and cooperation with Japan, which shares common values such as democracy, human rights, freedom, and market economy, in all spheres while enhancing joint efforts to make contributions in addressing the challenges faced by the international community and ensuring peace and prosperity in the region.
Briefing on the series of activities that were organized on the occasion of the 50th anniversary of the establishment of diplomatic relations aimed at deepening interparliamentary cooperation, Japanese Speaker Hiroyuki Hosoda expressed the continued support and cooperation of the House of Representatives of Japan in intensifying bilateral relations and cooperation based on the solid foundation of friendly relations between the two countries.