Speakers of Mongolia and Lao PDR meet virtually
Politics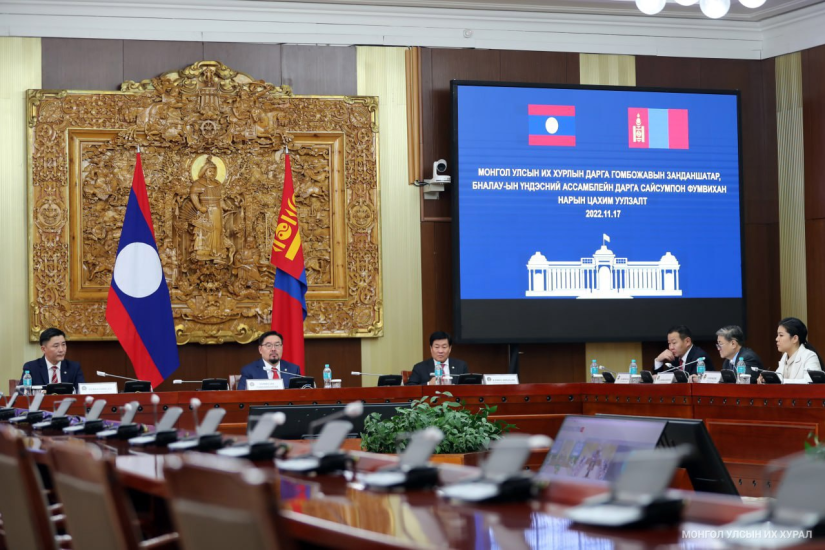 Ulaanbaatar /MONTSAME/. The Chairman of the Great Hural of Mongolia, Zandanshatar Gombojav, held an online meeting with the President of the National Assembly of the Lao People's Democratic Republic, Xaysomphone Phomvihane, on November 17, 2022.
Chairman of the State Great Hural G. Zandanshatar stressed the 60th anniversary of the establishment of diplomatic ties between the two nations, which have deep historical roots and cordial relations, and he expressed his satisfaction with the fact that the momentous milestone is being solemnly celebrated. He emphasized that the inter-parliamentary cooperation of the two countries has played a significant role in fostering and advancing the long-standing and friendly relations between the two nations as well as strengthening the legal framework. He also noted the active development of relations and cooperation between the highest legislative bodies of Mongolia and Laos over the past 60 years.
While underlining that the high-level visits and parliamentary exchanges were actively taking place within the framework of the 60th anniversary, the State Great Hural Chairman expressed his view that it was an important impetus to further strengthen the prospects and directions of cooperation for the development of traditionally friendly relations between the two countries in the next 60 years.
Emphasizing the importance of the virtual meeting at the level of parliamentary leaders on the occasion of the 60th anniversary of the establishment of diplomatic relations between Mongolia and Laos, President of the National Assembly of Laos Xaysomphone Phomvihane expressed his willingness to further expand and develop mutually beneficial trade and economic cooperation.

He said that the traditional and friendly relations between the two countries should be expanded by renewing the memorandums of cooperation established between the higher legislative bodies, exchanging mutual information and experience, strengthening human resource capacity, training Lao and Mongolian language interpreters, and supporting the Governments in intensifying the implementation of previously concluded agreements and agreements.
The parties voiced their support for one another in the international and regional arena, and they affirmed to work closely together to strengthen the parliamentary friendship groups and the inter-parliamentary collaboration between the two nations.
Also, during the meeting, both parties exchanged views on the further development of priority economic areas such as transport, logistics, tourism, and agriculture, and discussed that both sides will work intensively to implement the agreed-upon tasks and cooperation initiatives.
"Mongolia, as a country with a fragile ecosystem that is vulnerable to climate change, has contributed to global efforts to reduce its negative effects, combat desertification, and protect its terrestrial environment, and has emphasized active cooperation with the international community. Therefore, at the initiative of the President of Mongolia, the "One Billion Trees" national movement is being implemented", said the State Great Hural Chairman while expressing confidence that Laos will actively participate in the 17th Conference of the Parties to the United Nations Convention to Combat Desertification (COP17) which will be hosted by Mongolia in 2026.