President meets Executive Secretary of ESCAP
Politics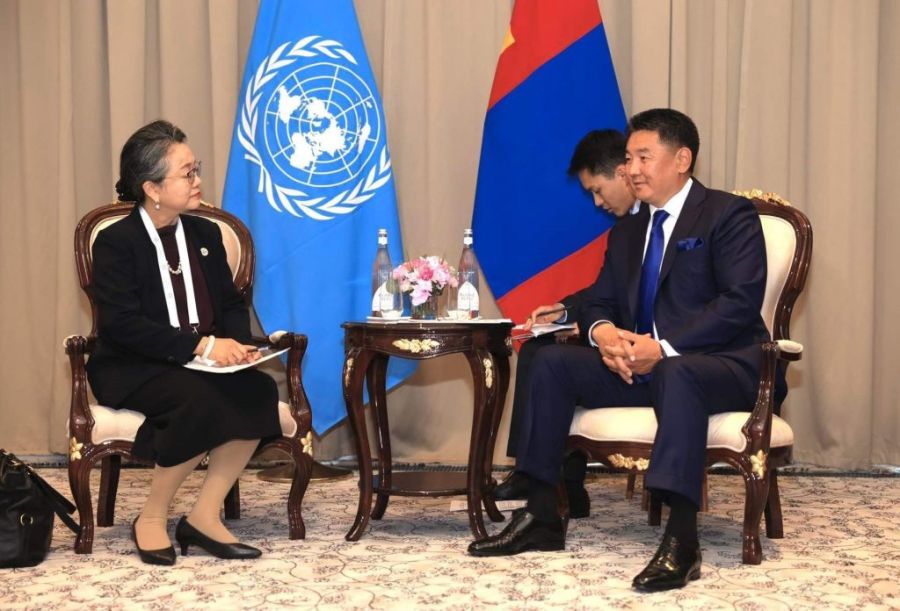 Ulaanbaatar/MONTSAME/. On the sideline of his participation in the Meeting of the Council of Heads of SCO Member States in Samarkand, the Republic of Uzbekistan, President U.Khurelsukh held a meeting with Under-Secretary-General of the United Nations and Executive Secretary of the Economic and Social Commission for Asia and the Pacific (ESCAP) Ms. Armida Salsiah Alisjahbana.

At the meeting, President U.Khurelsukh emphasized that United Nations and its agencies are an important partner that makes a valuable contribution to Mongolia's development, and expressed that he would give all-round support to enrich the content of further cooperation.
He also noted that Mongolia and ESCAP have been actively cooperating in the areas of conserving nature, developing transit transportation, improving trade policy, mitigating disaster risks and strengthening statistics sector.
In addition, the President pointed out ESCAP's special contribution to the establishment of 'Mongolia-Russia-China intergovernmental agreement on international road transportation along the Asia Highway Network' as part of the program to establish the Mongolia-Russia-China Economic Corridor. He also expressed an interest to cooperate with ESCAP in establishing multilateral road transport agreement targeted at countries in Southeastern Asia and Central Asia.
Ms. Armida Alisjahbana, in turn, highlighted that the parties are actively working together to implement SDG2030 in line with Mongolia's 'Vision-2050' long-term development program.
She said that the UN supports the national movement 'One Billion Trees' initiated by President U.Khurelsukh and highly appreciates its contribution to mitigating the impact of global climate change and desertification, while expressing a desire to intensify bilateral cooperation in this direction.
In addition, she expressed ESCAP's readiness to contribute to Mongolia's efforts to combat climate change and to cooperate in the framework of the 'Green Bond'.
The parties exchanged views on a wide range of issues, such as facilitating trade, developing transit transport, supporting cross-border paperless trade, establishing a multilateral road transport agreement for Southeast Asia and other Central Asian countries, and conducting joint research on establishing an international dry port in Mongolia.