Heads of State of Mongolia, Russia and China meet in Samarkand
Politics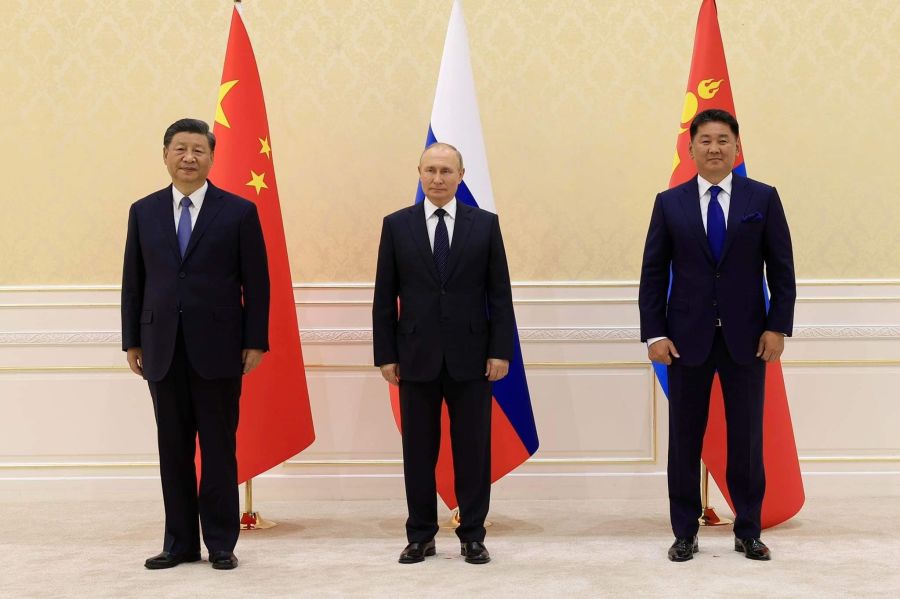 Ulaanbaatar/MONTSAME/. President of Mongolia U.Khurelsukh is currently on a visit to Samarkand, the Republic of Uzbekistan to attend the Meeting of the Council of Heads of SCO Member States. On September 15, the Sixth Tripartite Meeting of the Heads of State of Mongolia, Russia and China was held in Samarkand.

During the meeting, the parties discussed intensifying the implementation of the Mongolia-Russia-China Economic Corridor Program and making the advancement in specific areas of trilateral cooperation. Specifically, it was agreed to develop the Central Railway Corridor connecting the three countries and commence the development of feasibility study, as stated in the Economic Corridor Program.
Moreover, they unanimously underscored the importance of establishing the eastern and western railway corridors and deepening cooperation in the border and customs areas, and discussed the development of road transport between the three countries and the increase of transport between the three countries along the Asia Highway Network.
The parties also pointed out that the project of constructing gas pipeline from Russia to China through the territory of Mongolia is highly significant for the cooperation of the three countries. Therefore, the parties agreed that it is important to work together in accelerating the implementation of the project and ensuring the harmonization of the related entities responsible for the project.
During the meeting, the Heads of State noted that the Mongolia-Russia-China Economic Corridor Program has been extended for five years.
At the meeting, President of Mongolia U.Khurelsukh pointed out the importance of developing international transit transportation based on the geographical features of Mongolia, and in this context, speeding up the implementation of projects included in the Economic Corridor Program.
The President also proposed to join efforts of the three countries against global climate change, align the policies and activities being implemented in the field of environment, and jointly implement certain projects and programs within the framework of the Mongolia's national movement 'One Billion Trees'.
The President stressed the need to increase renewable energy sources with high economic benefits in order to combat global climate change, reduce greenhouse gases, and promote sustainable development. In this context, he put forth a proposal to cooperate actively with neighboring countries in the construction projects of 'Erdeneburen Hydro Power Plan' and 'Eg River Hydro Power Plant'.
The Mongolian president also stressed the need to pay attention to other areas of cooperation, such as science, culture, education, humanity, tourism, and the disaster management.
The parties came to the conclusion that the meeting of the heads of state of Mongolia, Russia and China was successful, and reached agreements on many issues of cooperation.