'Three Musketeers of the Repin Academy' exhibition takes place
Art & Culture
Ulaanbaatar /MONTSAME/. On the occasion of the 80th anniversary of the Union of Artists of Mongolia, on May 25, an exhibition titled 'The Three Musketeers of the Repin Academy' opened, demonstrating the wonders of color and the value of true friendship.
The exhibition, initiated by the National Art Gallery of Mongolia, presents pieces by famous artists of the 70s and 80s who made a significant contribution to the development of Mongolian fine arts. More specifically, the exhibition focuses on the three artists: State Prize Laureate Purevsukh Battsend, artist Elbegdorj Sengeravdan, and Union of Mongolian Artists Prize Laureate Ulziikhutag Yondon.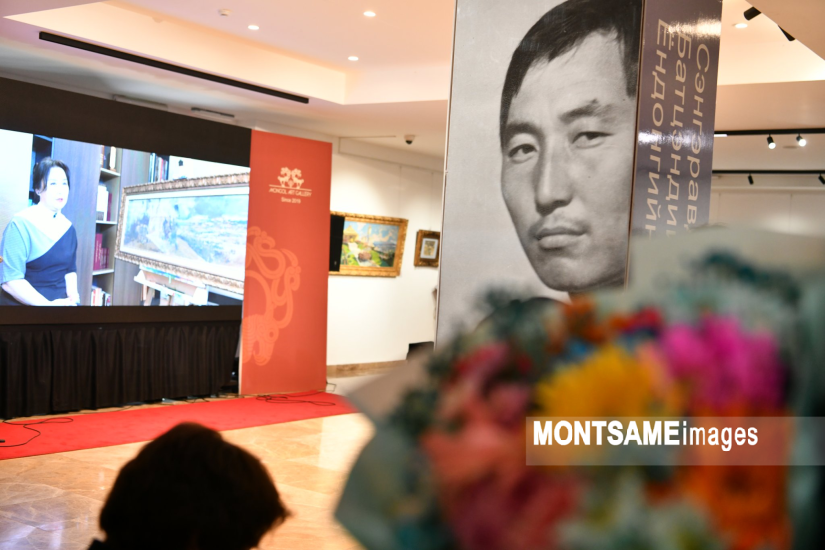 The opening ceremony was attended by People's Artist of Mongolia Do.Bold, State Prize Laureate, sculptor Ts.Amgalan, Union of Mongolian Artists Prize Laureate N.Sanchir, sculptor Enkhtaivan and other artists from the same generation as well as graduates of the St. Petersburg Academic Institute of Arts named after Ilya Repin and the three artists' families.
Between 1971 and 1977, seven Mongolian students graduated from the St. Petersburg Academic Institute of Arts named after Ilya Repin. These institute's graduates included the three late artists, Elbegdorj Sengeravdan, Ulziikhutag Yondon, and Purevsukh Battsend, who were already known throughout the country in the early 80s. The remarkable artists brought a new look, and a new breath of life to the Mongolian art scene, alongside preparing their own students.
Purevsukh Battsend is a major representative of historical painting, and a production designer for films. From a young age, he studied books on the history of his country, collected historical photographs and sketches of historical films.
As for Elbegdorj Sengeravdan - an artist who mastered the traditional techniques of Russian and European paintings, he left behind several great works in the Mongolian fine arts collection, such as 'Ard Ayush', 'The Beginning of a Great Victory' (Ikh Yalaltiin Ekhen), and 'Harvesting' (Taria Khuraalt) as well as portraits of well-known figures including Ts.Damdinsuren, O.Tsevegjav and B.Chogsom. He was highly-talented artist who could reflect not only the person's appearance, but also their inner world and personality.
Out of his several artworks that are currently kept in the collection of highlight works, Ulziikhutag Yondon became well known for the piece, 'Masters of the Plain' (Taliin Ezed), which depicts young horsemen using oil paint on canvas. He was also a skilled portrait painter, as one can see in many of his paintings, such as 'Girl' (Okhin) and 'Tselmen'.
The exhibition presents rare and unique works of art, paintings, drawings and manuscripts that kept by the artists' family as well as collectors and art historians.
Head of the Arts Department of the Ministry of Culture B.Sergelen delivered remarks at the opening ceremony of the exhibition. "Despite the changes in society as years have passed, the pieces created by famous artists of Mongolia have become increasingly valuable as they realistically depict life. A clear example of this would be the artworks and pieces made by these three Mongolian artists – 'The Three Musketeers of the Repin Academy'. I hope that many people are able to use this rare opportunity to see the exhibition," she said.
Wife of artist S.Elbegdorj, Doctor of Linguistics Ts.Sarantsatsral said, "My husband was a master of portrait painting. He tested his talent in all kinds of fine arts. His most famous paintings would definiltey be the portrait of Ts.Damdinsuren and the painting titled 'Ard Ayush'. It has been 22 years since his valuable piece on the independence of Mongolia that was painted in 1980 has been brought out into the public. My husband also used to work on illustrations for children's books. He was a kind-hearted person that always had an innocent smile on his face."
"My father passed away when I was five years old, which is why I have very few memories of him. However, I have a clear memory of being happy as a kid when my father was painting on the balcony, while my mother was cooking in the kitchen on a beautiful summer day," said E.Bilguun, son of the artist S.Elbegdorj
The exhibition of the three inseparable friends will run at Mongol Art Gallery until June 4.