Chairman of State Great Khural meets UNIDO Director General
Politics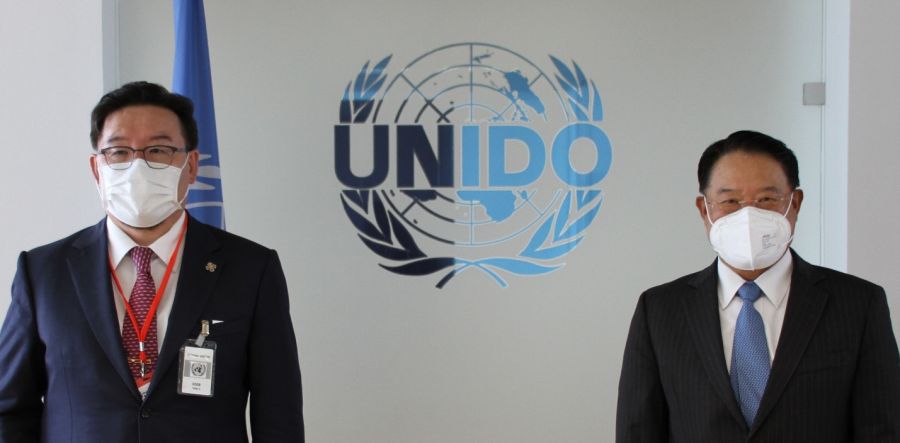 Ulaanbaatar /MONTSAME/ Mr. Zandanshatar Gombojav, Chairman of the State Great Khural of Mongolia visited the UN Office in Vienna and held talks with Mr. Li Yong, Director General of the United Nations Industrial Development Organization (UNIDO) on September 6, 2021.
Mr. Chairman commended the positive outcomes of the joint UNIDO projects aimed at improving competitiveness of Mongolia´s industrial sector while supporting employment through introduction of eco-friendly and advanced technologies in food processing, agriculture, light industry, energy as well as environmental sectors.
Director General Li Yong remarked that the UNIDO is contributing to the development of Mongolia´s industrial sector and export capacity in cooperation with international financial institutions such as the World Bank and highlighted that the implementation of 'Strengthening certification services and quality management' component of the 'Export Development Project' opens new opportunities for further cooperation.
The sides have also reaffirmed their commitment to effective and swift implementation of the 'Support for the establishment of integrated livestock processing parks' and the 'Support of camel milk products´ export promotion in agriculture and manufacturing cluster' projects.
Chairman Zandanshatar Gombojav will take part in the '5th World Conference of Speakers of Parliament' to be held in Vienna, Austria on September 7-8, 2021.
Source: Ministry of Foreign Affairs