Chairman expressed gratitude to Ambassador for delivering positive news on vaccination supply and gas pipeline project
Politics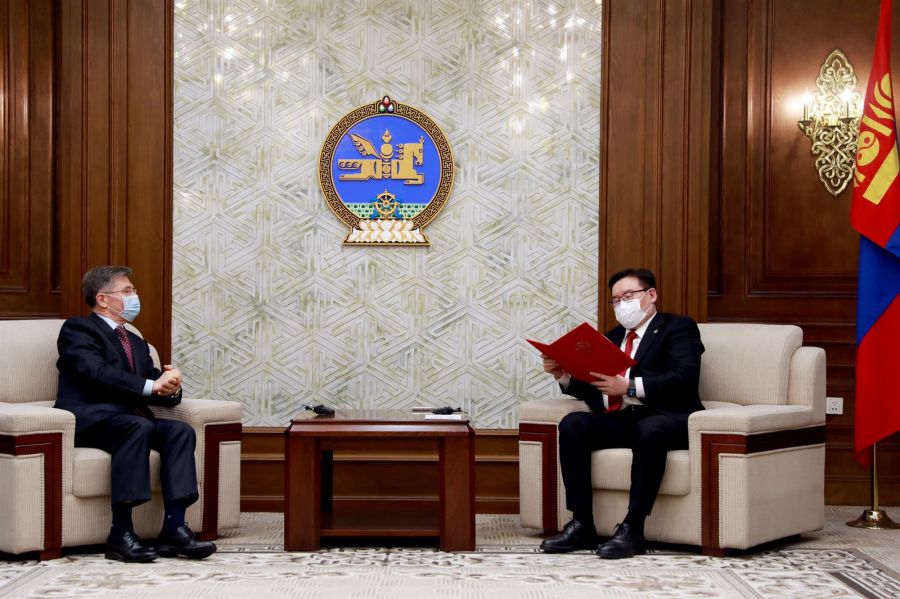 Ulaanbaatar /MONTSAME/ Chairman of the State Great Hural (Parliament) of Mongolia G.Zandanshatar received the Ambassador Extraordinary and Plenipotentiary of the Russian Federation to Mongolia I.K.Azizov on April 22, 2021.
At the beginning of the meeting, Ambassador I.K.Azizov handed over the telegram sent by V.I.Matvienko, the Chairwoman of the Federation Council of the Russian Federation, expressing gratitude for the warm birthday greetings.
Ambassador noted that this year marks the 100th anniversary of the signing of Friendship and Cooperation Agreement between Russia and Mongolia. He suggested that if the Mongolian part once again confirms its interest in the arrival of Mrs. V.I Matvienko in Ulaanbaatar, this will certainly contribute to a positive decision-making and speed up the agreement of the parties on the date of the visit.
In his remarks on bilateral relations and cooperation, Ambassador said that the first batch of 10,000 doses of Sputnik V COVID-19 vaccine had already been delivered under an agreement with the Mongolian company "Em-Impex" and the second batch would arrive in near future and there is further clarification need for the timing and schedule of vaccine deliveries coming through the Ministry of Health. In total, 1.0 million doses of vaccines will be supplied from Russia.
He, furthermore, stated with please that the feasibility analysis for a gas pipeline from the Russian Federation to Mongolia had been completed and the preliminary calculation of the pipeline route proven economically viable.
Ambassador I.K.Azizov continued to mention issues on energy sector cooperation, railway related issues and the plan of "Social Security Agreement" between the two countries that are underway.
Chairman G.Zandanshatar said that, as a neighboring country, we are happy that the number of infected people in Russia is drastically decreasing as a result of the government's rapid and successful implementation of vaccinations against coronavirus. He expressed gratitude to Ambassador for delivering positive news on vaccination supply and gas pipeline project.
Chairman expressed full support on the initiative of the Deputy Speaker of the State Duma of the Russian Federation A.V.Gordeyev to establish a new mechanism of cooperation between the Mongolian and Russian parliaments. He emphasized his hope that this mechanism would be a new step in further deepen the Strategic Partnership between the two countries, enhance the exchange of experiences between the legislatures and strengthen parliamentary cooperation.
Chairman has also asked Ambassador I.K.Azizov to pay special emphasis on the vaccine supply, and underlined the issues raised by him will be resolved in the near future in cooperation with relevant ministries and organizations.
Source: Press and Public Relations Department of the State Great Hural