Weekly review of Parliament plenary sessions for April 12-16
Politics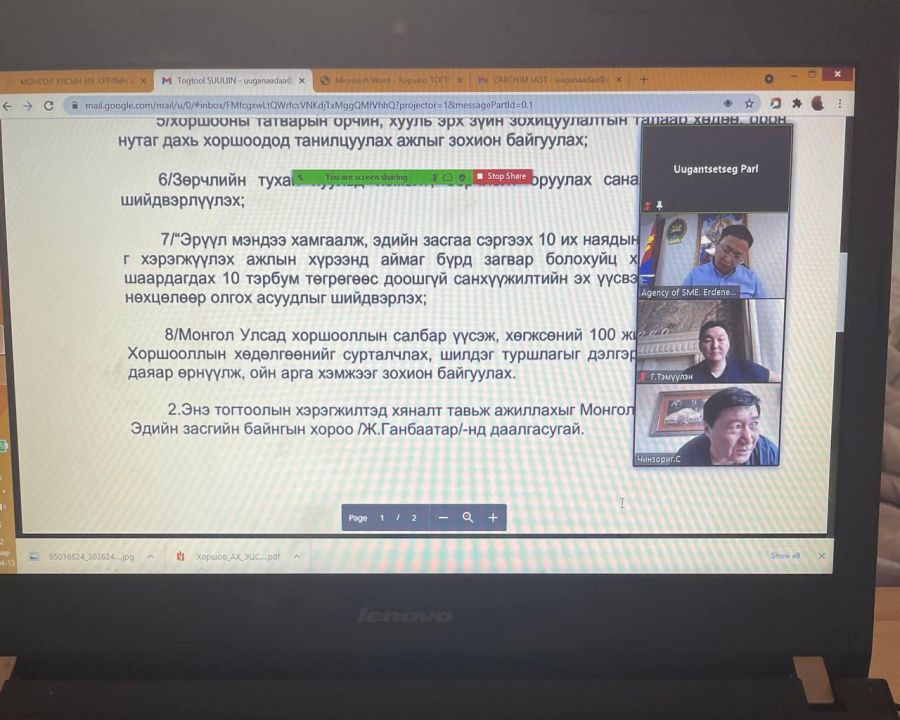 Ulaanbaatar /MONTSAME/. Working groups responsible for preparing draft legislations for discussion at the affiliated Standing Committees held virtual meetings on April 13, 2021. Working groups discussed the draft laws on amendments to the Law on Trademarks and Geographical Indications, on Copyrights, and the revised draft on Patent.

At the initiative of the Chairman of the State Great Hural, Mr.G.Zandanshatar, an online deliberative discussion on "Constitution Amendment Mongolia's Development Model" was held on April 14, 2021.
Minister of Food, Agriculture and Light Industry Z.Mendsaikhan presented the draft laws on Customs Duty Exemption and Value Added Tax Exemption to the Chairman of the State Great Hural G.Zandanshatar on April 16, 2021.
The sub-working groups under the Standing Committee on Environment, Food and Agriculture, held online meetings discussing the draft law on Genetic Resources and revised law on Seeds and Varieties of Cultivated Plants on April 20, 2021.
Source: Press and Public Relations Department of the State Great Hural