Bill on supporting Oil Refinery submitted
Politics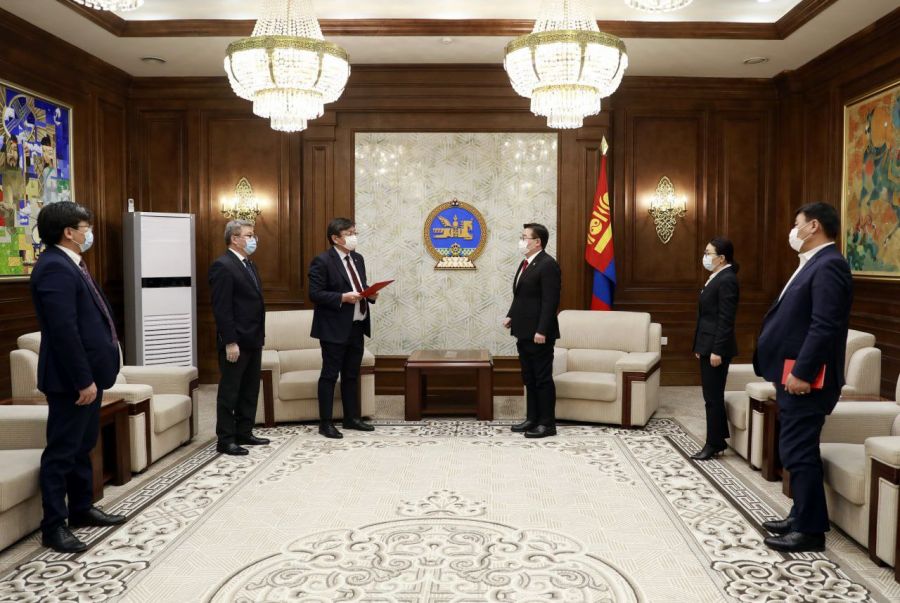 Ulaanbaatar /MONTSAME/. On January 20, 2021, Deputy Prime Minister of Mongolia Ya.Sodbaatar submitted a bill on supporting the development of Oil Refinery to G.Zandanshatar, Speaker of the State Great Hural (Parliament) of Mongolia.
The Government of Mongolia has set a goal to build an oil refinery in its Action Plan for 2016-2020 and to implement the 'Building an oil refinery' project.
Currently, an industrial engineering and blueprint development are underway, and the selection of license holders for technological facilities is also being carried out.
The refinery in Altanshiree soum of Dornogobi aimag will have 12 main facilities, 7 of which are patented technology, where the world leading petrochemical companies such as Axens, Technip, UOP, Halder Topsoe, Shell and Kinetics Technology are taking part in bidding for the facilities.
This is the first complete oil refinery to be built in Mongolia, therefore, foreign engineers and technicians are needed in the construction of the plant. According to preliminary estimates, 1,000 engineers, technicians and assistants will be employed during the construction work in 2021, while 5,000 in 2022, 8,000 in 2023 and 7,000 in 2024. Therefore, the bill provides for the immediate issuance of work permits for foreign workers and employment in Mongolia as reflected in the draft. Moreover, customs clearance and transportation of machinery, equipment and raw material for the refinery development should be facilitated.
The approval of the bill will encourage the refinery to be commissioned on time. In 2018-2019, 27 km of railroad infrastructure, 18.2 km of power transmission lines and 17.5 km of heavy-duty roads were built and put into operation by the decision of the Government of Mongolia. Also, the construction of "Petroleum town" with 10 blocks for 550 household inhabitants has been started in Sainshand, Dornogobi aimag, say bill initiators.