AmCham Mongolia hosts Deputy PM Ya.Sodbaatar to discuss reopening the economy
Society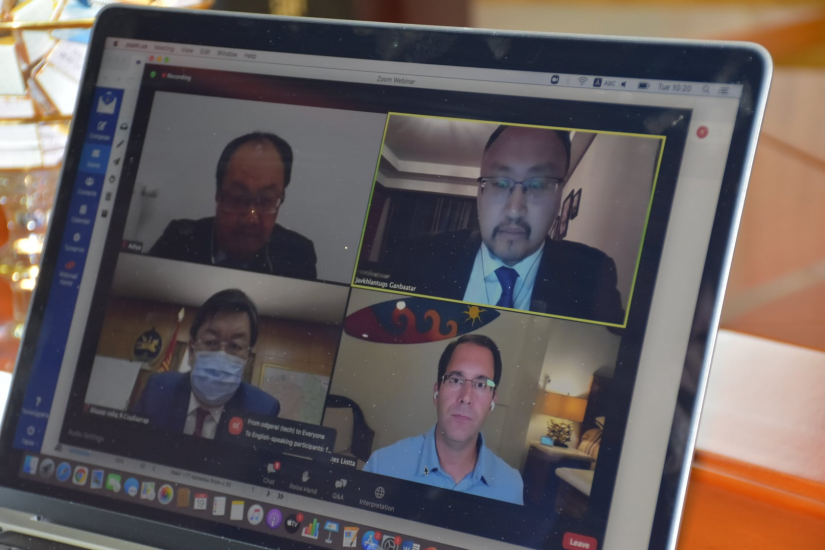 Ulaanbaatar /MONTSAME/ The American Chamber of Commerce in Mongolia (AmCham Mongolia) held its virtual January Monthly Meeting on "Addressing COVID-19 Pandemic in Mongolia" on January 19, 2021.
The meeting was attended by representatives of the AmCham community, foreign and national investors, embassies, and international organizations. His Excellency Ya.Sodbaatar openly talked about the measures being taken to address the COVID-19 pandemic, the challenges the nation is facing, necessary steps to be taken, and answered AmCham members' questions.
In his opening remarks, AmCham Mongolia's Chairman Jay Liotta quotes, "AmCham Mongolia completed online surveys twice in the last 10 months to assess the impact of COVID-19 on our members. According to the survey results, 35 percent of the survey participants stated that they had lost customers and saw declining demand for their products and services. While 10 percent are short of cash flow, 20 percent experiencing logistical challenges, 25 percent said that they are facing all of the above problems, and 10 percent are facing other difficulties during the COVID-19 pandemic. To adjust their businesses to the current reality, most companies (45 percent) are gradually implementing cost reduction; 25 percent are changing their company's financial and marketing plans, and 20 percent are deferring or canceling planned investments."
He continued, "Our chamber is ready to work with the Government of Mongolia in every way possible to revive the economy that has been devastated by the pandemic, and to protect and increase foreign investment."
Deputy Prime Minister of Mongolia and Head of the State Emergency Commission Ya.Sodbaatar provided detailed information about the commission's strategies to combat the pandemic and expressed his intention to re-open businesses in due process. At the beginning of the report, he noted that Mongolia had managed to contain the virus for 10 months and that the commission had worked hard in the past to stop the spread of the virus. Unfortunately, more than two months ago, due to a sudden outbreak of the virus, we went on a strict quarantine regime. The commission decisively took control of the outbreak and managed it effectively. Since last week, we have gradually re-opened our businesses and loosened restrictions. As of today, a total of 1,536 cases have been reported in Mongolia, of which 530 people are being treated, and 995 people have been cured. The commission is implementing a "Zero COVID-19" strategy to cure all cases.
Ya.Sodbaatar quoted, "Firstly, we are focusing on two areas; ensuring the health and safety of our population. Secondly, ensuring sustainable economic development. And thirdly, we are implementing a strategic plan to prevent the outbreak of COVID-19. As of January 10, 2021, based on the recommendations of the World Health Organization, we have decided vaccines developed by Pfizer, Moderna, and AstraZeneca to be viable choices. These vaccines have been registered in countries with strict drug regulations. The Deputy Prime Minister and the Minister of Health have approved the 'National Action Plan for the Distribution and Immunization of COVID-19 Vaccine'. The government is also taking all the necessary measurements to support businesses and bolster the economy."
AmCham Mongolia