Deputy Minister of Construction visits Downstream Wells Activity project site
Environment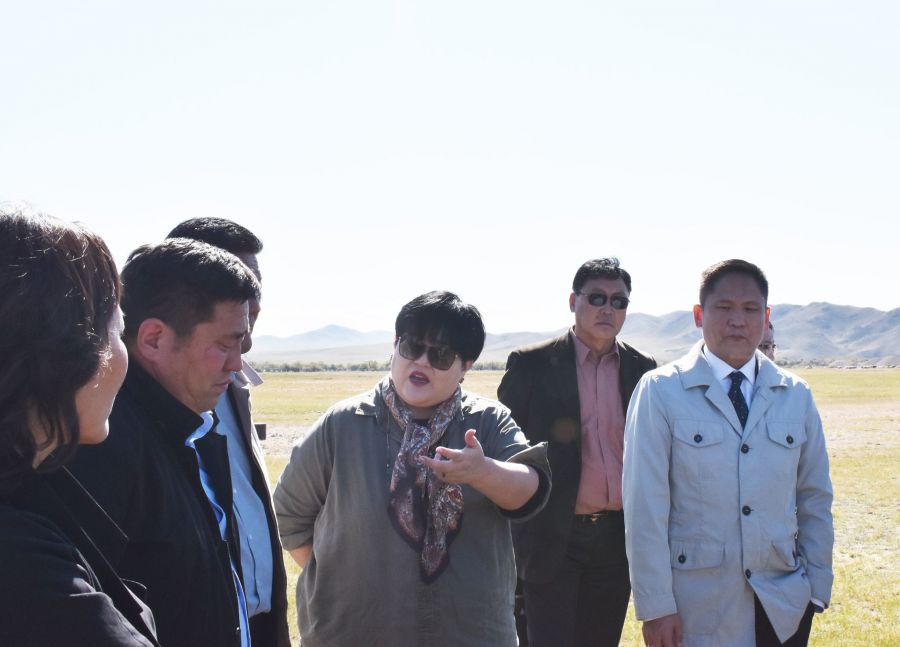 Ulaanbaatar /MONTSAME/. On September 18, Deputy Minister of Construction and Urban Development E.Zolboo together with the Ministry officials, as well as representatives from the Water Authority of Ministry of Environment and Tourism and Ulaanbaatar Environmental Department, visited Downstream Wells Activity (DWA) project sites near Biokombinat and Shuvuun located in Khan-Uul district of Ulaanbaatar city.

MCA-Mongolia CEO and line directors, as well as engineers from the consultant company to DWA provided an overview of the Downstream Well Activity being implemented under the Mongolia Water Compact signed between the Government of Mongolia and U.S Millennium Challenge Corporation, and updates on its implementation.
MCA-Mongolia representatives also noted that 288 hectares of land, damaged by gravel quarries, is needed to be rehabilitated before the project construction work starts, and expressed their expectation of closer and constructive cooperation from the Ministry of Construction and Urban Development to address this issue. Representatives of the Ulaanbaatar City Department of Nature and Environment also provided additional information on rehabilitation issues.
Deputy Minister of Construction and Urban Development E.Zolboo said that the Ministry will tighten its cooperation towards the fulfillment of the conditions precedent to the Compact entry-into-force and support to further implementation of the Program to ensure long-term sustainable water supply in Ulaanbaatar and create a favorable condition to expand the capital city to the west. He underlined the significance of proactive actions and participation of all the stakeholders, including the government ones to progress the project work.
The Minister also called for a meeting of the Working group to provide support to the fulfillment of the Government commitments under the Compact, led by him, established by the Order No. 130 of the Minister of Construction and Urban Development dated July 22, 2019 in coming days to develop a work schedule and a plan to address the rehabilitation and other issues that may hinder the progress of the project implementation.
Background
Millennium Challenge Account - Mongolia is a state-owned enterprise established by the decision of the Government of Mongolia on October 3, 2018, pursuant to Government Resolution No 297 in accordance with Section 3.2 of the Compact to implement the Program under the 350 million USD Mongolia Water Compact signed with the Millennium Challenge Corporation, a U.S. government foreign aid agency.
The Millennium Challenge Corporation is an independent U.S. government agency working to reduce global poverty through economic growth. Created in 2004, MCC provides time-limited grants and assistance to poor countries that meet rigorous standards for good governance, from fighting corruption to respecting democratic rights.
MCA-Mongolia