Mongol Jangar epic poem book presented to public libraries
Art & Culture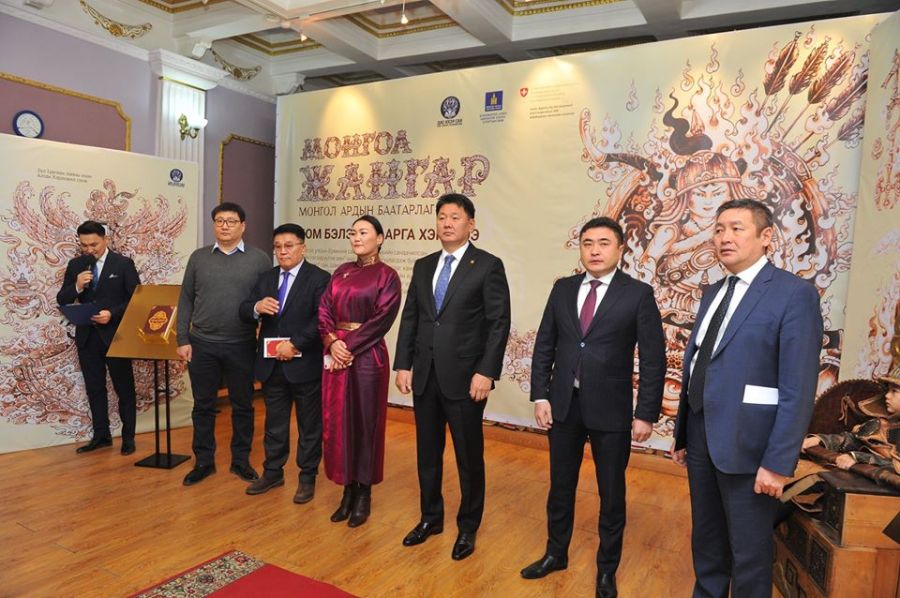 Ulaanbaatar/MONTSAME/. A launching of the book package 'Mongol Jangar' heroic epic of Mongolia was held at National Library of Mongolia (NLM) today. The package will be presented to 376 libraries nationwide and as a start, it was handed over to 11 libraries of Ulaanbaatar city and Bat-Ulzii soum of Uvurkhangai aimag. Within the 'Campaign of enlightenment' initiated by Prime Minister U.Khurelsukh, 'Mongol Jangar' epic poem was published with the support of Swiss Development Agency and 'Das ikher' Foundation.
At the launching, Prime Minister U.Khurelsukh said, "Mongol Jangar epic has a great significance of upbringing such as living peacefully, making friends, adoring and safeguarding native land and being patriotic. Distributing the Mongol Epic to libraries is a start of works to make children, youth and public aware of culture, tradition, history and customs, reinstate, make it pride and enlighten" and handed the first book package to NLM Director National Library B.Ichinkhorloo.
The Mongol Jangar, Mongolia's ancient oral epic poem, was compiled and made it ready for publication by a historian and epic storyteller D.Suriya in 1986. D.Suriya compiled 10 chapters of the epic printed in Tod Bichig in Kalmyk in 1910 and 13 chapters of the epic published in Inner Mongolia in 1958 and made long-term studies on versions of legends, tales and epics orally inherited among ethnic groups of Mongolia. As a result, the book package with 17 chapters, foreword, ending and explanation was created.
In 2018, 'Mongol Jangar' heroic epic poem was first published on the occasion of 100th birth anniversary of D.Suriya. With today's event, the Ministry of Education, Culture, Science and Sports starts the distribution of the book to all public libraries in every corner of the country.
D.Suriya's children founded 'Das ikher' foundation, which aims to make the epic book reach every family.
At the ceremony, Cultural Honored Figure and epic storyteller E.Baatarjav sang a part of the Jangar epic poem and 'Altain Magtaal (A praise of the Altai Mountains) in tune with the performance of Tsuur and Yatga traditional instruments.
Performance of the Mongolian epic of Jangar was inscribed on the UNESCO List of Intangible Heritage in Need of Urgent Safeguarding in 2011.