ATPF CEO Meeting taking place in Ulaanbaatar
Economy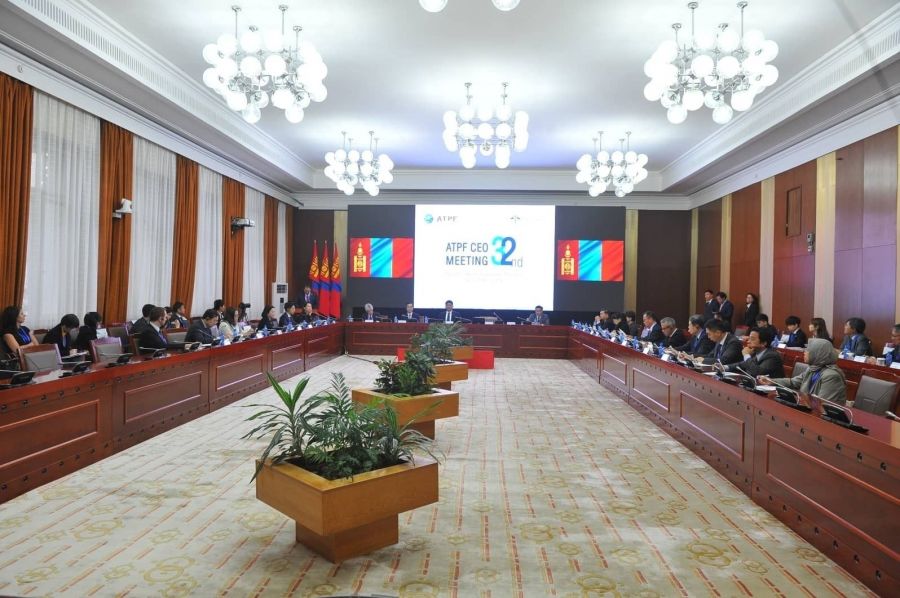 Ulaanbaatar /MONTSAME/ The 32nd ATPF Asian Trade Promotion Forum's CEO Meeting is taking place in Ulaanbaatar city on September 12-13. A total of 36 delegates of 16 nations are gathering under theme 'The Role of TPOs in Supporting SMEs to internationalize and connect to value chain'.
Opening the meeting, Chairman of the Mongolian National Chamber of Commerce and Industry (MNCCI) O.Amartuvshin said "Our world has being rapidly changed and developed due to advances in digital technology. This evolution is providing opportunity to businesses to compete everywhere, work more productive and to reach new consumers. The above-mentioned process has been bringing advances in innovation, social marketing and technology in both small and large-scale businesses, however, SMEs are still lack of knowledge, experience and financing and the situation is causing new challenges. We gathered here today to share experience and discuss views on supporting small trading business."
Prime Minister U.Khurelsukh attended opening of the meeting and delivered remarks. Citing that role and participation of trade promotion organizations is vital to expand economic integration, industrial network, trade and distribution channels between industries in the region, PM U.Khurelsukh noted it is important for us to create supply and coordination environment at regional level. The Government of Mongolia has been pursuing policies on establishing Free Trade Agreement and promoting trade. Furthermore, we are aiming to encourage activities of our businesses, increase SMEs' competitiveness, broaden and develop their collaboration as well as to discuss and approve policy documents and laws targeted to upgrade business environment. Concurrently, tangible actions are being taken on selecting and introducing appropriate technologies, eliminating tariff and non-tariff barriers and promoting investment. I am confident that attendees of the meeting would mutually exchange experience on supporting SMEs to internationalize and connect to value chain and reach a common position.
SMEs play pivotal role in world economy, especially in developing countries' economies. According to data provided by the World Bank, SMEs make up to 40 percent of GDP of developing countries and up to 60 percent of total employment. As of 2018, SMEs in Mongolia are making up 17.8 percent of its GDP, 67 percent of total jobs and 2.3 percent of export and it makes tangible contribution to source of income of urban and rural citizens, especially, women's.