Mongolia-UK cooperation in aviation sector discussed
Politics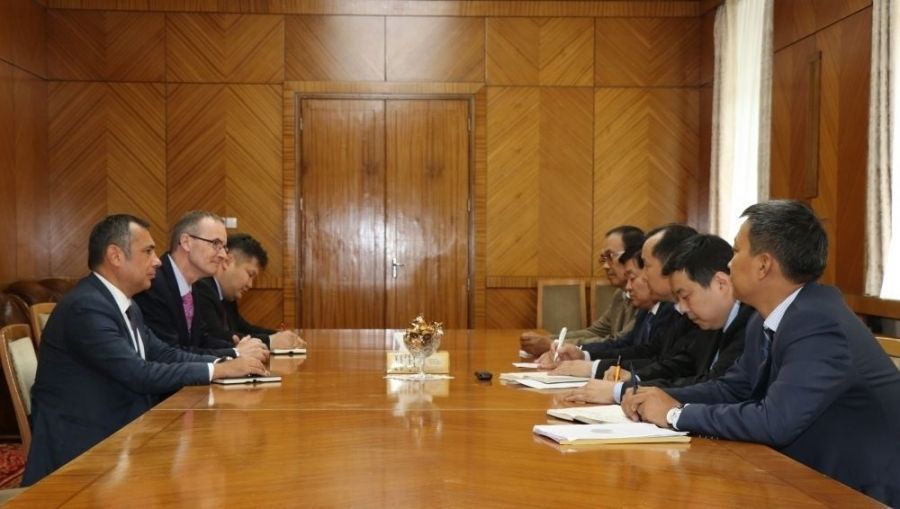 Ulaanbaatar /MONTSAME/. On September 12, Minister of Road and Transport Development B.Enkh-Amgalan received a delegation of Ambassador Extraordinary and Plenipotentiary of the United Kingdom to Mongolia Philip Malone and UK Export Finance export credit agency's Chief Representative for Turkey, Eastern Europe, and Central Asia Özgür Kutay.
At the beginning of the meeting, the Transport Minister B.Enkh-Amgalan mentioned that between Mongolia and the United Kingdom, the intergovernmental air relations agreement was established in 2000 and talks had been underway since 2012 for Mongolian airlines to conduct flights to London.
Noting about the cooperation between the two countries in road and transport field, such as joint studies on introducing railroad and steel structure bridge technologies and equipment to Mongolia, the Mongolian Minster underlined the need to have the latest advanced technologies and know-how from the UK in the railroad development.
Afterwards, he praised the activities of some British companies of rail fastening systems and aluminothermic welding 'Pandrol' and 'RM&S', in Mongolia and stressed that the rail fastenings of the Pandrol is being used for the construction of the 414.6 km long rail road from Tavantolgoi deposits to Zuunbayan. As more large-scale railroad development projects are planned in Mongolia, Minister B.Enkh-Amgalan put forward a request to manufacture some parts of the Pandrol rail fastenings in Mongolia. In addition, he expressed his willingness to cooperate with the UK for reforms and modernization of the Mongolia's civil aviation industry.
For his part, the British Ambassador mentioned that the new airport of Mongolia will help promote the development of Mongolia and Mongolia and the UK would reach an agreement in the airline industry in the near future to bring its development to next level. In conclusion, the Ambassador underlined that the UK Export Finance has a possibility to provide financing of USD 150-250 million to Mongolia considering the great potential for partnership in the road, transport and infrastructure areas.