EU Day Mongolia takes place
Society
Ulaanbaatar /MONTSAME/ On the occasion of the 30th Anniversary of the establishment of diplomatic relations between Mongolia and European Union, the Delegation of the European Union to Mongolia hosted the EU day Mongolia on May 26 at the Sukhbaatar square. Present at the event which was organized for the first time, were Ambassador Extraordinary and Plenipotentiary of the European Union to Mongolia Traian Laurentiu Hristea, Ambassadors and diplomats of 15 EU member states to Mongolia, Deputy Minister of Foreign Affairs B.Battsetseg and Governor of the capital city and Mayor of Ulaanbaatar S.Amarsaikhan.
Ambassador Traian Hristea said "EU and Mongolia have traveled a long road over the past three decades. In 1989 when diplomatic relations were officially established between the two sides, EU was a small Union with no common currency, unified foreign policy or even a single market and Mongolia was on the threshold of democracy. The sides have established stronger partnership with common fundamental principles. EU is the third biggest trade partner of Mongolia although we are geographically very distant. As the Ambassador of EU to Mongolia, I will provide consistent support to the reforms of the judicial and legal systems and civil service, and develop projects mainly on promoting SMEs, ensuring inclusive growth through mining revenues, and combating climate change"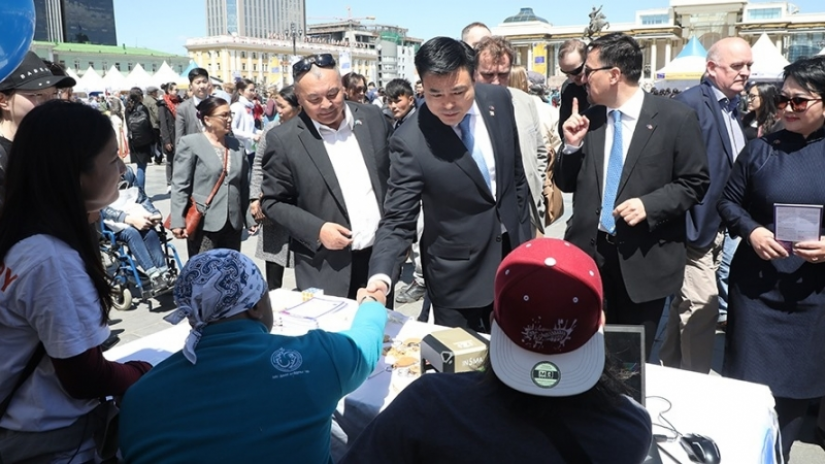 The event provided the public with an opportunity to get to know the EU member states through their tradition and culture, receive detailed information and advice on studying and travelling in the countries and getting Schengen visa, visit a trade fair of EU countries' entities, as well as to enjoy the countries' cuisine and art performances. Moreover, during the event, information was given on over 20 EU-funded projects being implemented in Mongolia.
EU is Mongolia's third neighbor, according to the Concept of Mongolia's foreign policy. Thus, Mongolia has been working on intensifying its relations with EU and its member states in all possible areas. For instance, a meeting of the Ambassadors of EU member states has been taking place regularly in Ulaanbaatar since 2009. Establishment of the Office of the Delegation of the European Union to Mongolia in 2017 opened up an opportunity to elevate bilateral relations and cooperate more efficiently in many more areas.