Spring session of Parliament closed
Politics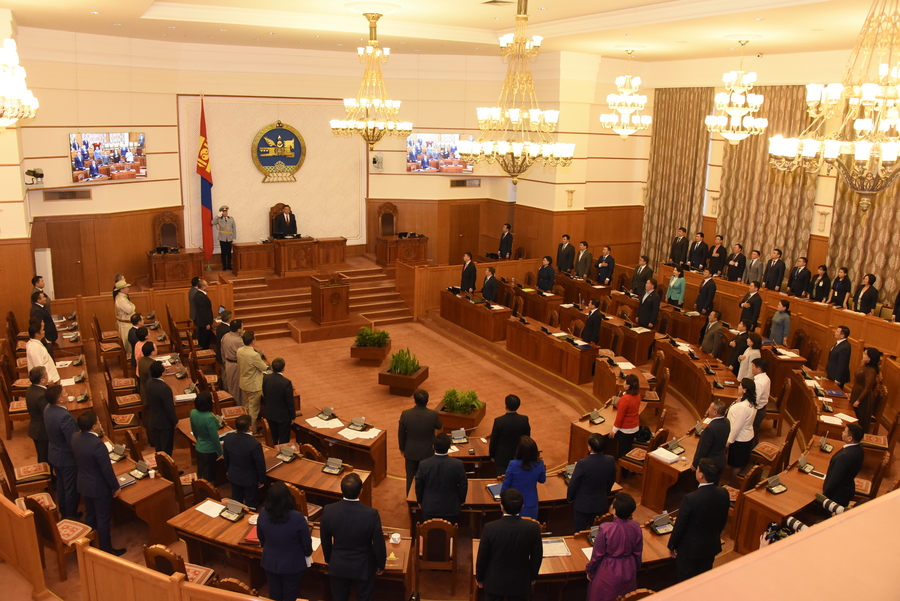 Ulaanbaatar /MONTSAME/ 2018 spring session of the State Great Khural (Parliament) closed on June 29 at 05:50pm.
During its spring session, Parliament convened its Standing committees and sub-committees meetings 101 times to discuss 304 issues and its plenary sessions 27 times to discuss 188 issues, with average attendance of 83 percent. According to Parliament Speaker M.Enkhbold, the session adopted 17 independent laws, 67 law amendments, two ratifications of international agreements and 51 resolutions. He also highlighted the adoption of the bill on Parliamentary Session Procedures, the resolution on putting Tavan Tolgoi Project into economic circulation and the appointment of the working group on reviewing the Oyu Tolgoi Investment Agreement.
The Speaker said: "The session work was special for improving in members' attendance. The adoption of the bill on raising discipline and accountability of the MPs was crucial. The Parliament forecasted economic growth at 8 percent, budget revenue at MNT 8.8 trillion, total expenditures at MNT 10.9 trillion and total debt decline of 32.7 percent. In 2019, completion of underground development of Oyu Tolgoi will reach 60 percent, exploitation of Tavan Tolgoi deposit will expand, and the construction of oil refineries and coal washing, deep processing and copper concentrating plants will be commenced. This will help stabilize Mongolia's economy. In addition, under the Mongolia-Russia-China Economic Corridor Program, intergovernmental agreement on international transport via the Asian Highway Network was ratified. Hence, Mongolian carriers are now able to perform transportation to the third countries, thereby trade, taxation and insurance procedures are facilitated. In the coming years, we will work on protecting children's rights and increasing their access to education. We are aiming at building 85 kindergartens and 62 schools, and reducing three shifts to two shifts in 2019. Also, we need to improve legal environment for protecting our children from violence and building safe environment for them and widen cooperation in this respect."
Concluding his speech, he informed that the official document from the 19 MPs on holding an open hearing regarding '60 billion' case was transferred to the Standing Committee on Legal Affairs.
M.Anudari