Discussion to be held in cooperation with JICA within "Let's develop like Japan" initiative
Society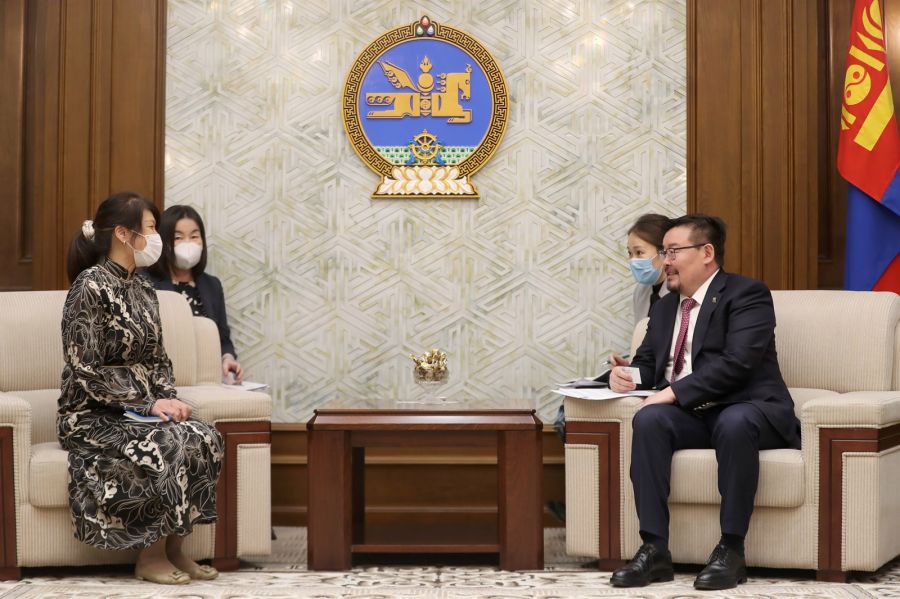 Ulaanbaatar /MONTSAME/ The Chairman of the State Great Hural (Parliament) G.Zandanshatar received the Chief Representative of the Japan International Cooperation Agency (JICA) in Mongolia Ms. Tamura Eriko on May 10.
At the beginning of the discussion, the Chairman thanked JICA's participation to an online deliberative discussion organized last month on "Constitution Amendment and Mongolia's Development Model" with a presenting topic on a series of seven chapters on Japan's development and reform policies.
The above online deliberative discussion was organized within the framework of the initiative of the Chairman of the State Great Hural (Parliament) G.Zandanshatar "Let's develop like Japan".
At the meeting, the Chairman organized a discussion on the fourth chapter of Japan's development and innovation policy and proposed to Ms.Tamura to organize the coming deliberative discussion on this topic.
Strengthening parliamentary democracy, building a healthy society, promoting justice, and building a new model of development for our country will be our mission for the new century. The Chairman emphasized that Japan's development model based on traditions and customs of the people of the East, good governance, comprehensive development policy, stable civil service and export-oriented economy is in line with our new future goals.
Chief Representative Ms Tamura, said, "I am pleased to know that Japan's development model is studied. I agree that it is important to develop a plan for a series of deliberative discussions on development and innovation model and make it reality. We are ready to share experiences of our development models with you. Next year will mark the 50th anniversary of the establishment of diplomatic relations between our two countries and the 25th anniversary of the establishment of the JICA Representative Office in Mongolia. We look forward to celebrating this anniversary and working together as part of the 'Develop Like Japan' initiative."
Source: Press and Public Relations Department of the State Great Hural