PCR Lab for COVID-19 testing opens at First Central Hospital
Society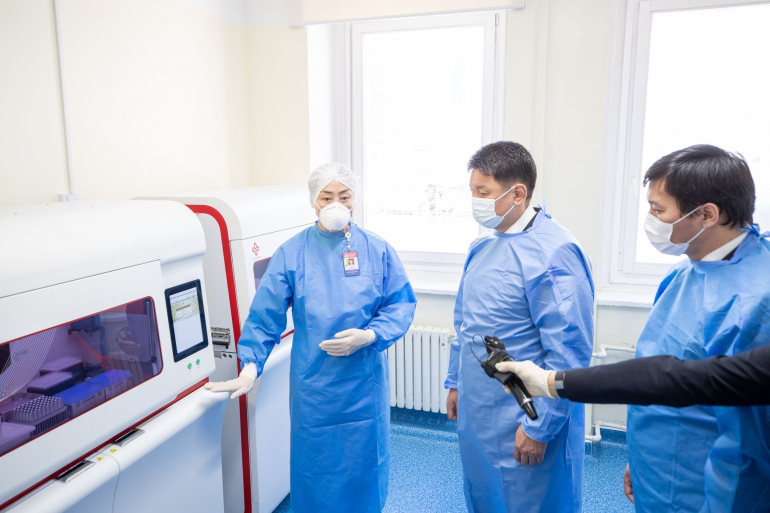 Ulaanbaatar /MONTSAME/. A national molecular biology laboratory that is able to perform PCR testing has been established at the the First Central Hospital of Mongolia in Ulaanbaatar as part of the government plan to strengthen preparedness during COVID-19 pandemic.

Now PCR testing can be conducted at national level at four laboratories of the First Central Hospital, National Center for Communicable Diseases, National Center for Zoonotic Diseases and National Center for Public Health.
On January 19, Prime Minister U.Khurelsukh, Minister of Health T.Munkhsaikhan and Asian Development Bank Country Director for Mongolia Pavit Ramachandran visited the First Central Hospital to get acquainted with its operations and thanked for the healthcare providers.
In his remarks the Prime Minister highlighted that Mongolia has been able to contain the spread of the virus in the capital city of Ulaanbaatar and also showed success in making rural areas virus-free thanks to great efforts exerted by healthcare workers.
"I wish to express my gratitude to the Asian Development Bank for helping to establish this high-capacity laboratory for testing and diagnostics of COVID-19, which is of utmost importance during these challenging times".
He also mentioned that, "Since Mongolia has agreed to receive COVID-19 vaccine from India, there is a plan to vaccinate frontline healthcare workers, hemodialysis patients, organ transplant recipients and other patients who require long-term care, and seniors who are 70 years of age or older in the first place."
With this newly set up laboratory with a capacity to conduct up to 6,000-8,000 testing per day, total PCR testing capacity in Ulaanbaatar city is now enhanced by 25 percent. Also, the lab will carry out testing and diagnostics of other infectious diseases such as influenza, tuberculosis, sexually transmitted infections, hepatitis B and C virus.
With investment of MNT 1.91 billion, the laboratory is equipped with latest world-class medical technologies, such as Bio-Rad CFX96 Real-Time PCR Detection System manufactured by Seegene Inc. of the Republic of Korea and Biotech Natch CS nucleic acid extraction system developed by Sansure medical laboratory company of the People's Republic of China.
As of today, a total of 9 health clinics /National Center for Communicable Diseases, National Center for Zoonotic Diseases and National Center for Public Health, and 6 district hospitals/ has now molecular biology laboratories with 20 PCR testing equipment and 18 nucleic acid extraction systems. In rural aimags, there are laboratories working with a total of 9 PCR machines and 2 nucleic acid extraction systems at 7 different locations, such as Darkhan-uul, Dornod, Orkhon, Khovd, Selenge, Dornogobi and Zamiin-Uud.