MCA-Mongolia holds working meeting with Water Authority
Environment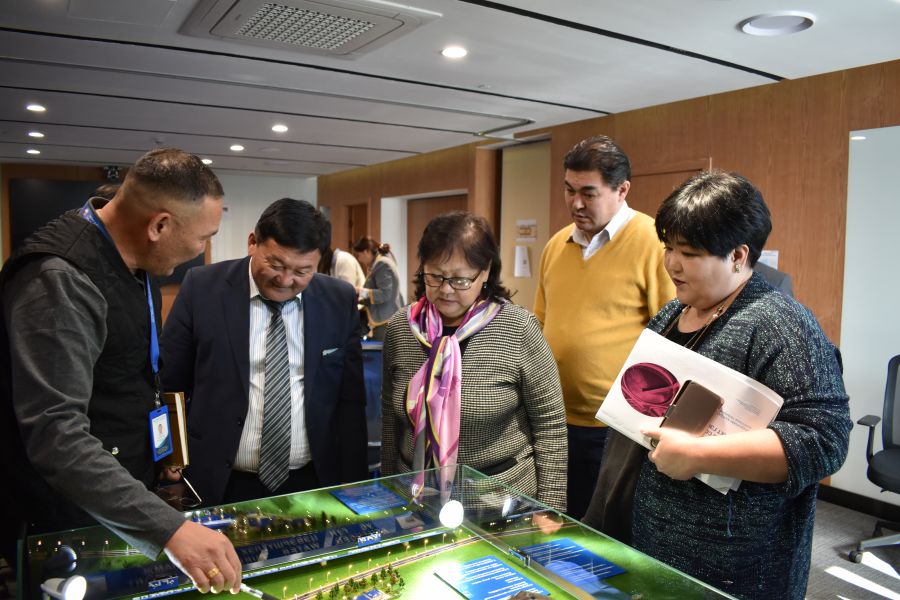 Ulaanbaatar /MONTSAME/. Last week, MCA-Mongolia and Water Authority representatives had a working meeting to discuss Industrial Pre-Treatment Plan, its implementation and further monitoring, as well as other efforts to reduce industrial wastewater pollution and exchange views on further cooperation.
CEO E.Sodontogos, project directors and specialists from MCA-Mongolia side and Head of Water Authority Sh.Myagmar led representatives from the Water Authority participated in the meeting.

MCA-Mongolia CEO E.Sodontogos made opening remarks expressing that MCA-Mongolia is excited about having Water Authority in Mongolia back again, and further noted that "MCA-Mongolia will continue its close and extensive cooperation in more constructive ways until the day we celebrate the successful completion of this major project. For today, we are going to focus on Industrial Pre-Treatment Plan and its implementation.
The development and approval of the Industrial Pre-Treatment Plan, a detailed plan to reduce pollution in the wastewater discharged from commercial and industrial sites into the Central wastewater treatment plant to the levels of 2013 or lower not later than the commissioning of the new CWWTP, is one of the key responsibilities to be fulfilled by Government of Mongolia before the Compact enters into force."
"President of Mongolia Kh.Battulga emphasized during his working trip to western and southern provinces that water issue is one of the most immediate and fundamental issues for our country. Actually, it is not an issue of a single nation, but it is a global issue. In that sense, the government of Mongolia is taking water issues seriously to its attention and being very supportive to our work. For the projects under the Compact, it is considered as the largest single investment in water sector of Mongolia in recent years. Although the Water Authority has only recently been established, much work is planned. Reducing industrial wastewater pollution is a part of our main responsibilities. Therefore, we are ready to continue our close cooperation with MCA-Mongolia to ensure effective implementation of the Industrial Pre-Treatment Plan, and improve and make the related procedures of the Law on Water Pollution Fees more practical and applicable to real-life while providing support in all possible ways from our side", said Head of Water Authority Sh.Myagmar.
The meeting continued with a presentation on a draft version of the Industrial Pre-Treatment Plan by MCA-Mongolia Wastewater Recycling Activity Director T.Khishigt followed by Water Authority comments on the draft plan, implementation and monitoring after approval, as well as suggestions on further cooperation.
Parties had a constructive discussion on close cooperation of improving water sector regulations and legal environment and agreed to utilize opportunities to cooperate on Sub-Activity 4 and 5 under the Compact making joint efforts on industrial wastewater pre-treatment, pollution control, as well as social and behavior change, regarding the effective use of water and public awareness on value of water and the cost of pollution.
The Industrial Pre-Treatment Plan will help to reduce pollution in the wastewater discharged from commercial and industrial sites into the Central wastewater treatment plant and further monitor the pollution level of industrial wastewater discharged into the Ulaanbaatar sewage system ensuring the normal operation of the new Central Wastewater Treatment Plant, as well as Wastewater Recycling Plant to be constructed with the Compact funding at the same time.
Background
Millennium Challenge Account - Mongolia is a state-owned enterprise established by the decision of the Government of Mongolia on October 3, 2018, pursuant to Government Resolution No 297 in accordance with Section 3.2 of the Compact to implement the Program under the 350 million USD Mongolia Water Compact signed with the Millennium Challenge Corporation, a U.S. government foreign aid agency.
The Millennium Challenge Corporation is an independent U.S. government agency working to reduce global poverty through economic growth. Created in 2004, MCC provides time-limited grants and assistance to poor countries that meet rigorous standards for good governance, from fighting corruption to respecting democratic rights. Learn more about MCC at www.mcc.gov.
MCA-Mongolia