Khan Bank named the Best Domestic Bank in Mongolia for the 11th time
Economy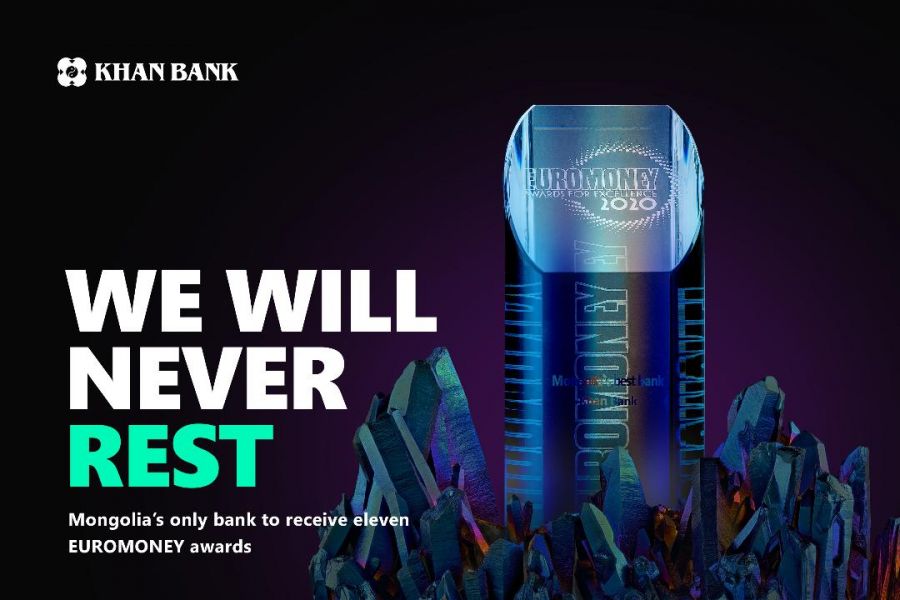 Ulaanbaatar/MONTSAME/. Euromoney magazine has named Khan Bank the 2020 Best Domestic Bank in Mongolia again. The award recognizes contributions that the world's financial institutions have made to their societies and economies; the new products and services made available to customers and the public; corporate social responsibility initiatives; corporate governance; and reliable financial stability every year.

Chief Executive Officer John Bell stated, "Khan Bank's primary goal is to become a customer-centric organization. We are honored to have received incredible recognition, as this award is a reflection of our commitment to reaching our goal of customer centricity, including upgrades and innovations, making contributions to the communities we serve, and strong financial stability. Khan Bank has upgraded its customer service and standards by continuously training our people, and has implemented various projects to simplify and increase the number of remote banking products and services available. The bank made key investments in the past two years, introducing dozens of self serve Kiosk machines. Since the first Kiosks were unveiled, 1.2 million customers have used them and non-branch transaction value and volume have quickly increased. We plan to serve Khan Bank's vast customer base by transforming the Kiosk into a one-stop-shop for all financial and retail needs. Though the COVID-19 pandemic has created uncertainty, we have been prepared for the digital transformation enabling customers to request loans online. We will build on our success in fulfilling public trust through our continuous hard work."
Khan Bank is Mongolia's only bank to receive this prestigious award 11 times, proving its leading position in the Mongolian banking industry, made possible by the trust of our customers and the collaborative efforts of our employees. Thank you to all of our customers, partners, and employees who make our success possible.
About Euromoney
Euromoney has been a leading publication in international finance and banking for 50 years. The Euromoney Awards for Excellence were established in 1992 to define the global banking sector's development level and trends.
Khan Bank's award highlights in 2020:
· Ranked in the top four of TOP 100 Enterprises in Mongolia
· Ranked second among National Top Employers
· Ranked sixth among Best Social Insurance Premium Payers in Mongolia
· Named Best Domestic Bank in Mongolia for the third consecutive year by Asiamoney magazine
· Named Best Domestic Bank in Mongolia, Best Custodian Bank in Mongolia by GlobalFinance magazine
· Named Most Active Issuing Bank in Mongolia in 2019 by the European Bank for Reconstruction and Development (EBRD)
· Ranked among the top for Banking Customer Satisfaction & Happiness Mongolia 2020 by Global Banking & Finance Review
For more details about our awards, click here
We will never rest…