Study on possibilities to establish Free Trade Agreement with EEC launches
Politics
Ulaanbaatar /MONTSAME/ On September 22, Minister of Foreign Affairs of Mongolia N.Enkhtaivan, who is on an official visit to the Russian Federation met with Minister in charge of Trade of the Eurasian Economic Commission (EEC) A.A.Slepnev and Deputy Minister of Industry and Trade of the Russian Federation V.L.Evtuhov respectively.
During his meeting with Mr. A.A.Slepnev, Foreign Minister N.Enkhtaivan emphasized Mongolia's eagerness to deepen its trade, economic and investment cooperation with the EEC member states. Furthermore, the Minister put forward a request to expand collaboration of bilateral professional organizations such as specialized inspection agencies and veterinary hospitals alongside jointly carrying out works targeted to strengthen ties between business entities and entrepreneurs.
Expressing satisfaction with an official launching of joint research on studying possibilities to establish Free Trade Agreement between Mongolia and the EEC, they voiced to attach attention on creating condition to conduct the research effectively in a short period.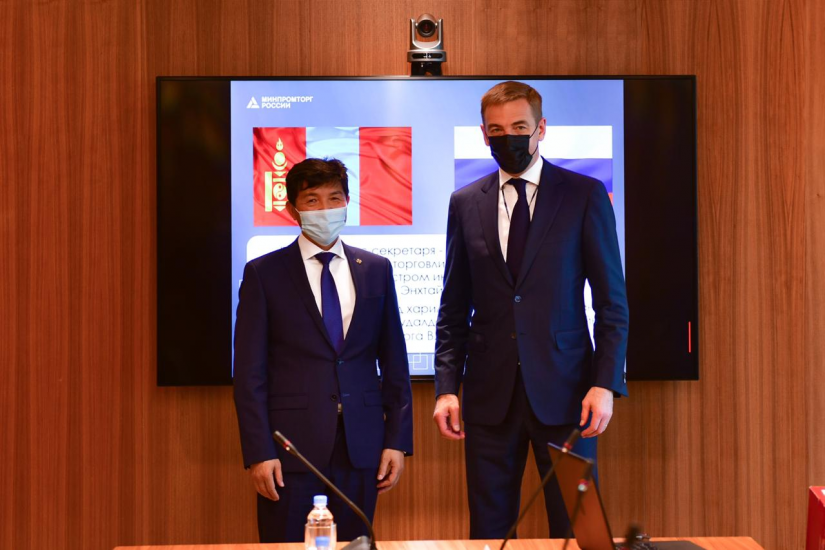 While, at his meeting with Mr. V.L.Evtuhov, Minister N.Enkhtaivan talked over opportunities to intensify bilateral trade and economic cooperation.

For his part, Mr. V.L.Evtuhov expressed to support cooperation by regularizing business meetings and forums, involving Mongolian business entities in expos, which take place in Russia as well as supplying advanced agricultural equipment to Mongolia.